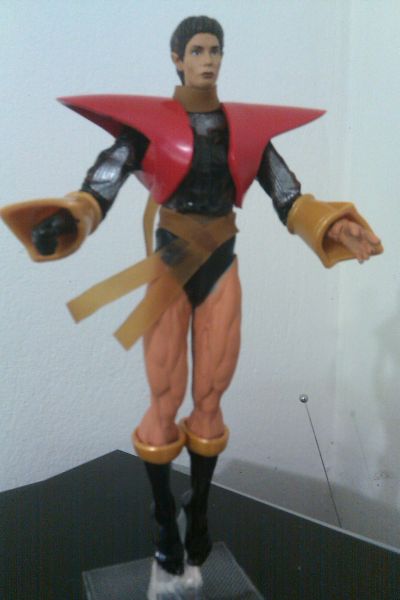 | | |
| --- | --- |
| Custom #: | 61892 |
| Name: | After the Trek , T'pol , Goddess of Vulcan |
| Custom Type: | Action Figure |
| Toy Series: | Star Trek |
| Creator: | En-Ryu-Oh!2061 |
| Date Added: | May 26, 2014 |
| Base Figure: | Star Trek Enterprise Space Suit T'Pol |
| Height: | 8.00 inches |
| Completion Time: | 24.00 hours |
Hello guys! , couple of days ago I started re-organizing my fodder bin , and was surprise to find really cool pieces that I had no idea what to do with , one of them was a STE T'Pol in a very clunky and un-feminine space suit , however the face was beautiful , so I took off the head , and the legs and the lower torso , once in pieces and mix with other parts a concept begin to form , I needed to change her body "Frankenstein" style , keep the upper body with the original head and believe it or not matched with a DC Direct Watchmen Dr. Manhattan extra lower body (I know, I know he's a guy , but it kinda work , I guess!) , made a sash out of a rubber band to fill the gap around the waist and a scarf of the same material (she has a very neck!) , Modified a ML Terrax Armor to fit her and make a little more feminine (ironically since it from a guy's armor) added a Power Rangers arm and leg equipment and finally painted her black and really tried to match her skin color for (very strong!) legs and right hand (thought it would be cool) , and finished , decide not to paint the rubber bands because their original color combined with the arm bracelets and leg bands , I know she looks weird , but let not forget she's an alien , OK , let's use the new movie story , (bear with me I'm making this up as go along , so no offence to any Star Trek fans!) , "Right before the destruction of Vulcan ,the council of Elders makes the fateful decision to use a forbidden kind of mind meld technique transferring all Vulcan knowledge within them along with their life force into the oldest and most powerful among them High Elder T'Pol , awakening her mind to level un-imagined , unlocking 100% of her mind and invigorating and rejuvenating her , T'Pol has now been Reborn into a living embodiment of all Vulcan , their new Goddess , and teleported herself to safety , so one day she will rebuilt the Vulcan race and it's culture among the stars , so that's it hope you approve or at least like a little , Thanks!