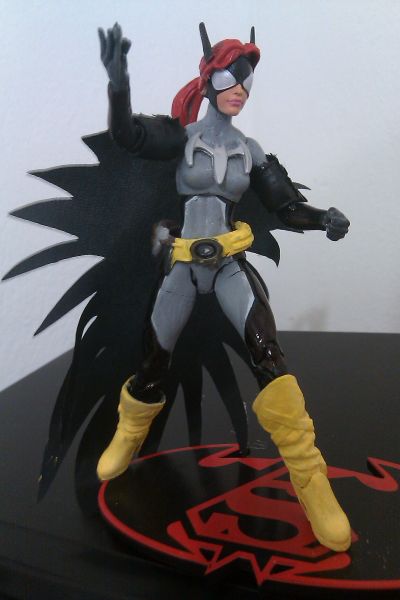 | | |
| --- | --- |
| Custom #: | 62674 |
| Name: | Enter ... "the Batgirl" |
| Custom Type: | Action Figure |
| Toy Series: | Elseworlds Amalgam |
| Creator: | En-Ryu-Oh!2061 |
| Date Added: | June 18, 2014 |
| Base Figure: | Marvel Legends Infinite Spider-Girl |
| Height: | 5.50 inches |
| Completion Time: | 24.00 hours |
| Articulation: | 26 points |
Hello my fellow Realmers! , today I bring you the latest member of my "Worlds Finest..." Elseworlds family (both Super and Bats together) Barbara Gordon aka "The Batgirl" , since my BatWoman has been so greatly accepted , I figure I was only logical she had a sidekick (sorry NO Robin , yet!) and whom better than the original Batgirl , "When GCP Comm. Gordon is killed along with his whole family (wife and young sons Jason and Todd) , Gordon's cousin Katherine (Kate) Kane , a rich socialite and owner of the "Gotham Gazette" Magazine (who also patrols the night sky as the heroic Vigilante BatWomwan) , fearing for the life of her remaining family , her second cousin Barbara (Babs) rushes to Gotham University to save her life (the whole tragedy was orchestrated by a Dangerously Derange and Vengeance full Joker , all from within Arkham Asylum , just for laughs ) , arriving in the nick of time as Babs runs and tries to defend herself from Harley Quinn and her henchmen , the two brave females combine forces and defeat them all , except Harley , who left a little surprise for them in Babs apartment (a bomb) , not knowing that and feeling safer (Kate hasn't revealed about her family's death!) Barbara goes in for some personal effects and triggers the bomb and it ' blow away by the blast , barely surviving the impact , in shock Kate takes her to the hospital , praying for her and cursing the Joker for the Tragic event of that night . One year later Barbara has healed completely from her wounds , but is now blind because of the explosion , now living with her cousin Kate and her family (Kara and her girls), trains day and night rigorously in order to have her own justice againt her enemies as BatWoman's protégé "Batgirl...sorry...The Batgirl" , learning to develop her other remaining sense's to the max and using a special sonar bat suit than can echo sound waves and allows her a different type of sight (think Daredevil) , she's a young heroine determine to step out of the shadows and bring forth hope into the darkness. Long story I know , but hey , that's my style!. Recipe is both simple and complex , I used as base an already started MLI Spider-Girl (posted along a Toxin re-paint) , keep both the boots (painted them yellow) and cape (modified with 2 wrestling elbow pads and slit in one side , for easy attachment to the figure) , added 2 small bat hears and painted her hair with a deeper tone of red , also added a couple of bat-a-rang as her chest insignia and hand weapon , and of course painted her acrylic Gray (mix) in certain areas (using the spider's lines as guide!) , luckily enough found the perfect belt in the fodder bin , painted yellow and finished all that was left was to seal the paint in matte , and that's when it all went WRONG!, as soon I started spraying her I notice something weird , IT WAS FROSTED MATTE SEALER!!! , I stopped immediately , but the damage was done , specially the black parts , I was furious by my own foolishness , so idd what any other customizer would do , I re-painted as much as possible and try to save my custom , so all the black areas and the red hair was painted again , however the texture went from smooth to porous ,and a bit spotty , but given the circumstances I did my best and it came up pretty well , hope you like her and Thanks , later!