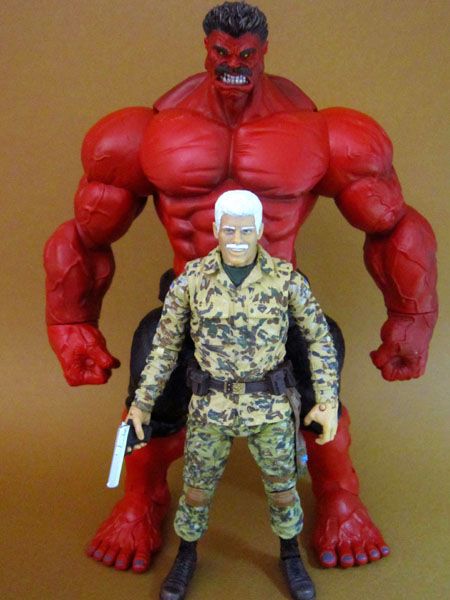 | | |
| --- | --- |
| Custom #: | 62863 |
| Name: | General Ross: Red Hulk Nemesis |
| Custom Type: | Action Figure |
| Toy Series: | Marvel Select |
| Creator: | Banner/HULK Inc. |
| Date Added: | June 24, 2014 |
| Base Figure: | Marvel Select Red Hulk and Neca Colonel Stars and Stripes |
| Height: | 10.00 inches |
This is how I think the Hulk's red nemesis should be. I call him Codename: "Thunderbolt Red" or "Red Thunder".

First of all, I think that he should have NEVER BEEN CALLED A HULK! (and not "Rulk" either) Just like the way Venom wasn't called "Black Alien Spider-man" and US Agent was not called "Black Captain America". Both the names Venom and US Agent make them more unique and not just an imitation of someone else by another name.

In some comic books, other heroes often call this red one a Hulk and drop the word "red" entirely (which still bothers me). There was even a time when the comic book entitled "Hulk" was all about Ross and didn't even feature the green one at all. As a fan of the original, I feel strongly about renaming this red enemy. That way there would be no confusion about who the Hulk in the Marvel Universe is.

So my suggestion would be to give him a code name like "Thunderbolt Red" or "Red Thunder." I know those may sound a bit like Omega Red (the red Wolverine nemesis) or Red Skull (the red Captain America nemesis). But since Ross is in the military, having a code name could work. Marvel comics writers if you're out there reading this, those are my suggestions!

In the Thunderbolts comics, when General Ross transforms, his military uniform is ripped to shreds but somehow he retains black pants that he wears underneath the uniform. The black pants don't get ripped at all. It might be made of a special stretchable material, who knows? So I made his black pants look the same way, undamaged.

It isn't just his military uniform that disappears upon transformation but so does his mustache. The explanation is that it's because the mustache doesn't grow bigger. The red skin grows thicker around it and buries it underneath. It only resurfaces again after he changes back. Well, in my opinion this idea is really DUMB.

I understand that the Marvel writers introduced Red Hulk as a mysterious character in the beginning and initially did not want to reveal who he was. Having a mustache on him for his first appearances would've made General Ross the number one suspect (and too obvious). But now that his identity is known, there's really no point to the disappearing facial hair!

Hair color change is acceptable just like skin color change but not the mustache getting buried temporarily. Which is why I made my custom with the mustache the way it should be. When it comes to the General Ross character, having the MUSTACHE is a MUST!

What I like especially about this character is that he is the greatest overall adversary for the green Hulk. General Ross is Banner/Hulk's oldest enemy. He led military forces to take down the Hulk. He's the overprotective father of Betty, who Bruce Banner married. Then, through an advanced scientific procedure that combined gamma rays with cosmic rays, Ross became as big and strong as the creature he despised the most…a Hulk, just a different color.

He's also become a hero as part of the Avengers and as leader of the team called the Thunderbolts. This further adds to their rivalry as to who's the better Hulk?

No matter what he's called whether it's General "Thunderbolt" Ross or Red Hulk, the one thing that's consistent is what he keeps calling Bruce Banner, a "milksop". He really hates Banner and their feud is never-ending.

When both the green and red Hulks clash, the general's experience as a U.S. military leader can give him an advantage in combat. Their battles are epic just like Superman vs. General Zod, except the Hulks don't fly like those Supermen from another planet. Hulks keep the fight on the ground and the earth trembles beneath their massive feet!

So if you've made it to the end of this incredibly long write-up (my longest one ever) then congratulations! Thanks for reading! Hope some of you fellow Hulk fans agree with my opinions. To wrap this up in summary, I actually do like this character a lot but feel strongly about the need to give him a different name, one that doesn't use the word Hulk in it. Also, his facial hair should grow just like the rest of him does!

Recipe:

Hulk's Red Nemesis:
This Marvel Select Red Hulk has a sculpted mustache and eyebrows. The pants were modified to remove the ripped parts to keep it looking intact like in the Thunderbolts comics then painted black.

General Ross:
It's a Colonel Stars and Stripes with a WWE figure's head, neck and hands. Wrestling fans will know right away whose mustached head this was, any guesses? I decided to make the uniform one he'd wear out in the field instead of a formal military uniform. It's influenced by how the general looked in some scenes from the first 2 Hulk movies.