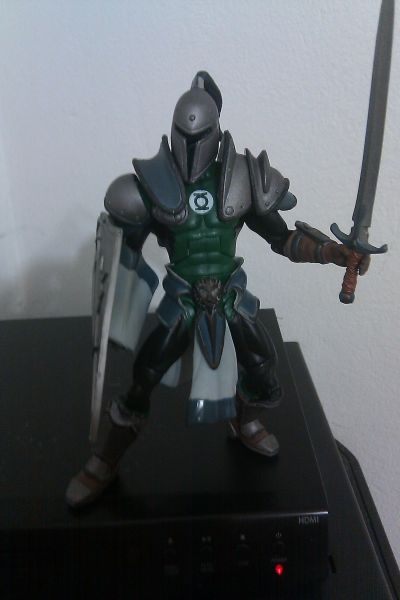 | | |
| --- | --- |
| Custom #: | 63066 |
| Name: | Saint George , the Emerald Knight |
| Custom Type: | Action Figure |
| Toy Series: | Green Lantern |
| Creator: | En-Ryu-Oh!2061 |
| Date Added: | June 29, 2014 |
| Base Figure: | DC Universe Alien Green Lantern |
| Height: | 7.00 inches |
| Completion Time: | 6.00 hours |
| Articulation: | 20 points |
Hi guys , guess this is my "Green Day" , for my second custom of the day I'm going to borrow the theme of an Awesome Sci-Fi movie "Outlander" with a Green Lantern spin to it , so lets see what I come up with , "When rookie Green Lantern S'ein G'rge (get it Saint George!) is assigned to escort a dangerous prisoner to a new Prison planet near our galaxy , he's ship falls in meteor storm and it's forced to crash land on the nearest inhabited planet (Earth during the Middle Ages!) , using the last remaining power of ring , he's able to save himself and his prisoner , but not the ships pilot who dies along with his ship (he refused the GL's help , it was a matter of honor for his race) , jus as soon as they land , the ring runs out of juice and D'Goon (a reptilian mass murderer) goes free and just as S'ein is about to recharge his power ring , the sneaky and treacherous reptile eats his power battery and absorbs all it's power transforming dramatically into a more feral and powerful version of his race (size and matter increases 3 times , he changes color from a brownish scale tone to a deep green tone , his teeth , spikes , and wings grow dangerously long and sharp , and his weak flame become a devastating green blaze of raw power) with an evil smirk that would chill anyone's blood blast off into the sky , not before destroying the remains of the fallen ship and laughing into the night sky , now S'ein is stranded in an alien and primitive world , powerless and alone , he must now find a way to survive and somehow stop this "dragon" as the local begin to call it , hiding his face in a monk's cloak (stole it from a near hut) , after days he approaches the kings castle Camelot and tries to get an audience with King Arthur (only one small problem , he forgot his ring translated automatically , and without power he could not understand their language (old English) nor they him , except for a white bearded Wizard by the name of Merlyn (you see Merlyn is not human , but an alien/human hybrid thus his "magical" abilities, including telepathy) , hearing his plea for help , Merlyn convinces the King to help the stranger for the sake of the Kingdom , first they salvage as much material as possible from the ship (and do a proper burial to the dead pilot) and create a suit of armor for S'ein (way too heavy for a normal human being , but light as a feather for him) , he also manages to create a rudimentary translator , but only worked one way , Thus was born the Legend of the Green Knight in King Arthur's Court , as time pass (and Camelot falls!) his legendary battles against The Dragon earn him the name of Saint George , Dragon Slayer (he did manage to kill D'Goon's descendants (thanks to the battery's power he can reproduce asexually once every two years) , In the last 50 years The Emerald Knight has killed 21 of them (using late King Arthur's mystical sword Excalibur , a gift from Merlyn before leaving to Avalon) .Someday the mission will be complete and he will be able to finally take this heavy burden from his shoulders and maybe go home , no he is home , maybe just a long , long rest , perhaps a trip to visit old friends to an isle named Avalon!" . I'm really proud of this custom , I literally combined a DCU alien Green Lantern and a WoW Knight (a Paladin I think!) cut off , molded and sculpt all the best part of the knight and fit them (glue) into the GL body (total exchange of boots and gloves , used the very long skirt in many other way , like the back scarf and the shields arm cover , really slim down the remaining skirt to fit him better , the kicker were the shoulder and upper body pieces , they were one solid piece , so it was pure sculpting , but thank God it was a waxy soft plastic and I worked , (my finger hurt and my hand are very swollen) Man I'm tired!! , hope you guys like this guy and is very long story , Thanks and god bless .