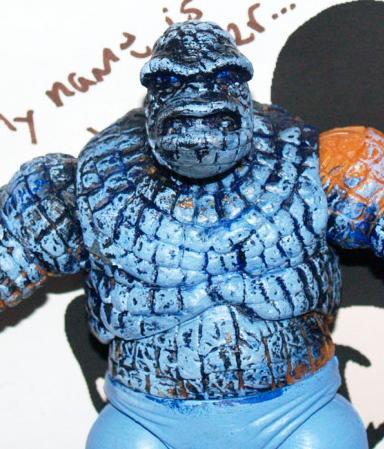 | | |
| --- | --- |
| Custom #: | 8852 |
| Name: | The Thing Turning To Ice |
| Custom Type: | Action Figure |
| Toy Series: | Fantastic Four |
| Creator: | dahdisneyfreek |
| Date Added: | July 24, 2008 |
| Base Figure: | Marvel Legends Series 11: Premiere Thing (w/Sky Cycle) figure |
| Height: | 6.00 inches |
VOTE FOR THE V2 NAME HERE!!!!!
SCROLL DOWN TO THE BOTTOM TO READ MORE

The Thing was terribly ill. He had terminal cancer, and was on a strong life support system. The reason he had this sickness was never determined, but one day, a miracle happened. Two capsules lied on his chest, sunken into the crevice . He asked the doctor what kind of pill this was. The doctors assistant was signaled to hand to bottle to The Thing. Then, he read it out loud.
"Dr.Victor Fries cancer solution. Take two per day...And call me n the morning. 678-9092, operational on weekdays and every other Saturday, 24 hours a day,"
In small print, it read "Side affects:sneezing, uncomfort in the upper esophagus, and extreme drop in body temperature,"
The Thing took the capsules with the cup of cold water next to him, and instantly felt the affects. He felt the ice water seeping slowly down his throat, and then it hit his stomach. But it didn't stop there. The cold kept running through his veins. He felt a little better, totally disregarding the sensation he just had. He told the doctor he was just fine, and asked the doctor if he could have more. He obliged, and dismissed The thing from the hospital. Later that night, the cancer came back, and it was worse than ever. Taking a bottle of liquor and a canister of the most potent medecine he could find, hoping to commit suicide, he took it all down. It was then that he realized that the medecine was Dr.Victors cancer pills. He instantly felt a rush of cold in his body, the same sensation he felt in the hospital. He kept swallowing though, because it felt so good. Then, he looked into the mirror, noticing the color change in his rock hard skin. He was turning to Ice! Without anything else, The thing screamed, "What is happening to me?"

Lots of fun 2 do, ran out of blue acrylic so decided to post it now as a "turning into" figure.

I AM STILL DEBATING WHETHER I SHOULD CALL THIS ONE ICE BLOCK, and IF YOU HAVE A BETTER ONE, PLEASE LET ME KNOW AND I WILL CHANGE THE NAME TO WHATEVER GETS THE MOST VOTES. THE FIRST THREE NOMINATIONS FOR THE NAME ARE THE ONES WE'LL VOTE FOR. THANKS FOR YOUR TIME, And THANKS FOR LOOKING!!!