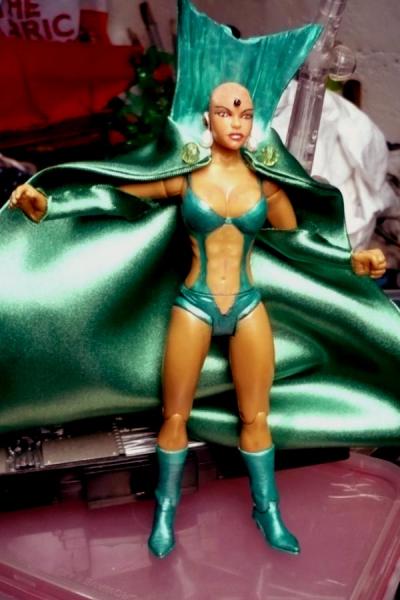 REALLY ADMIRE THIS MARVEL TURNED VILLAINESS-HERO THEN VILLAINESS OR WHATEVER SHE IS...I beheaded X 23 AND REPLACED kelly kelly's head and painted her costume with metallic green. Believe it or not, I sewed the cape using my mom's sewing machine!hah! I can sew!

ABOUT MONDRAGON:

BALD,BOLD AND SEXY! Moondragon left Earth with her father (who was now Drax) and found a planet immersed in war, so she decided to take mental control of all its inhabitants to force them to live in peace. This caused her to believe herself to be like a goddess. When Drax confronted her, she killed him with her mental powers. The Avengers intervened, and Thor took her before a real god ..his father, Odin, to be judged Odin perceived within Moondragon a stalwart but tainted spirit. He condemned her to wear a magical headband that would reduce her mental powers until she had overcome her arrogance. He also assigned The Valkyrie to be her guardian

When Valkyrie rejoined the Defenders, Moondragon was forced to come along. She soon discovered that the Dragon of the Moon had been influencing her all along. She managed to reject it fully, and for the first time, started to gain friends in the team; eventually the headband came loose by itself. Unfortunately, soon after she was infected with mutated spores and started to die; the Dragon appeared again and told her it could save her life, but only if she agreed to be its host. She accepted, and now an evil being battled the Defenders, until Andromeda, Interloper, Manslaughter, and Valkyrie sacrificed themselves to kill both her and the Dragon.

Whats interesting to her is that she was engaged in Lesbian relationship with PHYLLA -VELL...

hope you liked her...