Thanks for the time. Want list is at the Bottom. Everything listed has only ever been displayed. I'd prefer to trade but will also take Pay-Pal or a payment through the mail. Things traded or pending marked as such, please note.
New (Pics coming soon):
Sealed:
2014 Marvel Legends A.I.M. Agent, Hydra Soldier, Spider Girl
Black Series 6inch Bobba Fett
DCUC Cheetah Modern Clothed
Walking Dead TV Series Andrea
Loose:
Marvel Legends Silver Surfer Series 5 w/board, Marvel Girl from 2 pack, Superior Spiderman w/both hands, Headless Spider Girl 2014, Headless and missing belt Jean Grey 2013, Red Skull Series 5 missing hat and broken left leg, Movie Electro head and blue hands only, Ultimate Green Goblin Head and torso
DC Collectibles Justice League New 52 light grey Batman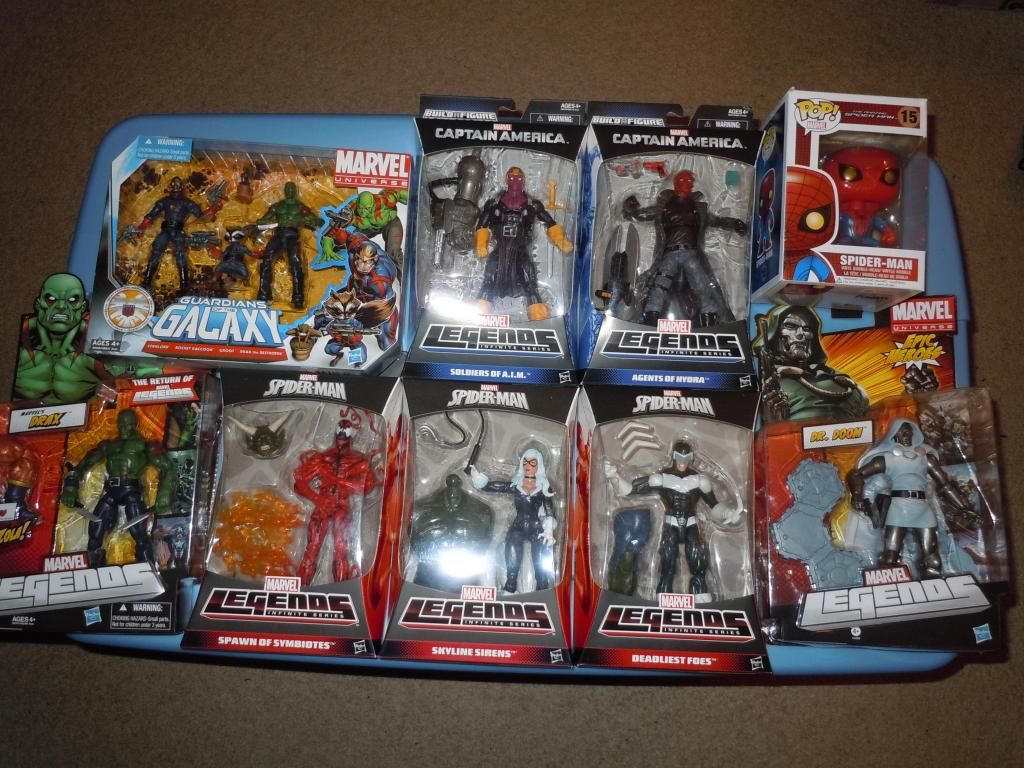 Marvel Universe Guardians of the Galaxy Set
Marvel Legends Baron Zemo, Red Skull, Drax, Carnage, Black Cat, Boomerang, FF Dr. Doom
*Black Cat, Carnage & FF Dr. Doom TRADED*
Amazing Spider-Man Pop!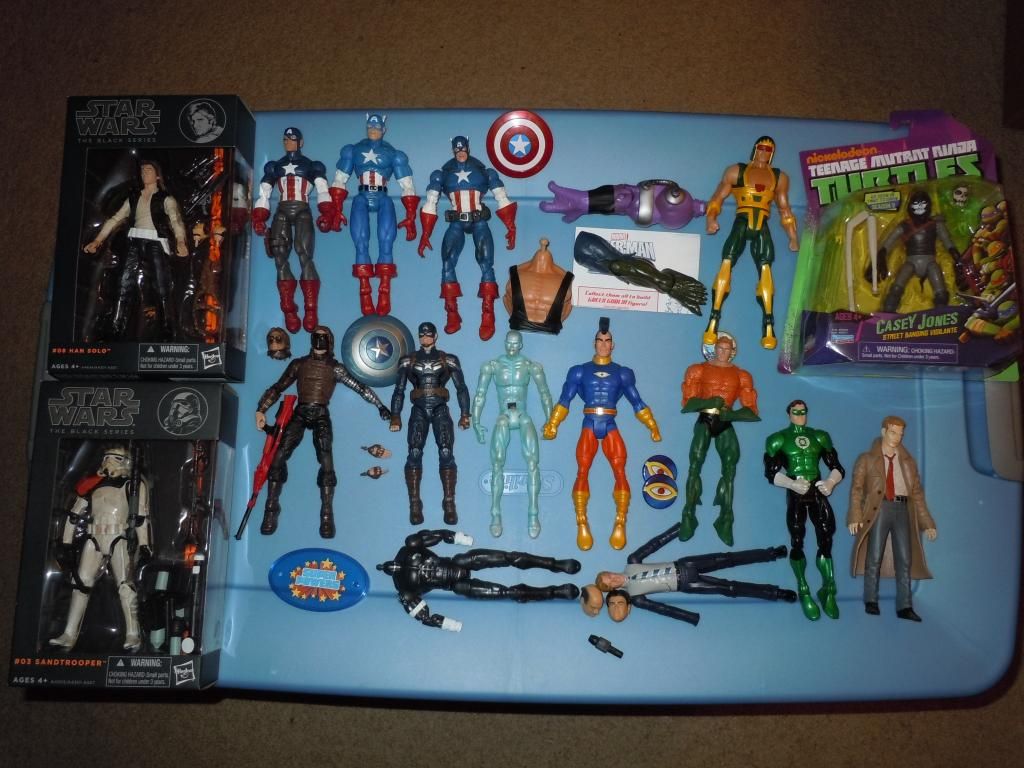 Star Wars Black Han Solo & Sandtrooper
Marvel Legends missing some accessories: Ultimate Captain America, Series 1 Cap, Face Off Cap with Marvel Now! Cap Shield, Stealth Suit Cap, Winter Soldier, Ice Man, Body of Nick Fury
*Series 1 Cap,Winter Soldier TRADED*
DCUC: Omac, Cyclotron, Aquaman, Green Lantern, Missing parts Harvey Dent
Heads from two wrestling figures. Also a microphone
DC Direct Constantine
Super Powers Base, BAF Pieces Bane Torso, Green Goblin Left Leg, Validus Right Arm
*Goblin Leg TRADED*
TMNT Casey Jones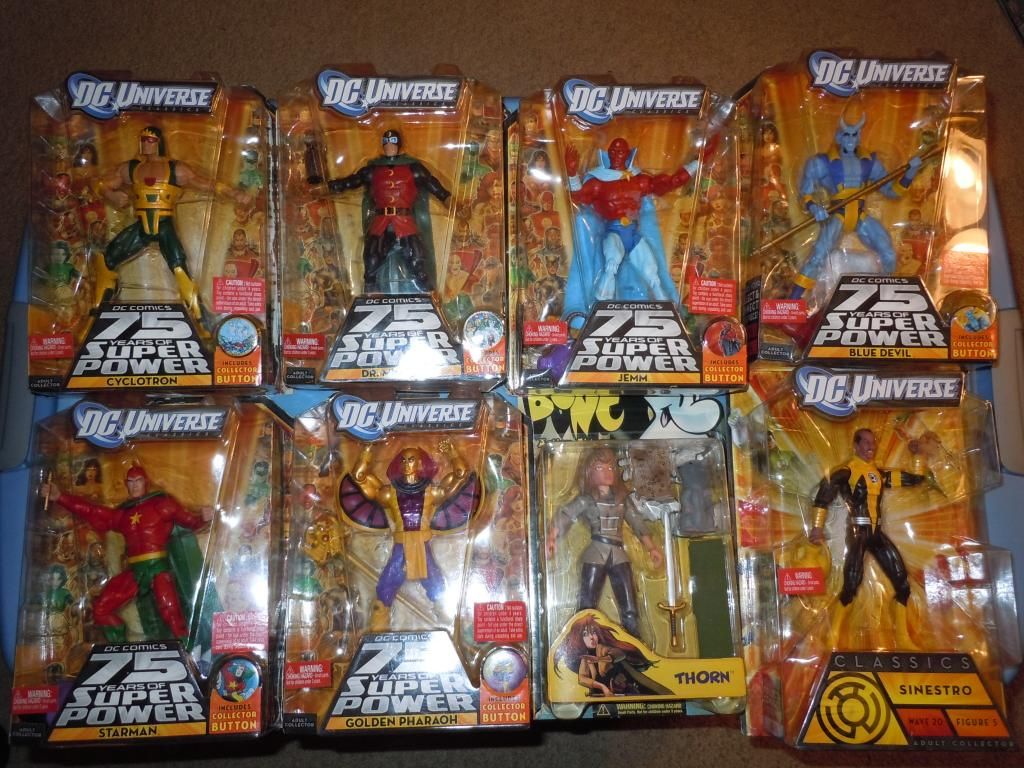 DC Universe Classics Cyclotron, Dr. Midnite, Jemm, Blue Devil, Starman, Golden Pharaoh, Sinestro,
Bone Thorn
*Sinestro TRADED*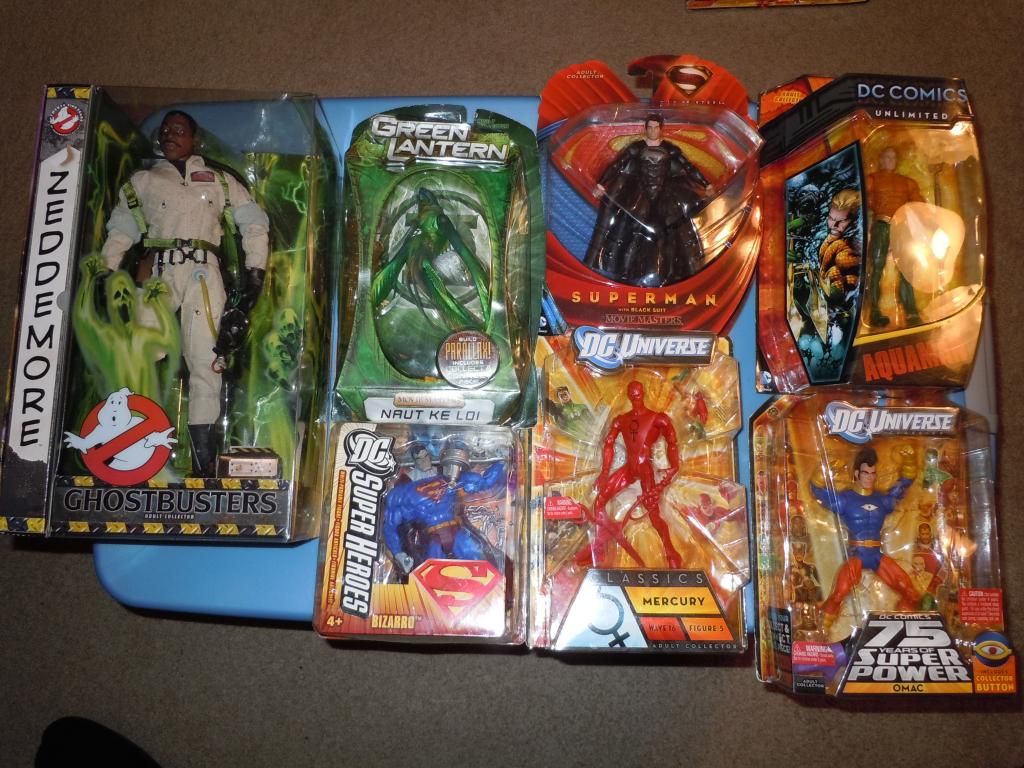 Ghostbusters Zeddemore
Green Lantern Naut Ke LoI
Man Of Steel Movie Masters Black Suit Superman
DC Unlimited Aquaman
DC Superheroes Bizarro
DC Universe Classics Mercury, Omac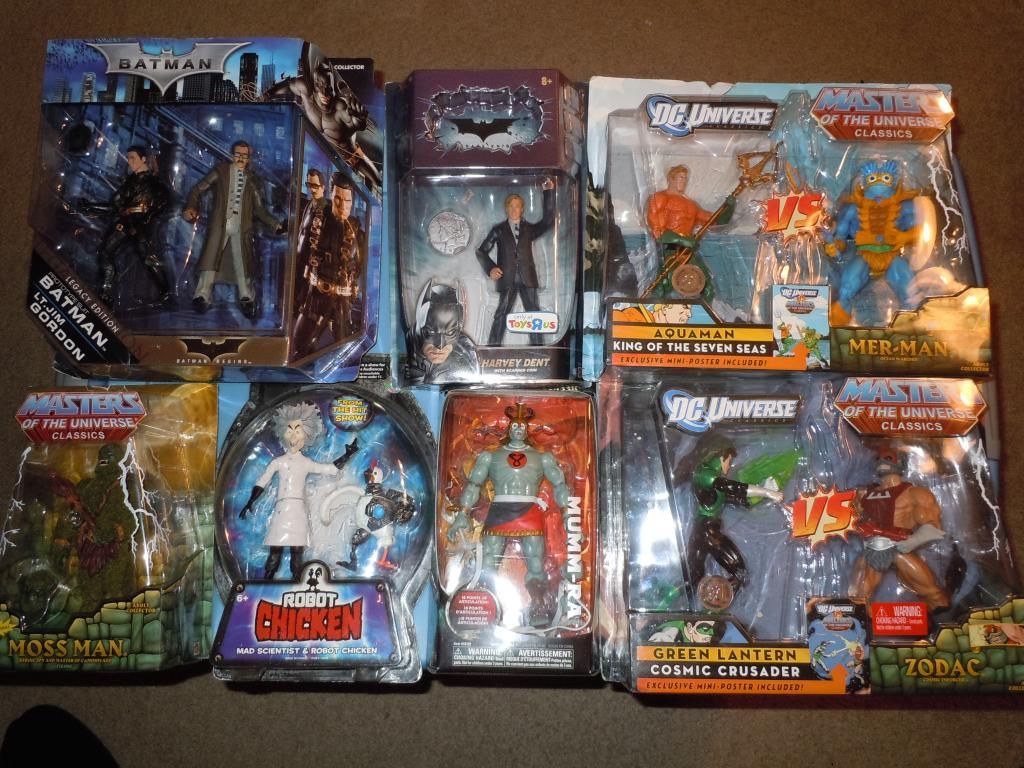 Batman Begins Movie Masters Two Pack
*TRADED*
Batman Dark Knight Rises Movie Masters Harvey Dent
DCUC VS. MOTUC Aquaman & Merman
*Only Aquaman loose available, Merman and Staff TRADED*
Masters Of The Universe Classics Moss Man
Robot Chicken Two Pack
Thudercats Classics Mumma Ra
*TRADED*
DCUC VS. MOTUC Green Lantern & Zodac *Also Have Green Lantern loose without Gun*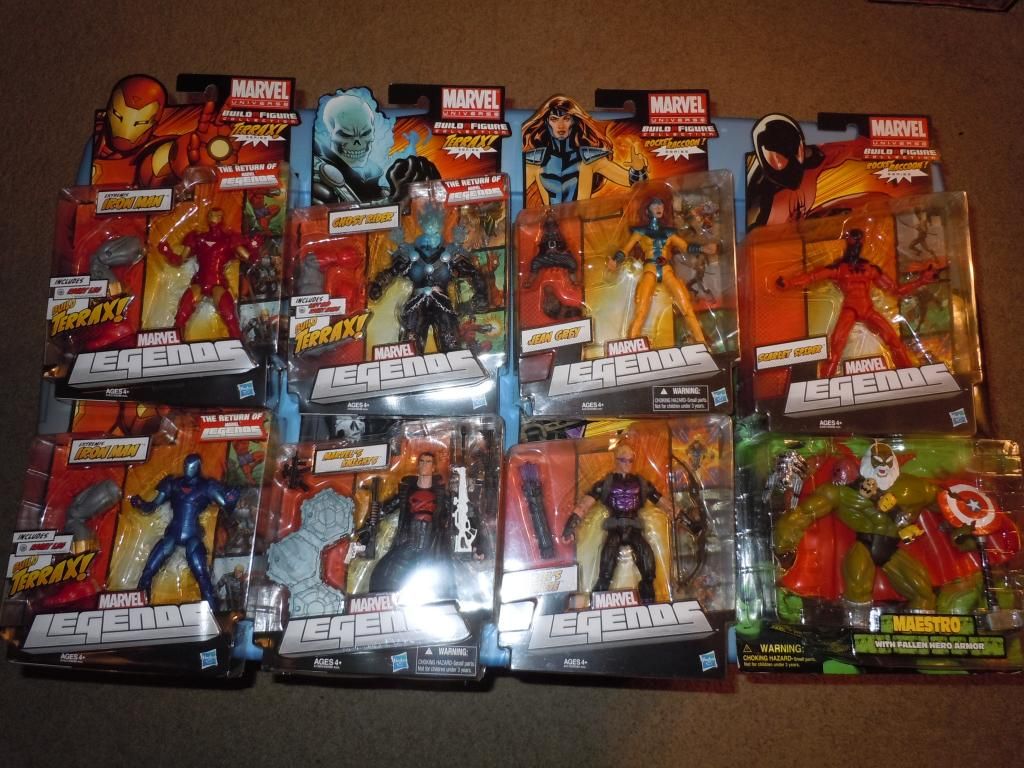 Marvel Legends Extremis Iron Man & Variant, Ghost Rider, Jean Grey, Scarlet Spider, Punisher, Hawkeye
*Scarlet Spider TRADED*
The Incredible Hulk Transformations Maestro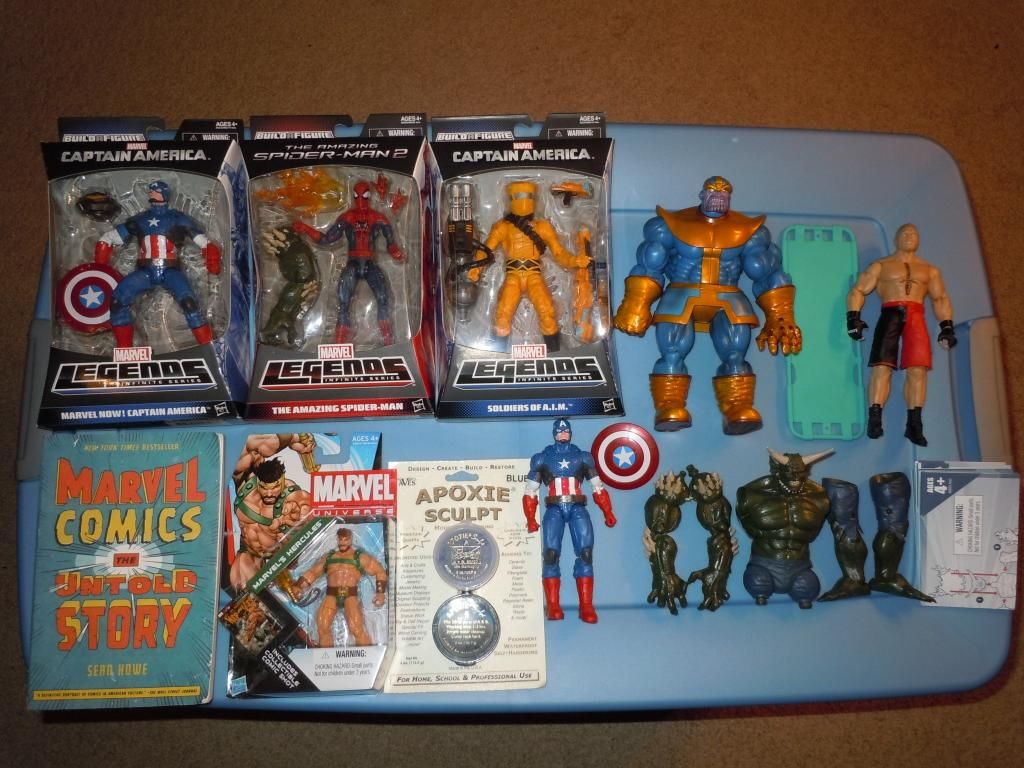 Marvel Legends Now! Captain America, Amazing Spider-Man, A.I.M. Agent
*Goblin Arm from Spider Man TRADED*
Marvel Select Thanos
WWE Brock Lesnar With Stretcher from Two Pack
Marvel Comics The Untold Story Paperback
Marvel Universe Hercules
Aves Blue Apoxie Sculpt
Marvel Legends Now! Captain America loose
Marvel Legends BAF Ultimate Green Goblin complete minus fire add ons.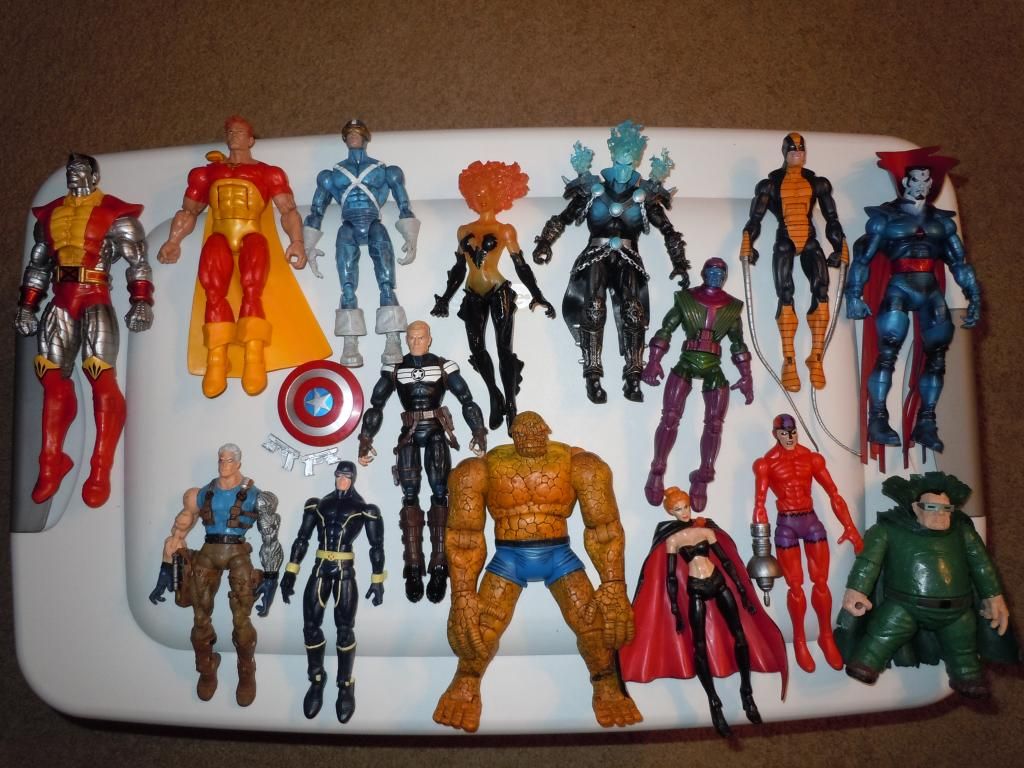 Marvel Select Colossus, Phoenix Variant
*Colossus TRADED*
Marvel Legends Hyperion, X-Factor Cyclops, Ghost Rider, Kang, Constrictor, Mr. Sinister, Two Pack Cable Custom, Brood Series Cyclops, Steve Rogers, Thing, Black Queen, Klaw, Mole Man
* Steve Rogers missing guns,Constrictor,Ghost Rider TRADED*
Not Pictured: Complete with all Accessories and Base McFarlane Sin City Marv Comic Series Black & White
Two Movie Hulk Figures
DC Collectibles Batman from Bane Two Pack
Marvel Legends Green Goblin Variant missing head and Pumpkin Bomb, Mystique & Jigsaw missing heads
DCUC Creeper, Mercury complete & Jonah Hex with broken leg, no guns
*Creeper TRADED*
Halo Reach Orange Armor Pack
Marvel Legends Professor X Wheelchairs, one Cerebro helmet
Two Face Coin
Shotgun
Mini Ant-Man & Yellowjacket
Movie Masters Harvey Dent, Lt. Gordon & Joker heads
*Lt. Gordon head TRADED*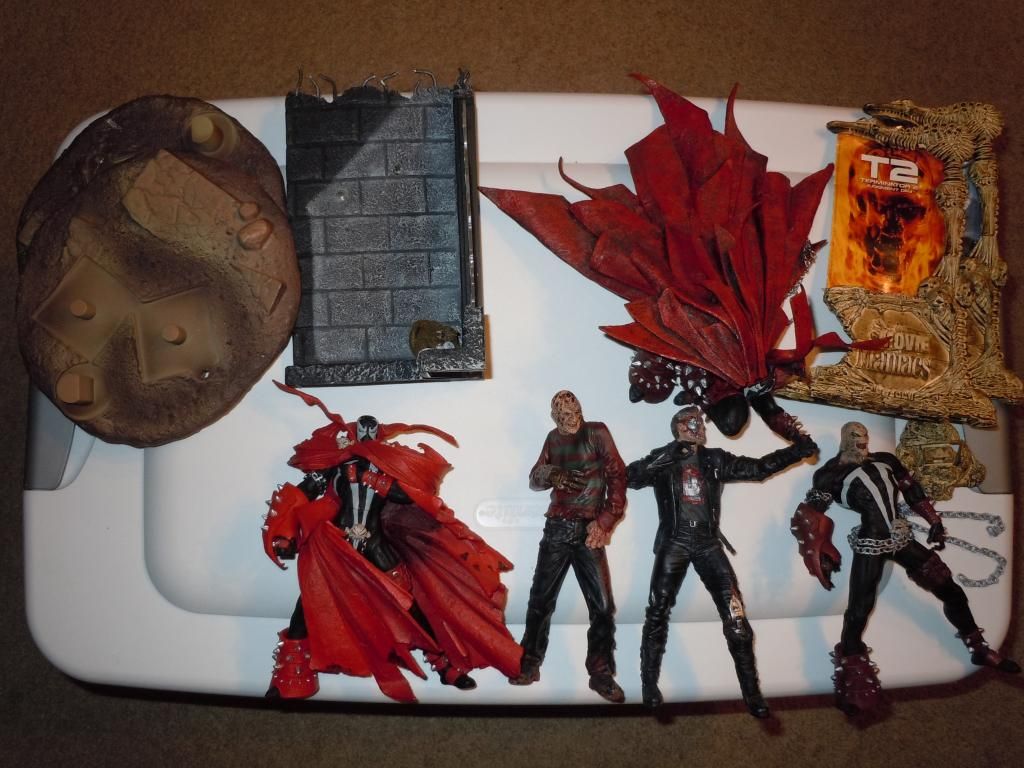 Round Desert Base x2
Spawn Figure x3 one includes base
Movie Maniacs Freddy and Arnold with bases. Freddy has broken claws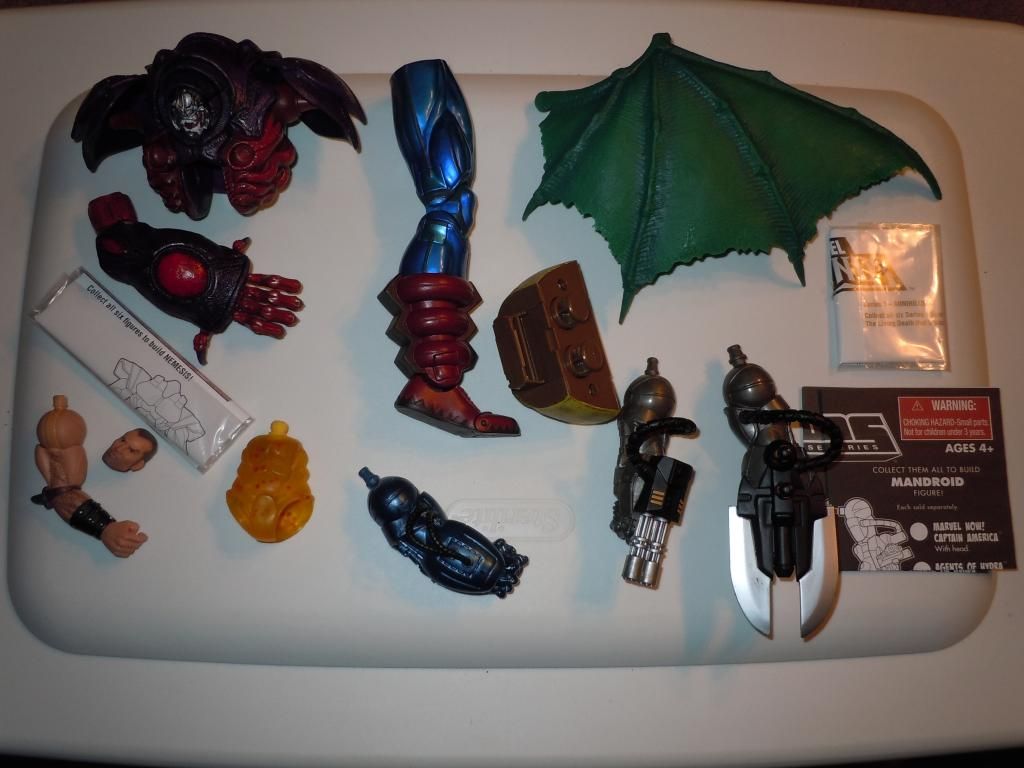 BAF Pieces Onslaught Upper Torso & Right Arm, Ares Head & Right Arm, Nemesis Lower Torso, Iron Monger Right Arm, Galactus Left Leg, Mojo Midsection, Annihilus Right Wing, Mandroid Arms
*Onslaught Torso TRADED*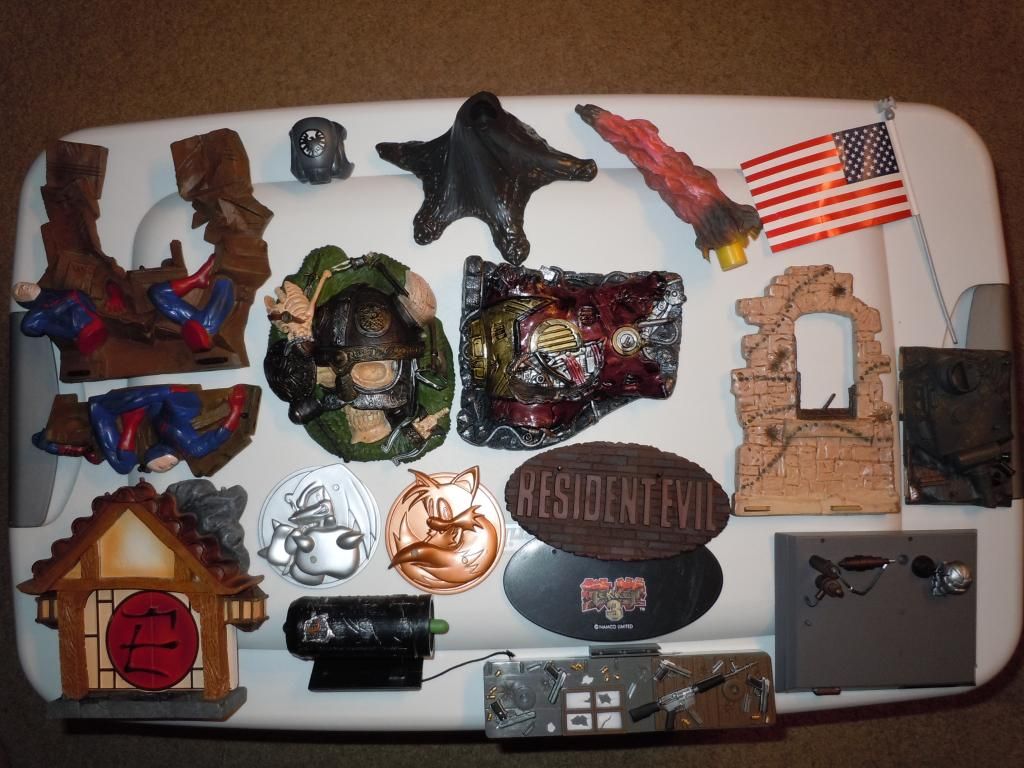 Marvel Legends Bases Hellfire Club, Elektra, Thor, Sentinel, Nick Fury, Captain America, Jigsaw Punisher Two Pack
Marvel Select Wolverine
Sonic, Tekken, Resident Evil
Optimash Prime and Spider Spud Mr. Potato Head toys
Mighty Muggs Dr. Doom
*TRADED*
Wacky Wobbler Captain America The First Avenger
Marvel Legends Thing VS. Hulk diorama
Ertl Speed Racer Mach 5 Diecast with Chim Chim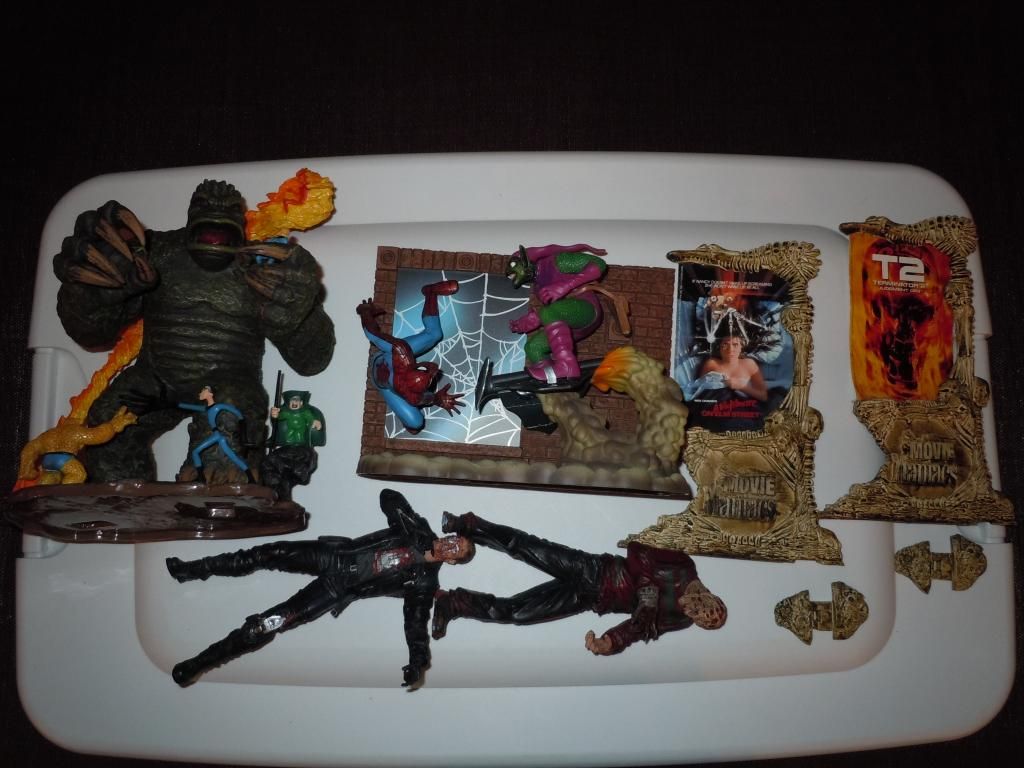 Marvel Legends Fantastic Four VS. Mole Man diorama
Marvel Legends Spiderman VS. Green Goblin diorama
Movie Maniacs T-1000 and Freedy Kruger with bases, no accessories. Freddy has missing claws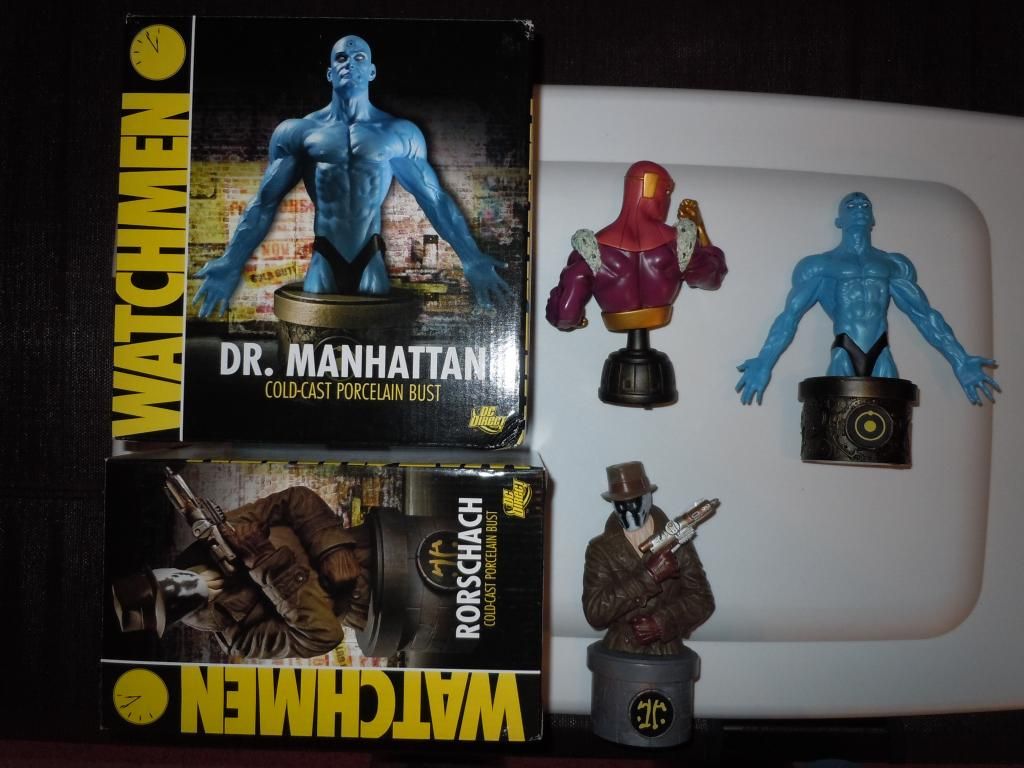 Baron Zemo backside
Watchmen Dr. Manhattan 1470/5000 and Rorschach 1746/6000 DC Direct Mini Bust Statues complete with styro and box. Both are in great shape. Rorschach came with a small break in his hat, but it has been fixed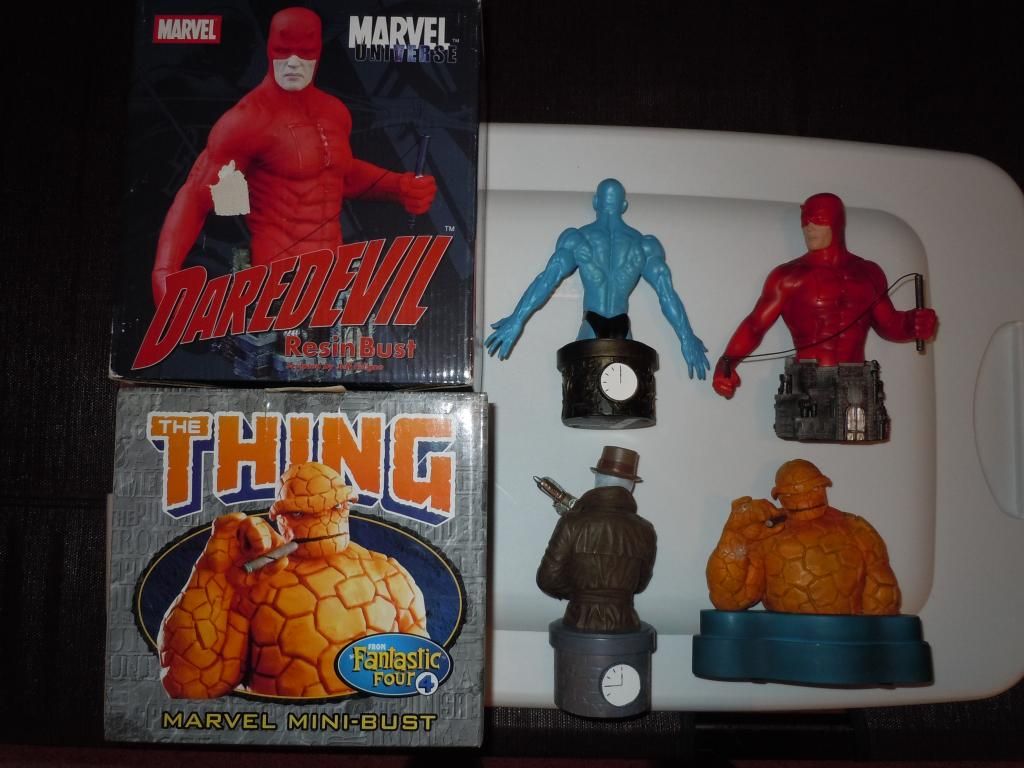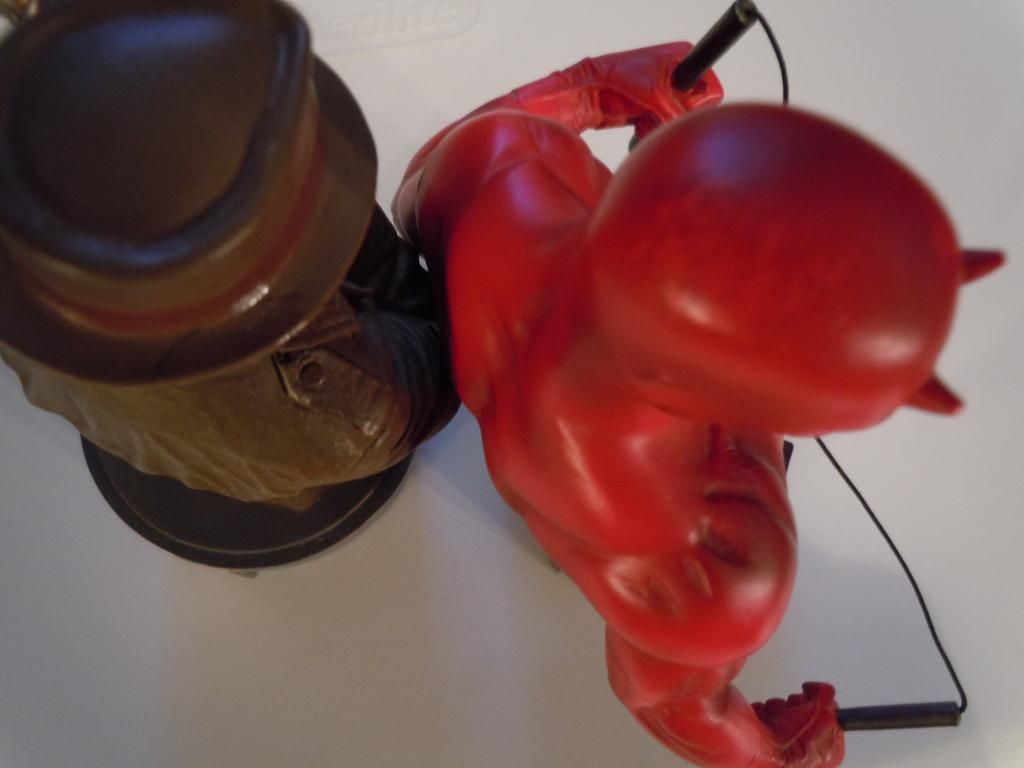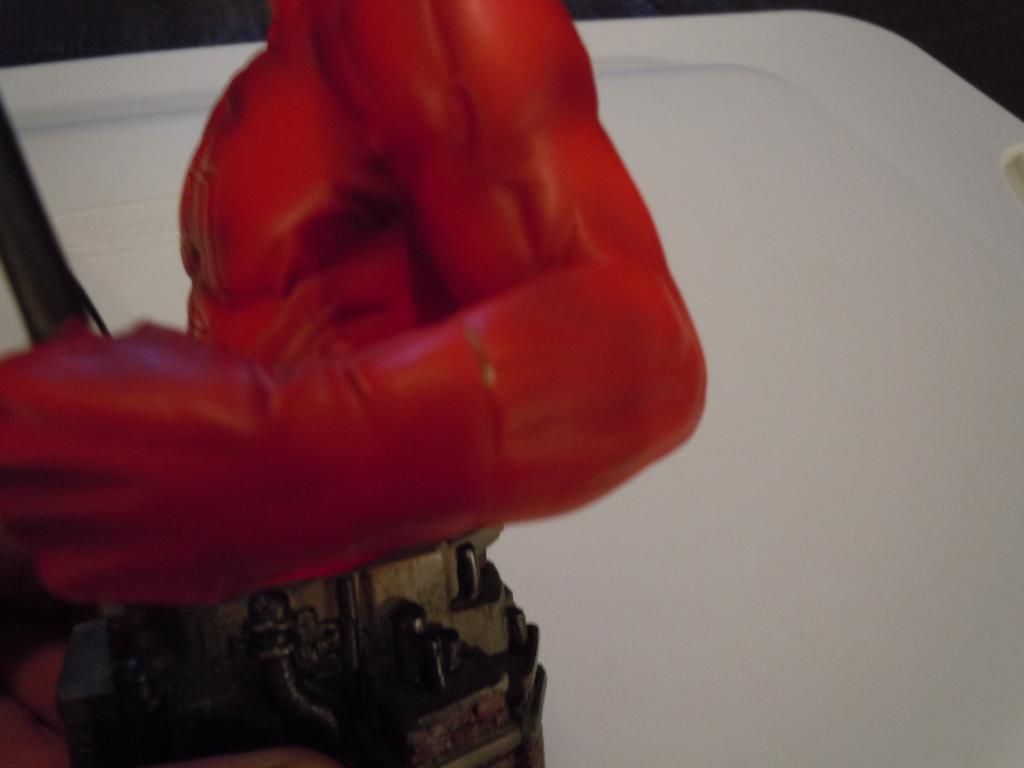 Watchmen Backisides
Daredevil Diamond Select resin bust. Complete with styro and box. Fell and left hand broke. Clean break and repair. small paint knick on one knuckle. Head also has a weird paint smear on top. Almost like it was rubbed before it dried. other than that, great shape. #1315/7500
The Thing Mini Bust by Bowen with Cigar. Complete with styro and box. Fell and right hand with cigar broke as well as one of the fingers. Glued together, Needs paint at point of repair on front of arm. Other than that, great shape. #5837/6000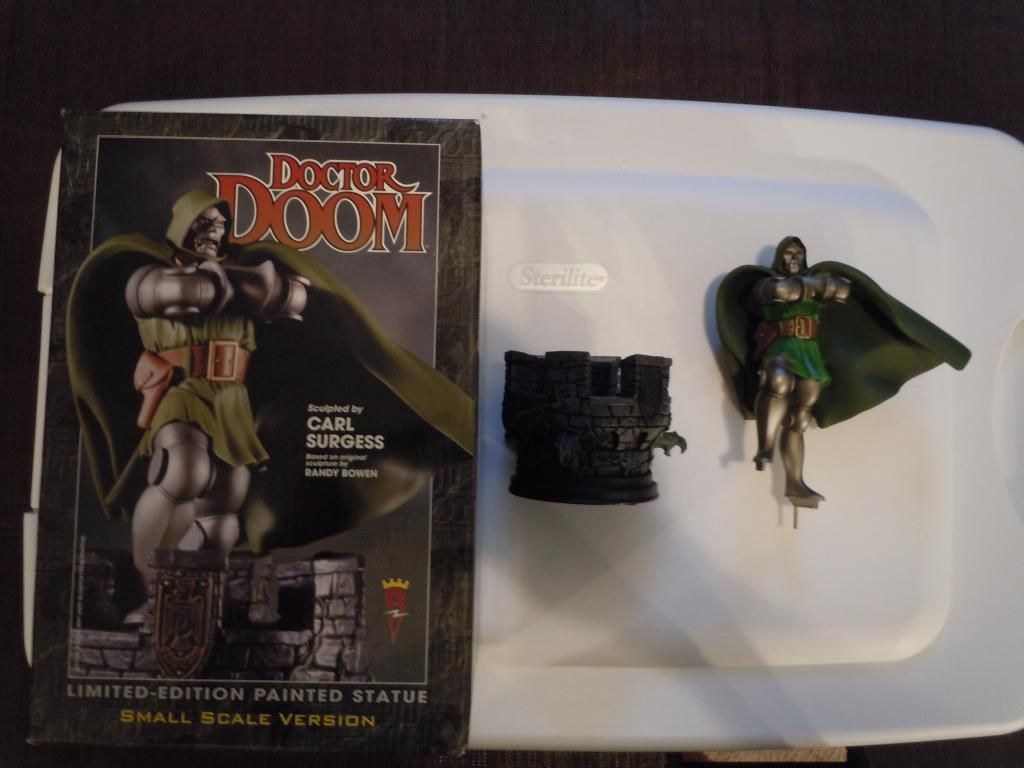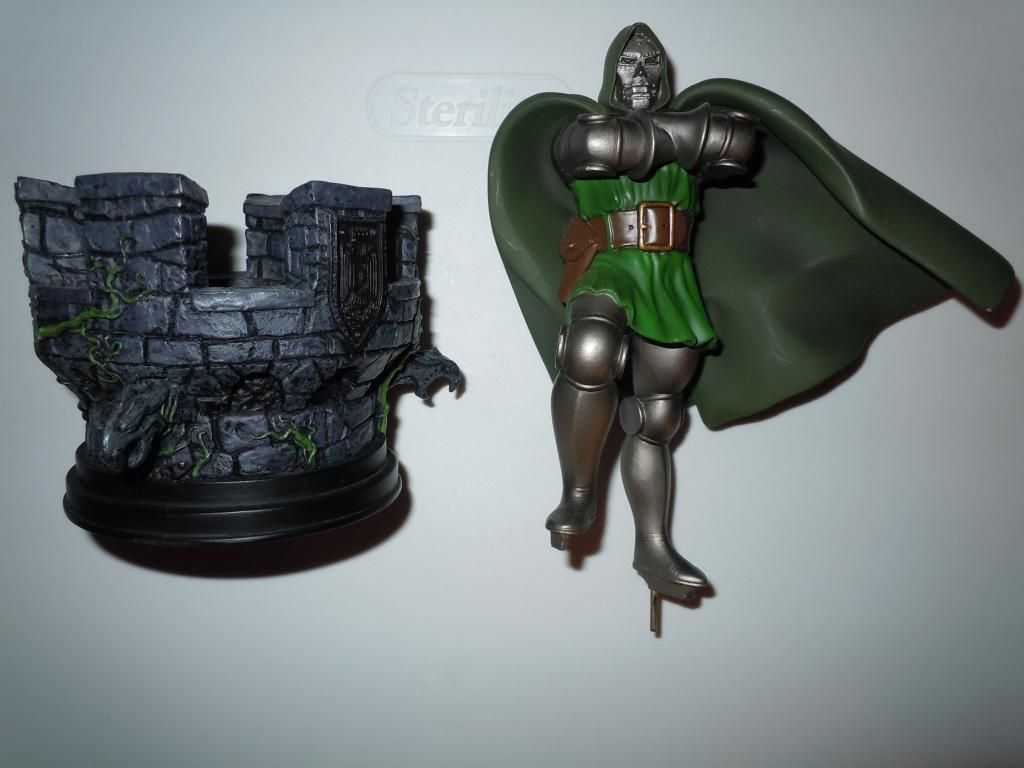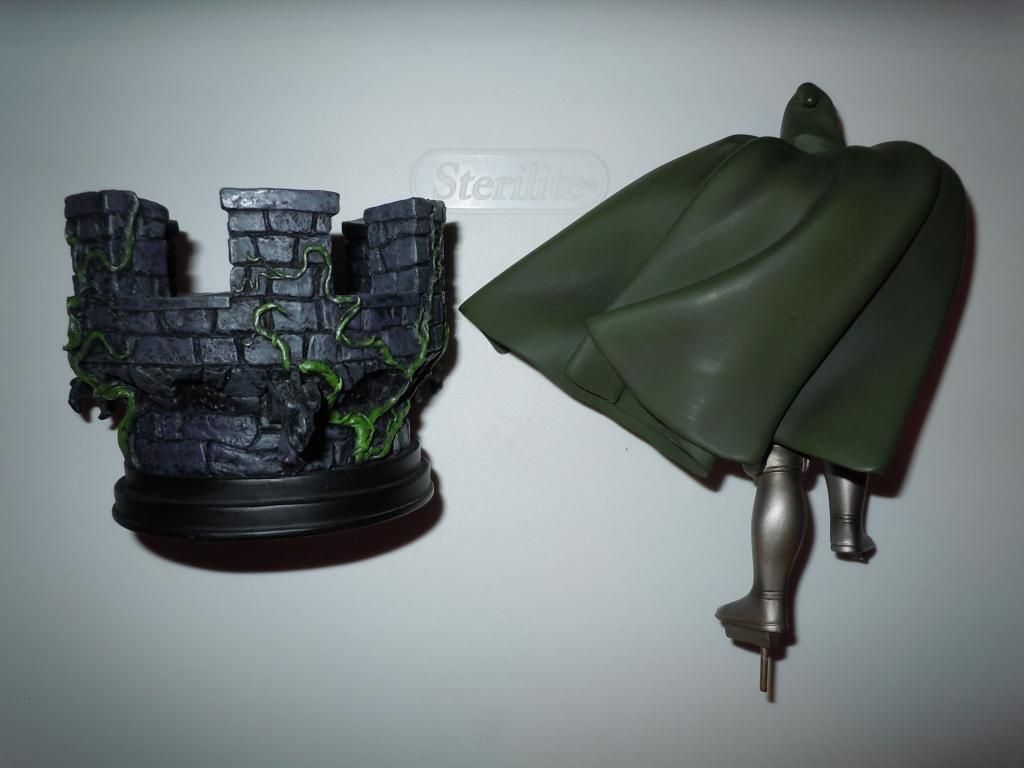 Dr. Doom Bowen Small Scale 7 1/2 inch statue 3009/4000 complete with styro & box. In great shape. has very small paint wear on the edge of the right foot and corner of the cape. There was a very small piece that was loose upon purchase and had to be glued back together. The piece is on the bottom of the foot where it rests in the base, so it's never seen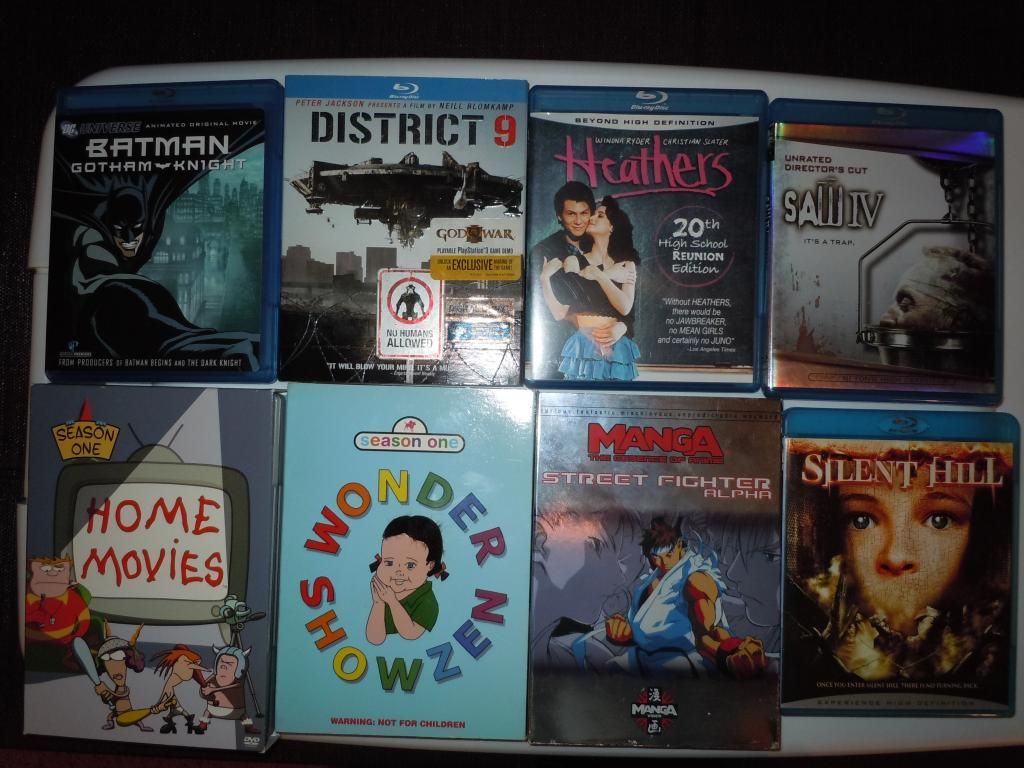 Batman Gotham Knight, District 9, Heathers, Saw IV & Silent Hill Blu Ray
Home Movies Season 1, Wonder Showzen Season 1, Street Fighter Alpha DVD
WANT LIST
MARVEL LEGENDS
Astonishing Wolverine Head from Unmasked Apocalypse Series Variant
Deadpool Series 6 Sword Only <-------------------------------------------------------Wanted
Two briefcases in 6inch scale <-------------------------------------------------------Wanted
Tony Stark Head from Twin Pack <---------------------------------------------------Most Wanted item
Fire Effects from War Machine
Pumpkin Bomb with flame trail
Annihilus -I need the left wing, both arms and legs. Only looking for Purple pieces. Looking for a purple torso too
Apocalypse (Black BAF)
Archangel (X-Force Box Set)
Ares BAF Need Lower Torso, Both Legs
Arnim Zola BAF Need Both Torsos
Beast
Black Widow (2 Pack, Black)
Black Widow (Cap Infinite)
Captain Britain
Cyclops (X-Factor Suit)
Deathlok
Destroyer
Dock Ock (Series 8 )
Domino
Dragon Man
Dum Dum Dugan
Electro (Sinister Six Box Set)
Fin Fang Foom BAF
Franklin Richards
Green Goblin (Onslaught Series Non Variant)
Guardian
Hobgoblin (Spider Man Classics)
Hulk (1st Appearance Grey)
Hulk (Valkyrie 2 pack)
Human Torch (Two Pack Blue & Black)
Hydra Soldier Brood Series Guns Only. Two Sets needed
Invisible Woman (Two Pack Blue and Black)
Iron Man (1st Appearance Gold)
Jigsaw (Either)
Kitty Pryde
Kraven (Spider Man Classics)
Kree Soldier (From 2 Pack) x2
Lizard (Fearsome Foes Box Set)
Luke Cage (SDCC Thunderbolts)
Maria Hill/Sharon Carter (Can use just the body without either head)
Mojo BAF
Moon Knight (Silver)
Mr. Fantastic (Two Pack)
Ms. Marvel Warbird
Mysterio (Spider-Man Classics)
Nick Fury (Shield Two Pack)
Phoenix (Green)
Psylocke (X-Force Box Set)
Red Hulk BAF
Red She Hulk
Red Skull (Series 5)
Sabretooth (AoA) Low Priority
Sandman (Spider Man Classics)
Scorpion (Spider Man Classics, Non Metallic)
Shatterstar Custom (White, Comic Accurate)
S.H.I.E.L.D. Agent x2
Shocker
Silver Savage (Would also take just the Sword and Surf Board)
Spider Man Black Suit (Secret Wars from Spider Man Origins Line. Glider Version with double jointed elbows & waist articulation)
Spider Man Battle Ravaged (Spider Man Classics)
Spider Man 1st Appearance Sentinel Series
Spider Man (Sinister Six Box Set)
Spider Man Future Foundation Variant <-----------------------------------------------------------------------------Wanted
Spiral (Non Variant)
Stan Lee
Storm (Mohawk Variant)
Storm Custom Punk Suit
Super Skrull
Taskmaster
Thor SDCC 2011 Exclusive <-------------------------------------------------------------------------------------------MOST WANTED ML
Valkyrie
Vision (Ares Series)
War Hulk
Warpath (Uncanny X-Force Variant)
Wendigo
Wolverine (1st Appearance)
Wolverine (AoA, non burnt face) Low Priority
Wolverine (Legendary Riders Blue jeans)
Wolverine (X-Force Box Set)
Goliath (Marvel Universe Red & Blue)
BASES
Colossus Metal piece from X-Men Classics
Hawkeye Speeder Bike
Logan Legendary Riders Days of the Future Past Bike
Marvel Legends Rock Base from Silver Surfer, Cable etc.
Symbiote Wall Base from Spider Man Classics Black Spider Man
Toad Base
M.O.D.O.K. BAF Flame Piece x2
MARVEL SELECT
Unmasked Cyclops head only
Dr. Doom Throne Only
Thor Classic Marvel Select Rock Base x3
War Machine Movie Black & Grey
Wolverine (Origin with wolves) <---------------------------------------Most Wanted MS
TRANSFORMERS MASTERPIECE
Blue Streak
Sideswipe (Red 2nd Release)
Sideswipe (Yellow Tigertrack)
Soundwave (Takara)
Soundwave Cassettes (Have Ratbat)
Starscream (Coronation)
Starscream (Ghost)
NECA TMNT BLACK & WHITE SET
<---------------------------------WANTED
STAR WARS BLACK
SDCC Boba Fett
Stromtrooper
DCUC
Nightwing (Wave 3)
Batman Beyond (Masked & Unmasked Wave 4)
Batman '89 (Wave 10)
Man Bat (White)
Robin (Wave 16, Modern Head)
Darkseid CNC I have Left Arm
Swamp Thing. I only need the base and the figure <----------------------------------------------------------Highly Wanted
Poison Ivy <--------------------------------------------------------------Wanted
Mad Love Harley Quinn
Catwoman (Arkham City Legacy Two Pack)
Batmite Blue & Grey
DC CLASSICS SUPER HEROES:
Two Face Tommy Gun only
DC DIrect/Collectibles
Batman Armory Series
Batman Batman & Son
Batman Beyond Vengeance
Batman Crimson Mist
Catwoman Arkham Asylum
Commissioner Gordon Dark Victory
Commissioner Gordon (Legends of the Dark Knight Box Set)
Damian Wayne Batman Incorporated
Joker Batman & Son
Mad Hatter Arkham Asylum
Mad Hatter Long Halloween
Penguin Dark Victory
Poison Ivy Hush
Ra's Al Ghul Hush
Ra's Al Ghul Arkham City
Scarecrow Hush
Two Face Long Halloween
1989 Hot Wheels 1:18 Scale Batmobile
Young Justice Bases from Batman, Red Arrow, Robin
WALKING DEAD:
SDCC Michonne McFarlane Figure
Comic Series Color: Governor, Penny, Riot Gear Glenn, Sheriff Rick
STREET FIGHTER
Kid Robot Street Fighter- Evil Ryu, Glow in the Dark Blanka, Mecha Zangief, Shin Akuma, All of Series 2
SOTA Street Fighter Birdie, Dan, Dhalsim, E.Honda, Fei Long, Sodom, T.Hawk, Zangief
Play Arts Street Fighter Cammy, Chun Li
STATUES
Batman Black & White Frank Miller, Mike Mignola, Sam Keith, Sean Galloway
Marvel Zombies Wolverine
RANDOM
2010 SDCC Super Hero Squad Dr. Doom<------------------------------------------------------------------WANTED
The Maxx Mcfarlane Toys
Scud Black Sol Bad Guy (Black) Variant Shocker Toys
The Tick Shocker Toys (Any except Clear Variant)
McFarlane NFL Barry Sanders Thanksgiving Day Variant
Please send a pm or reply with any questions or offers. Thanks!