Greetings, true believers! This is my general trade list. I have other items that I will be adding at various intervals, but to keep things slightly more managable I'm keeping it small. So if there is something in ML or MU that you need, ask and I might just have it. Pictures of any item are avalible upon request, should one not be posted, or you need a different angle.
MOST of my figures are like new, right out of the package. Others, however, I pick up at a second hand store, and they are sometimes a little rough. If a figure has any wear or issues, it will be noted.
A lot of the accessories I have listed are for a lot of the 90's ToyBiz figures.
I have several BAF parts avalible.
I have multiples of most of the Blob series figures I've posted and have very easy access to even more of them. The same applies for a few Annihilus and Onslaught figures as well.
If you would prefer a figure be removed from a box before shipping, I don't mind (some are pretty bulky). If you would like a figure that's listed in box without BAF part or accessories, we can negotiate that as well.
For the most part, I just want money. However, I do have a want list, and will certainly consider trades for specified items. I'd like to have figures in new or like-new condition, though it isn't an issue if they're out of box.
Paypal only, please!
I will ship anywhere within the continental United States. I would ask that some money be payed upfront, then I will ship, and you may pay the rest once your figure has arrived snug n' safe in your warm and loving embrace. You will be responsible for shipping costs on figures you purchase.
Haves: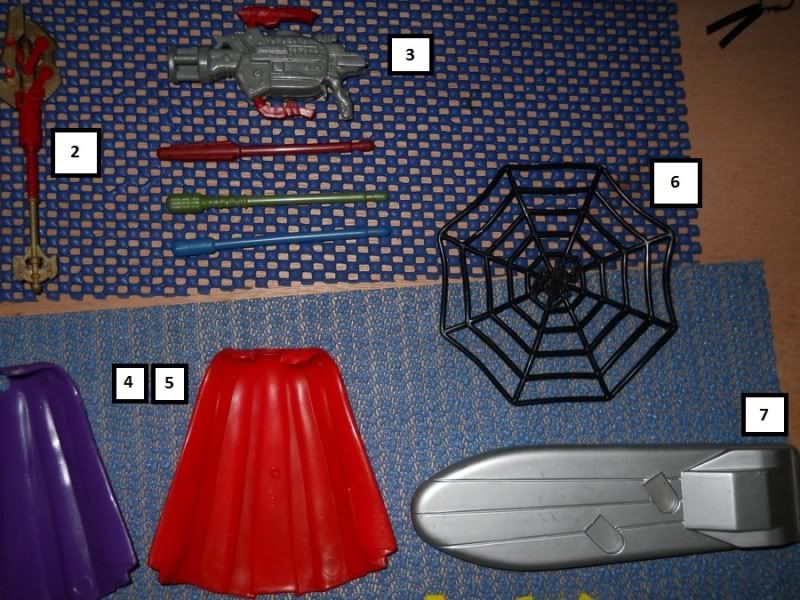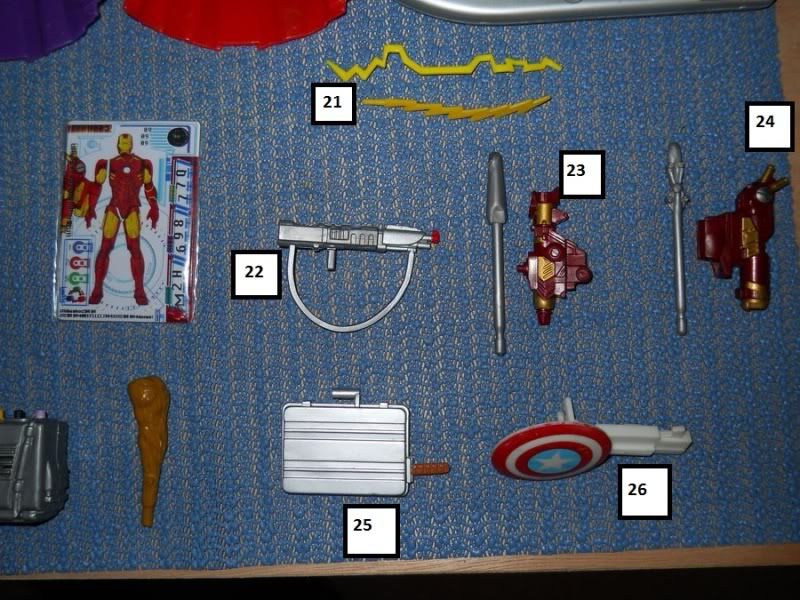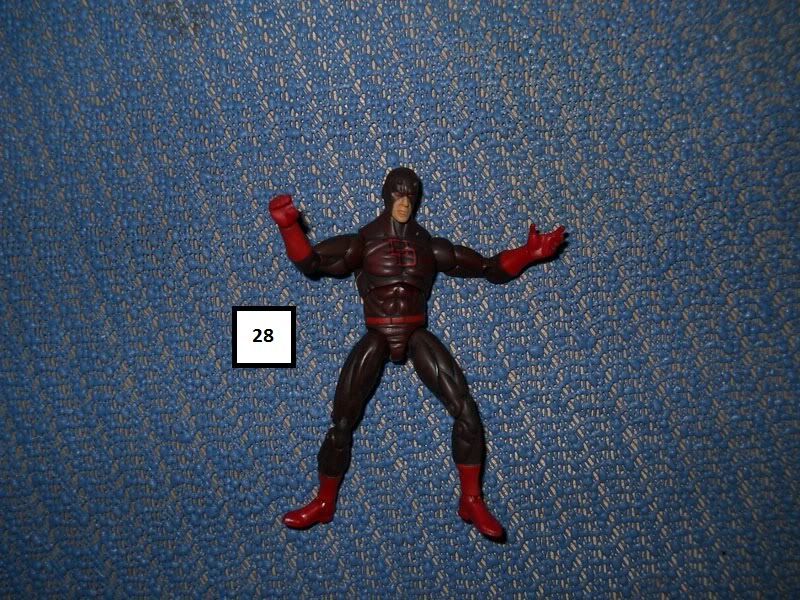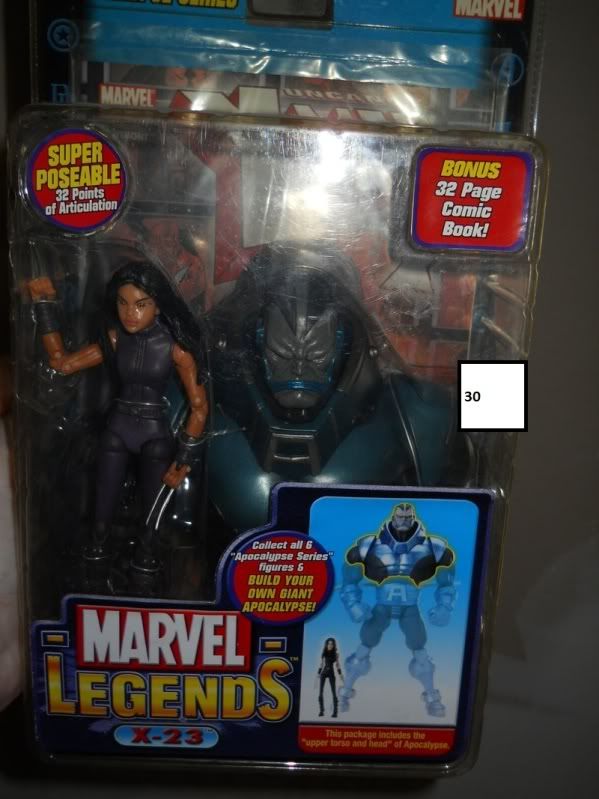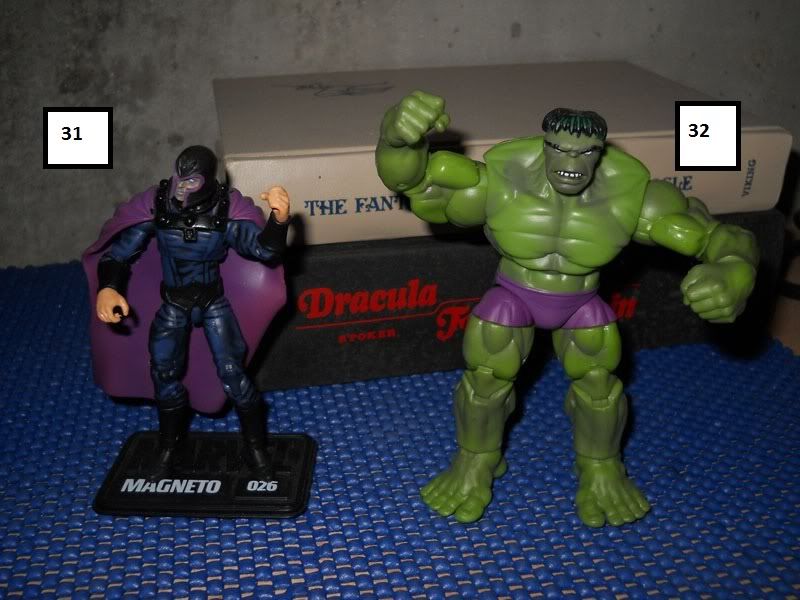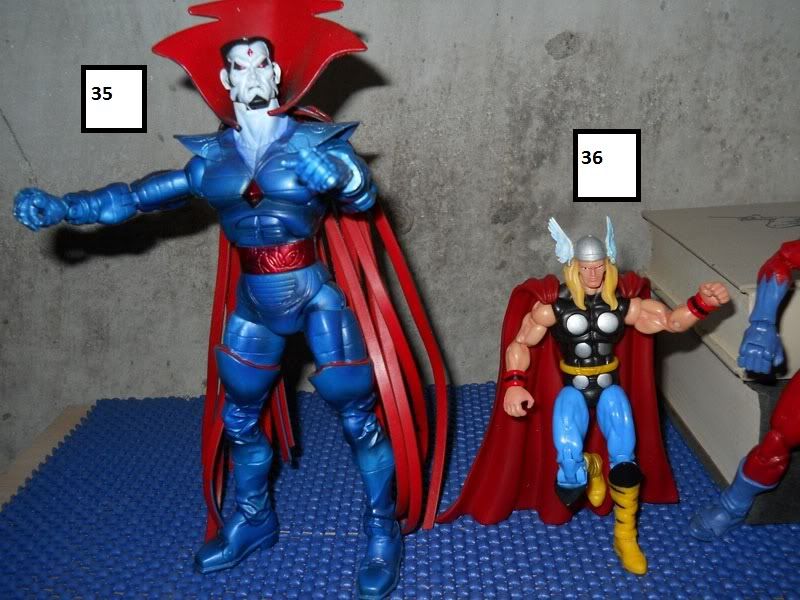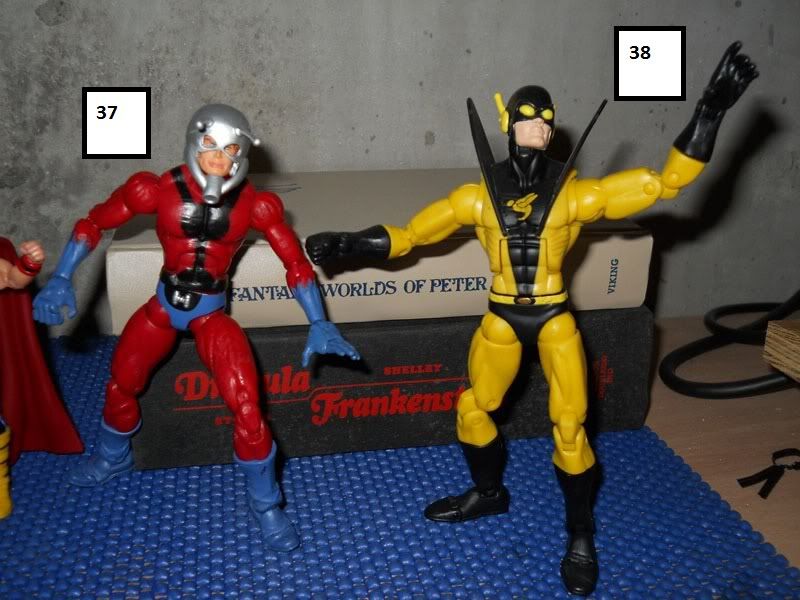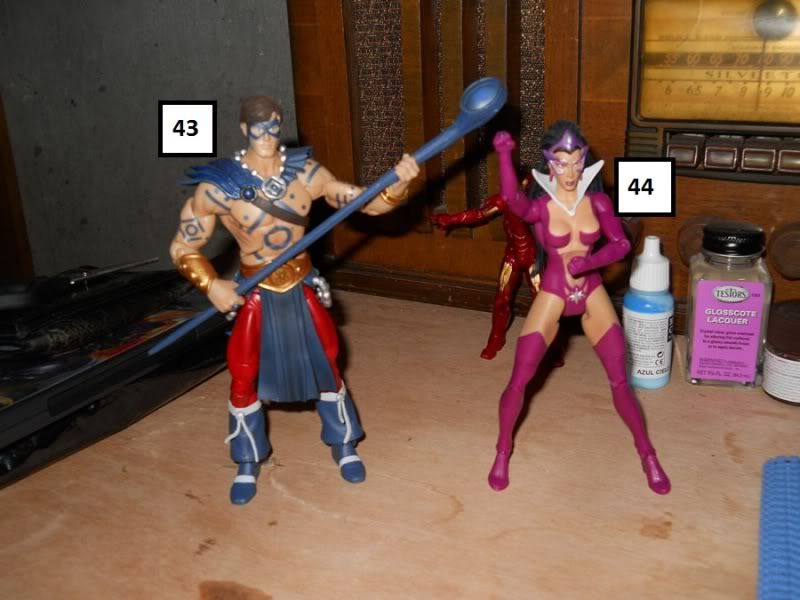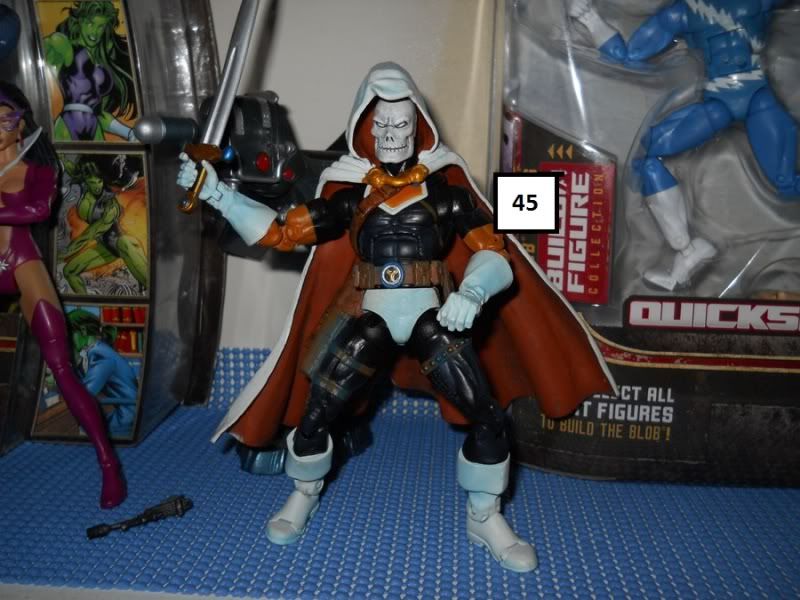 1: Cobra Commander alt. head, half face covered. This fits most 3 3/4 figures.
2: Ultimate Thor weapon from Avengers movie series. Fits most 3 3/4 figures; extends and retracts the head of the weapon.
3: Ultimate Hawkeye weapon from Avengers movie series. Fits most 3 3/4 figures; shoots projectiles (all 3 included)
4 & 5: Unknown capes from 90's Marvel figures. I think one may go to a Magneto figure, but I'm uncertain.
6: Rubbery black web w/ integreated spider in the center.
7: Silver Surver board, I would presume. One of many accessories dumped on me without much origin info.
8: A broken street light and bent over lamp posts. I don't know what they're from, but they go fairly well with 3 3/4 inch figures.
9: A boulder.
10: Magneto helmet. Not sure what figure it goes to.
11: Not sure what this helmet goes to, but it's a similar size to the Magneto helmet.
12 & 13: Iron Man 2 movie variants. Their legs were bent even before they were opened, might be able to heat them up and bend them back into shape, or just use the rest of them for fodder. They're both 3 3/4, and come with cards. (EDIT: I got tired of looking at their bent feet and fixed them myself. They're now A-OK. (: )
14-18: Various weapons/tools. The cutlass is a little warped, but with a little head application it should straighten out somewhat. Not sure what any of these are from. Seem too large for 3 3/4 scale figures, and too small for some 6 inch.
19: Some strange backpack. It actually has sounds, but they're too obscure for me to make out.
20: A club, in case your figure encounters a seal.
21: Lightning bolts. Not sure what they're from, but they seem fairly all purpose.
22: Another unknown gun.
23 and 24: Iron Man 2 weapon accessories. They attach to the forearm or wrist of most 3 3/4 scale figures. Each comes with 1 projectile.
25: Suitcase with hidden sword. Seems like a good prop, works with a few 6 inch scale figures.
26: Captain America shield launcher.
27: Zabra Hex, World of Warcraft figure new in box.
28: MU Daredevil. Fresh out of box, but has several factory paint flaws.
29: Moon Knight MU, new in box.
30: X-23 purple suit w/Apocalypse piece. The side of her shell box has some damage, but otherwise figures have not been removed. Black variant also avalible, pictures on request. Also in box.
31: MU Magneto w/ stand.
32: MU Classic Hulk.
33: Blob series ML She-Hulk.
34: Mojo series ML Psylocke.
35: Sentinel series ML Mr. Sinister.
36: MU Classic Thor (Includes mjolnir)
37: Giant-Man series ML Ant-Man. I bought him used, and he seems to have a lot of wear. One of his wrists is loose, and there's some paint scuffing. Otherwise he's in good shape.
38: Blob series ML Yellowjacket.
39: Onslaught Series Loki
40: Arnim Zola series Drax
41: Arnim Zola series Thunderball
42: Arnim Zola (alt body availible)
43: DCU Indigo Lantern, the Atom
44: DCU Star Sapphire
45: ML Legendary Riders series, Taskmaster. Vehicle included, no shield. Figure has some paint wear, but is otherwise in good shape.
46: ML Blob series, Quicksilver, blue variant. New in box.
47: ML Blob series, X3 Juggernaut. New in box.
48: BL Blob series, Hercules. New in box.
Wants:
**Money!**
ML She-Hulk Comic-Con, with lawyer clothes! Doesn't need to be in box
ML Queen Brood series Danger (w/ all parts)
ML Giant Man series Warbird
ML Sentinel series Omega Red (w/ tentacles)
ML Terrax series Ghost Rider (either version, prefer blue)
Ares BAF (complete)
MU Thanos
ML Red Hulk series Spiral (variant or reg, w/ accessories)
Thor 6 inch Avengers movie series (Lord of Asgard from the first Thor movie, or Blob series also wanted w/ accessories)
Samuel Motherf***ing Jackson as Nick Fury, 6" movie variant.
Marvel Select She-Hulk (w/ all the pieces)