Some quick notes:
1) I'm fine sending first to established traders with good reputations here.
2) If you have a negative ref I will not be sending first to you. I might not have trade refs at the moment but negative refs are worse than none at all.
3) All trades need to have tracking numbers on both ends. This is for safety all around and it costs less than a buck for security.
4) I'm willing to sell most things but rather trade. If buying we can discuss price through PM.
5) If you need better pics of something or want more info (like specific condition), feel free to ask.
PIXELS FOR FIGURES:
I am on a regular basis a sprite artist/editor. Have been doing it for..close to ten years now, I think. It's mostly video game type art you can check out at my DeviantArt here:
http://worldsworstdetective.deviantart.com/gallery/
These sprites, while relatively small, do take anywhere from 1-2 hours to make. Depending on their size, complexity, and so on, they could be much more time consuming. Take my Galactus sprite, for example, took 12+ hours to make. In any case, I would be willing to do pixel art for you in exchange for a trade. If this interests you at all, feel free to send me a PM. Thank you.
SEALED FIGURES:
(Most of these packages have some shelf wear or other so I rather send them loose unless it's really worth it.)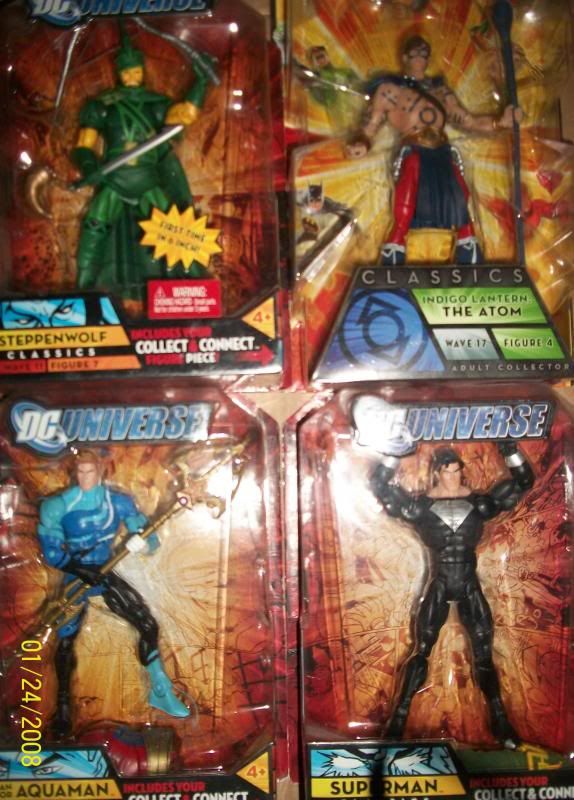 1) Steppenwolf 2) Indigo Atom 3) Aquaman 4) Superman Black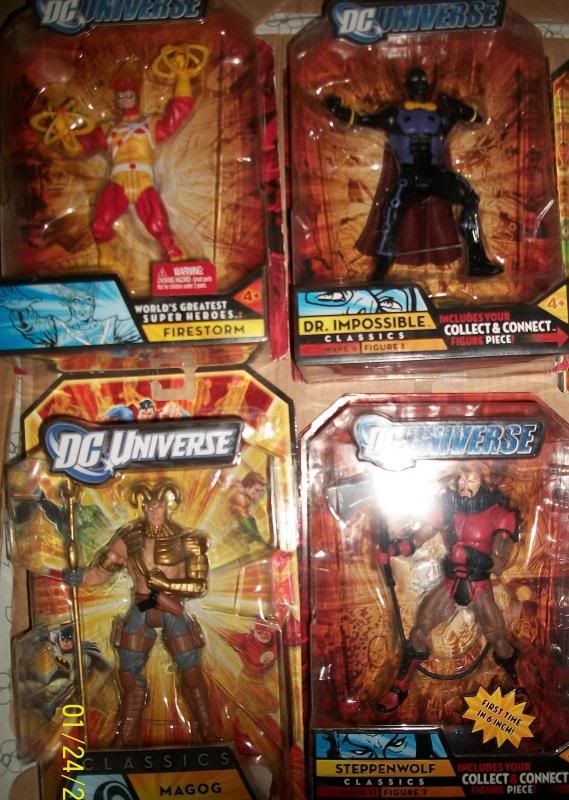 1) Firestorm 2) Dr. Impossible (have x2) 3) Magog 4) Steppenwolf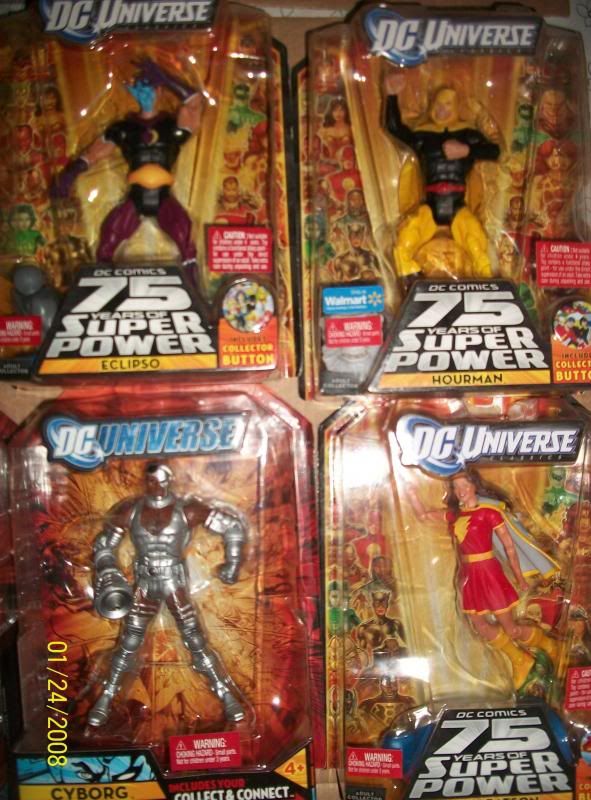 1) Eclipso 2) Hourman 3) Cyborg 4) Mary Marvel
1) Injustice Batman 2) Catman 3) TDKR Catwoman 4) Batman Begins: Prototype Bruce/Gordon two-pack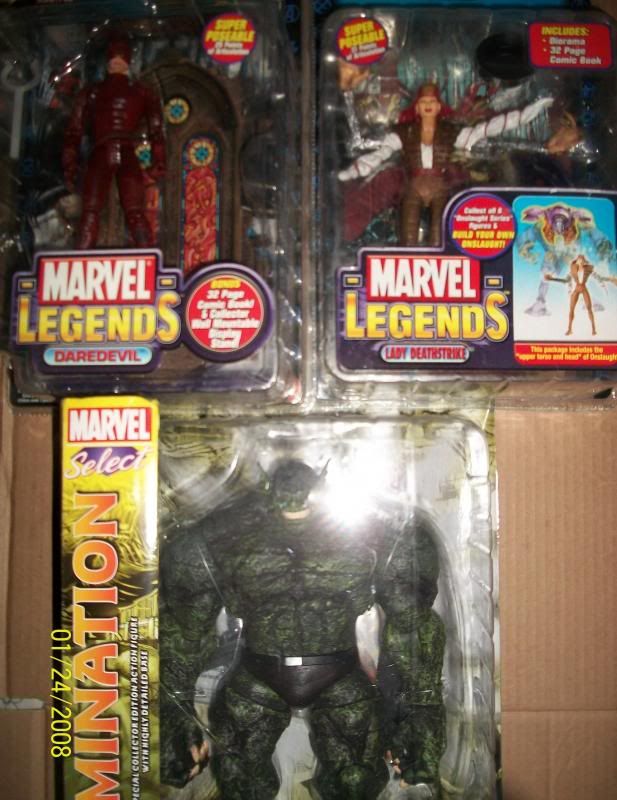 1) ML: Daredevil 2) ML: Lady Deathstrike 3) MS: Abomination
1) Samaritan (Astro City) 2) Batman (TAS) 3) Starman 4) Blink (Marvel's Most Wanted)
Battle Damaged Piccolo (DBZ Movie Collection, 9 inches tall)
LOOSE FIGURES: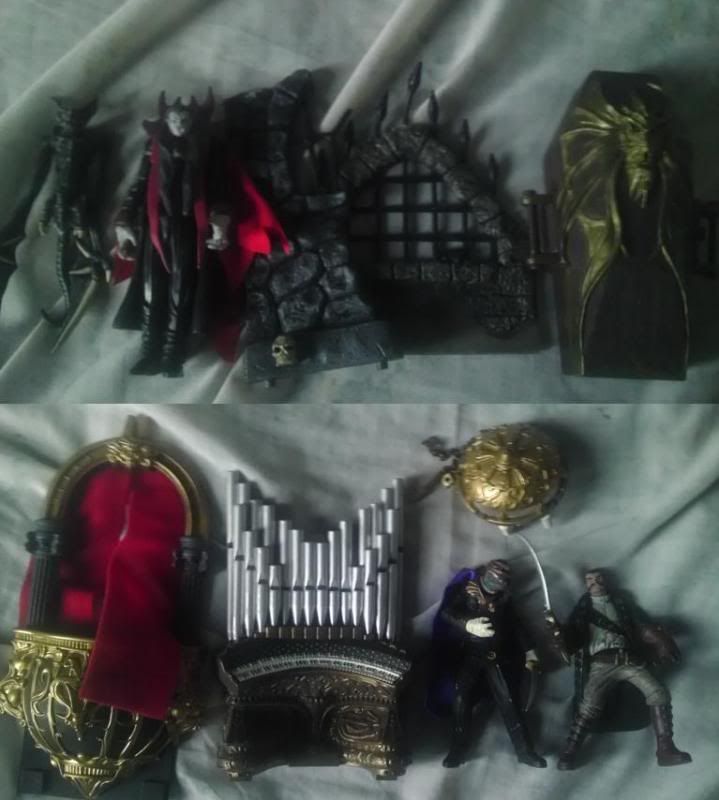 Dracula/Phantom of the Opera sets by McFarlane (they fit in with the 3.75 inch figures)
Battle Network Mega Man (about 10 inches tall)
Ghost Face (Scream), Jigsaw (Saw), Krauser (Neca, Resident Evil 4), Garrador (Neca, Resident Evil 4), and Beetlejuice
Tremor (Spawn), Adam West (Family Guy), Man-Spider (about 7-8 inches tall), Gold/Blue Iron Man (about 10 inches tall, broken arm at elbow but still have the arm piece)
Hourman, Orange Lantern Lex Luthor, Catman, Eradicator, Violet Lantern Wonder Woman, Young Justice Batman (mid-section stuck but not glued), John Stewart, Bronze Tiger, Starman, Golden Pharaoh, O.M.A.C., Jemm
Tomar-Re (w/popped out ankle joint), GL headless body, Hush: Joker, Hush, Joker (from two-pack w/Batman), Spider Sense Spider-Man, Raven, Black Widow, Maskless Deathstroke, Copperhead, Forager, Ultraman, Black Lantern Abin-Sur, King Kong, LotR Sam, Mystique
DCD New 52 Wonder Woman, X-Files corpse, McFarlane Spider-Man (black & red), MS Deadpool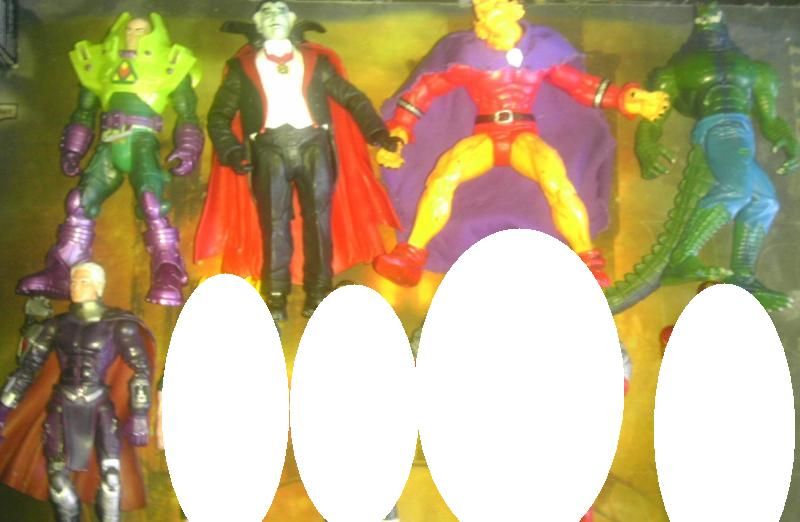 DCUC Lex Luthor (damaged), Grandpa from the Munsters (TRU exclusive), DCD Etrigan, DCSH Killer Croc, ML Magneto (movie styled?)
Hulk (lights up, seems to fit the 3.75 inch style), Ghost Rider w/Bike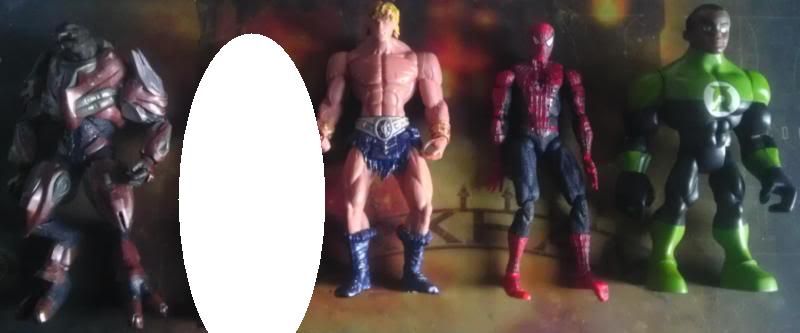 Halo Alien, He-Man, Spider-Man (movie style), John Stewart
Dafoe Goblin and movie Spidey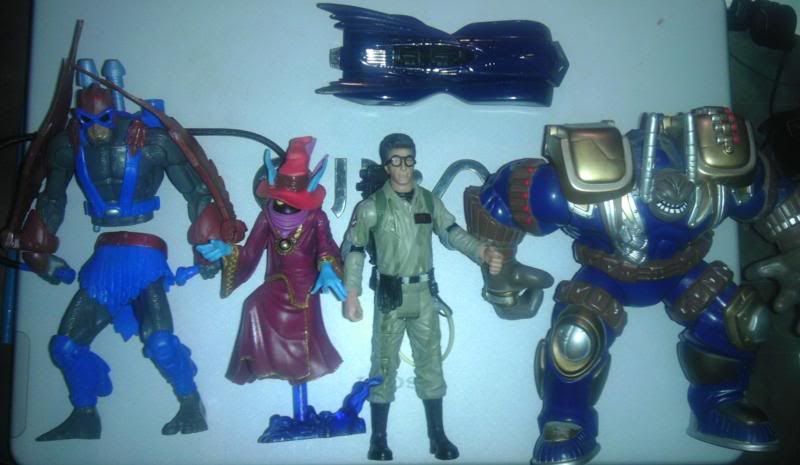 Two MotU figures, Egon Spengler (Ghostbusters), Badrock, and a Hot Wheels Batmobile
He-Man (regular, have two), He-Man (special armor, says phrases), Skeletor, Batman (from two-pack w/Joker), Loki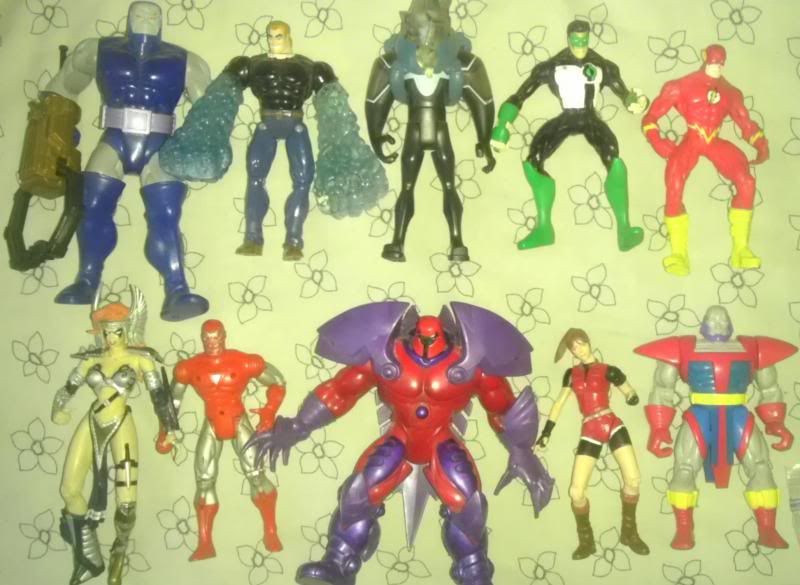 Darkseid, Hydro Man, Mr. Freeze, Kyle Rayner, The Flash, Angela, Iron Man, Onslaught, Jill Valentine, Terrax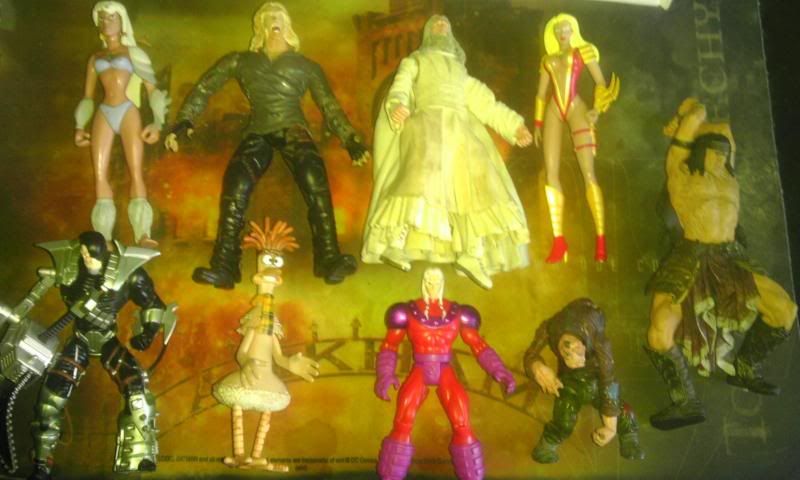 Sabretooth (movie style), LotR Gandolf, AoA Magneto, McFarlane Conan, and other figures I don't recognize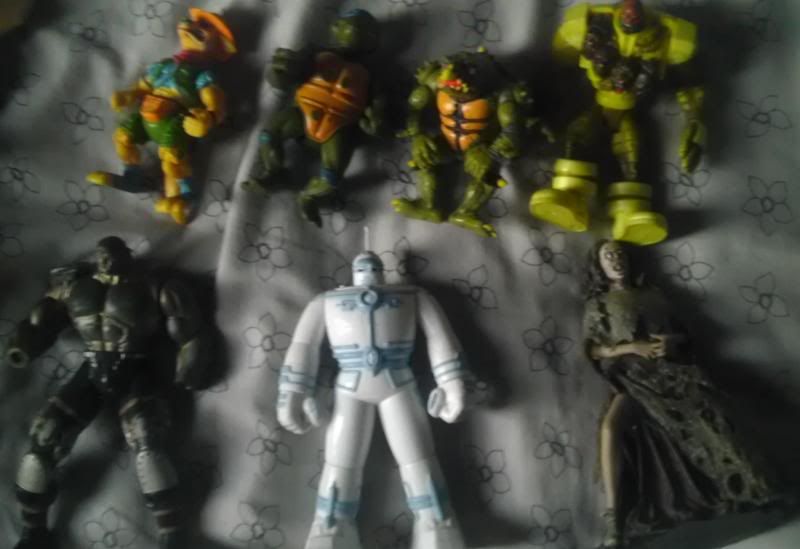 TMNT figures and others (including some corpse chick from the Sleepy Hollow movie and the robot guy says phrases/eyes light up)
She-Venom, Abomination, some X-Files corpse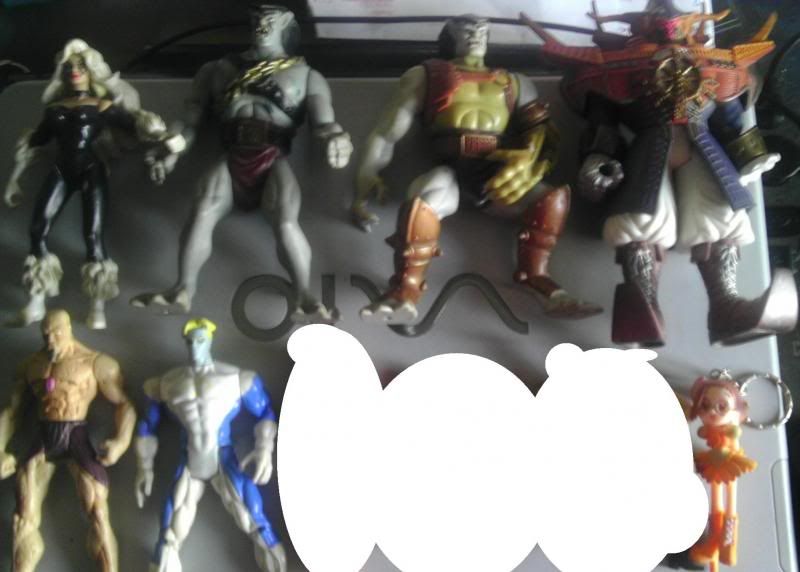 Goliath (two different versions, Gargoyles), Black Cat, Angel (X-Men), Pharoah guy (Mummy's Alive), and others (including some anime girl keychain)
Mr. Incredible, Blade, Dr. Doom, Riddler, Red Skull, Omega Red, Mr. Freeze (movie style), and others
Batman (two different ones, TAS), Joker (two different ones, TAS), Transformer stuff, chibi Spider-Man (can remove cloth mask), and more
3.75 inch figures of The Flash, Weather Wizard, and Mirror Master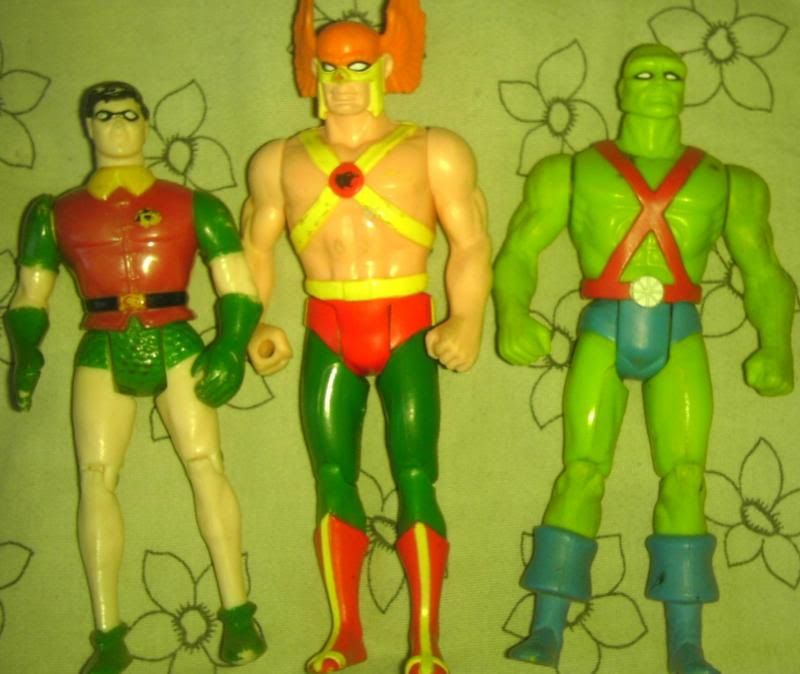 Old school Robin, Hawkman, and Martian Manhunter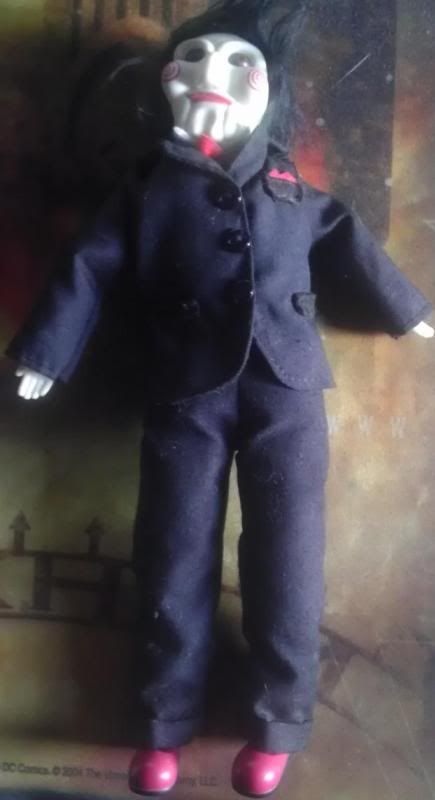 Billy (Saw, about 9 inches tall)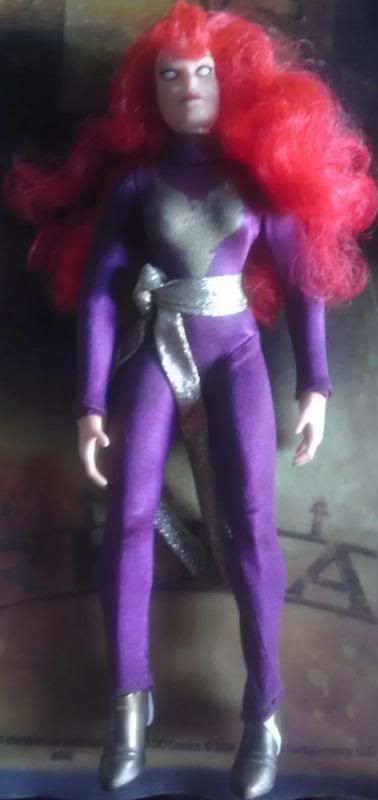 Phoenix (missing gloves/boots, about 9 inches tall) and Poison Ivy (about 12 inches tall) (these are dolls more than figures but still..)
BAF/CNC PIECES: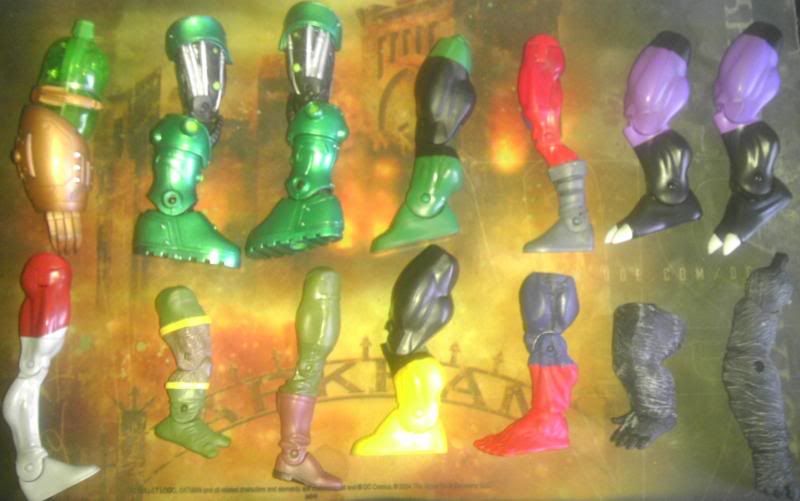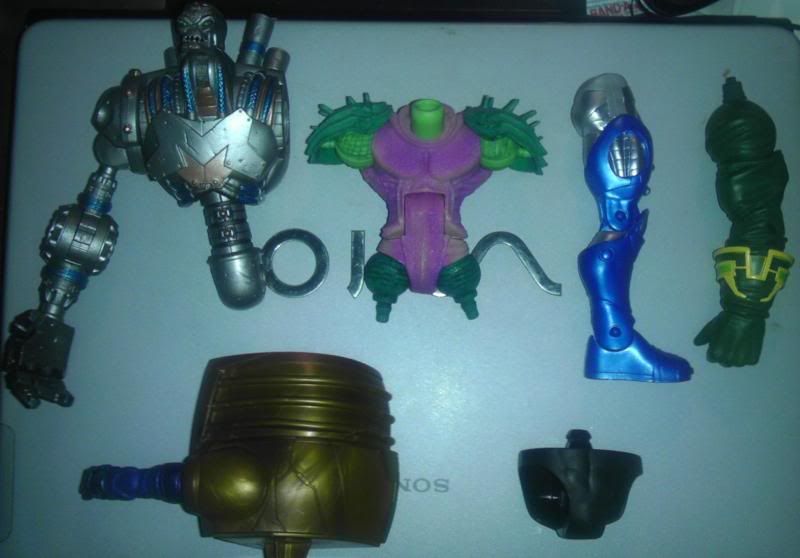 Anti-Monitor's head/pelvis/right leg
Despero's arms/right leg
Giganta's left arm x2
Nemesis' left arm
Imperiex's head/pelvis
Validus' head x2/pelvis/left leg x2
Nekron's left arm
Apache Chief's right arm
Solomon Grundy's right arm
Chemo's right arm
Stel's legs
Kilowog's left leg
Atom Smasher's left leg
Trigon's right leg
Kalibak's right leg/left arm (no Beta Club)
Arkillo's left leg
Red Hulk's left leg
Gorilla Grodd's left leg/right arm
Metallo's torso/right arm
Annihilus' torso
Modok's left arm
Brimstone's pelvis
WEAPONS/GEAR/ETC.:
(Mostly suited for 6 inch figures)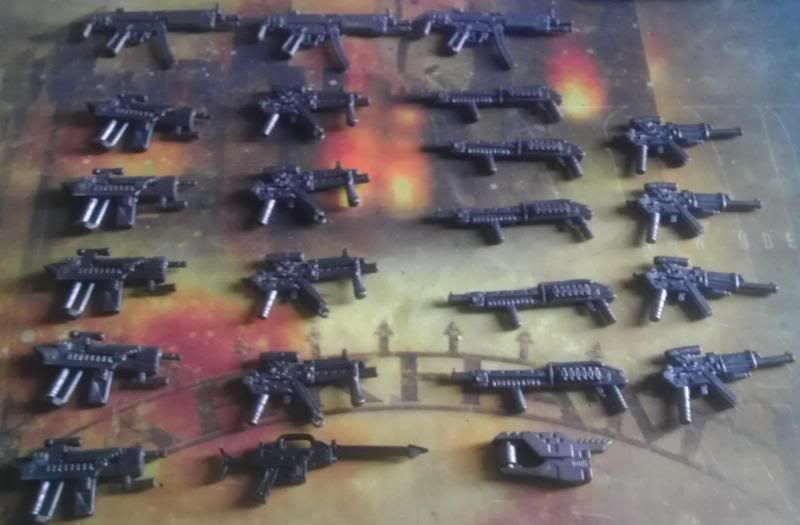 Big guns/gear for, I believe, 12 inch figures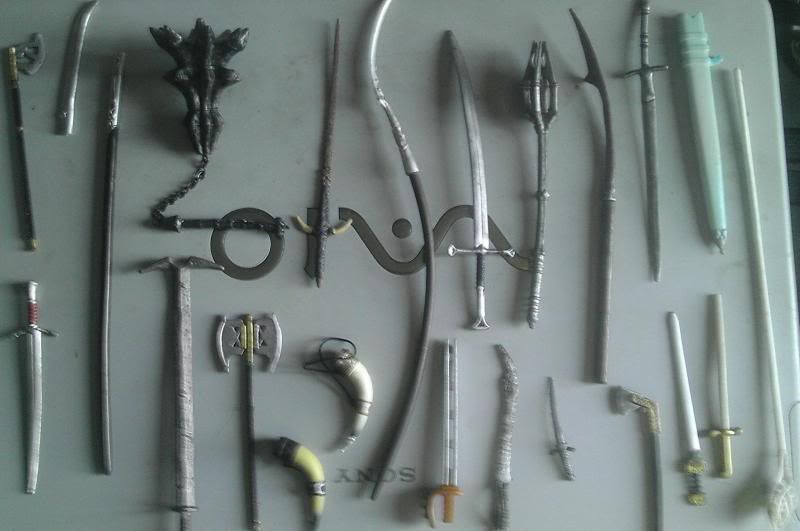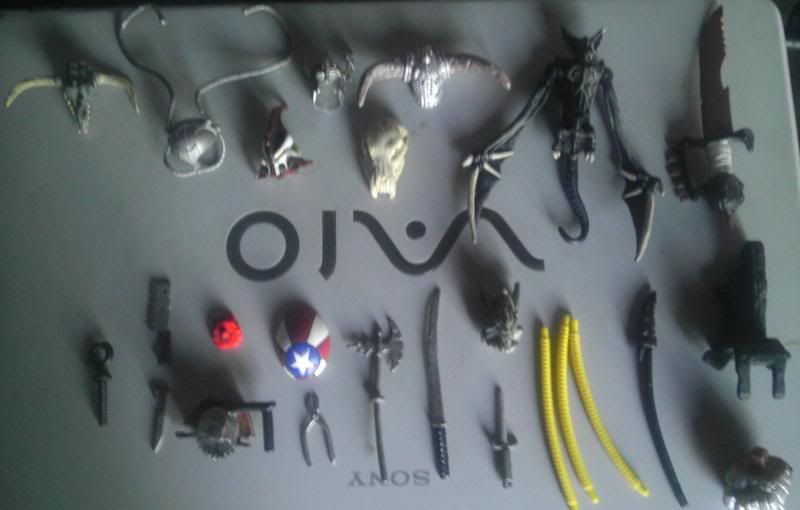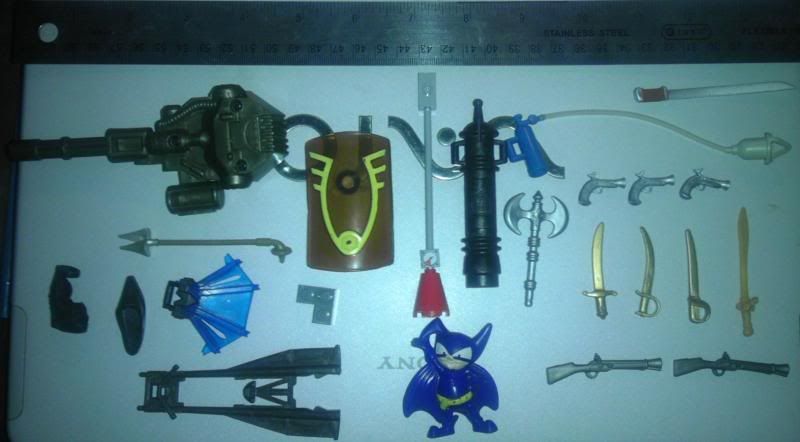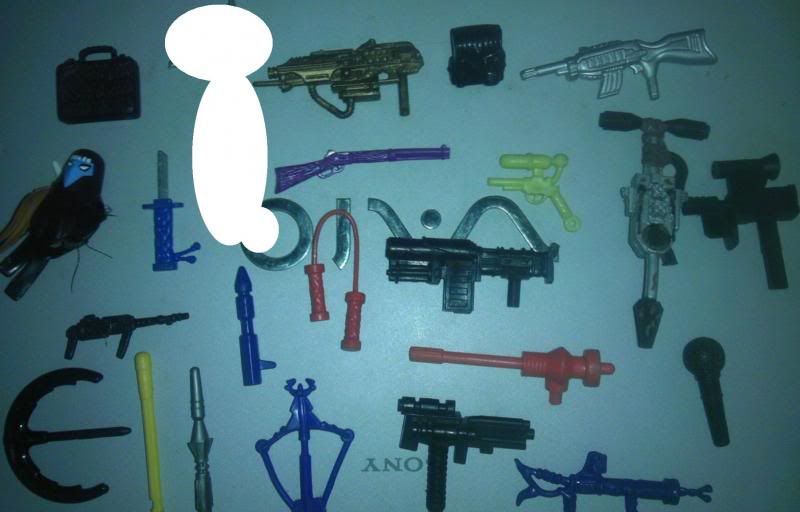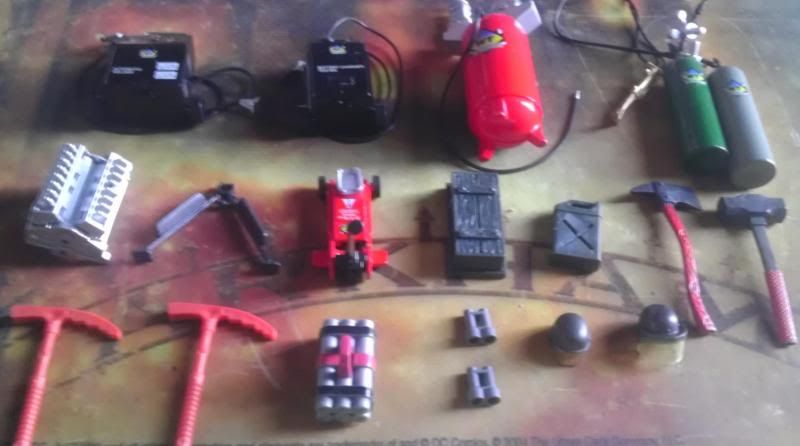 The top row and some things in the second row are made of metal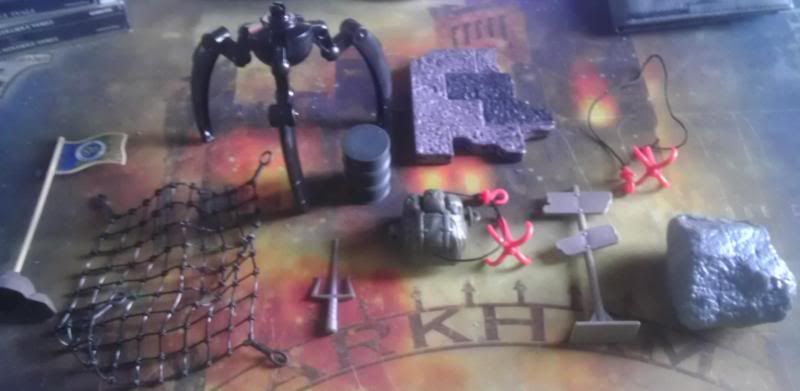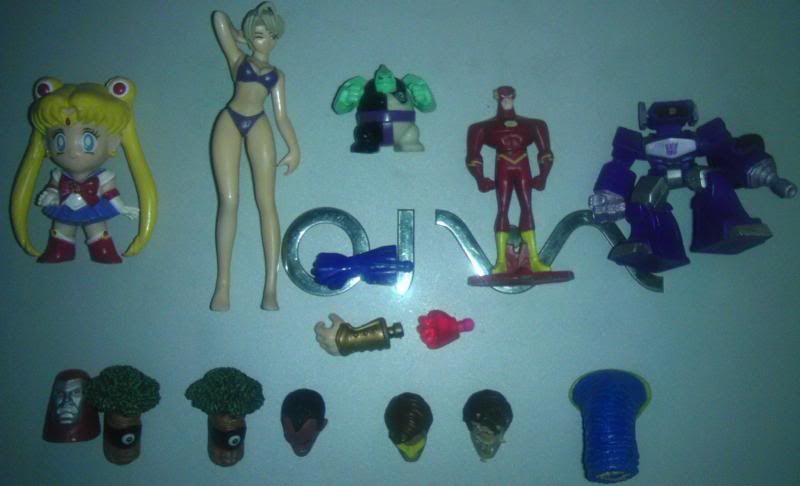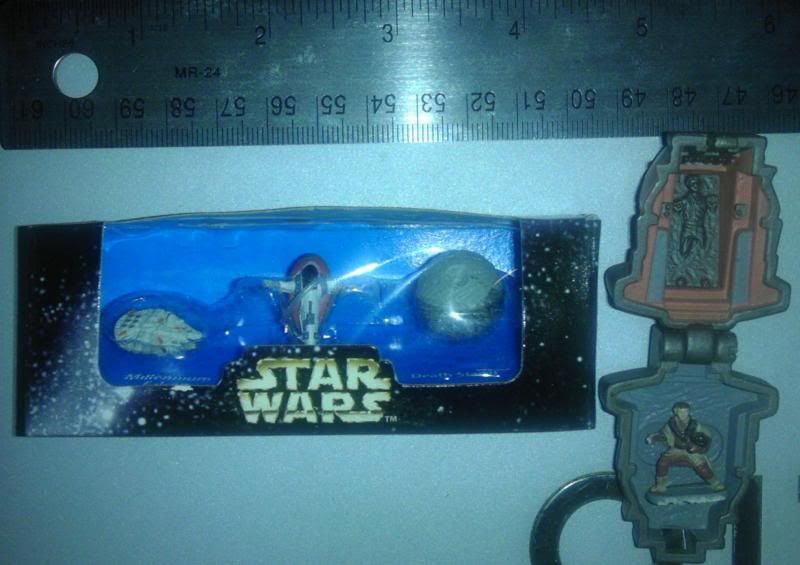 Stands at about 10 inches tall or so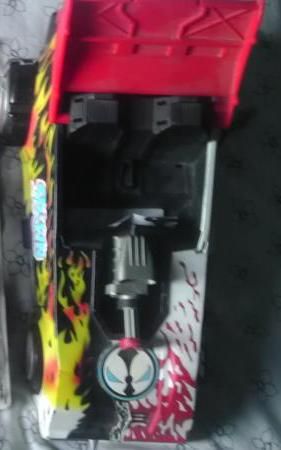 Spawn-Mobile
Carrying case for old school figures (like the pic w/Robin, Hawkman, Martian Manhunter)
Have more weapons/gear I didn't get a chance to take pics of yet. Along with some loose heads, also.
OTHER STUFF:
(Just sample pics, have way more of these things, just ask.)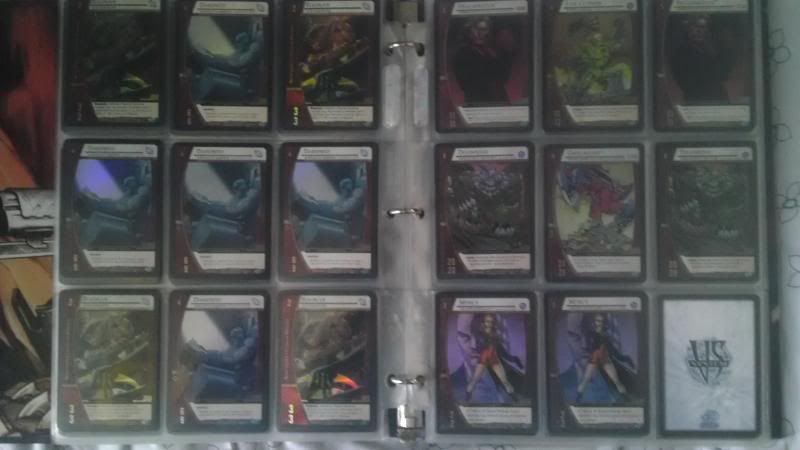 Vs System Cards (card game, have thousands of them, includes DC, Marvel, and Hellboy)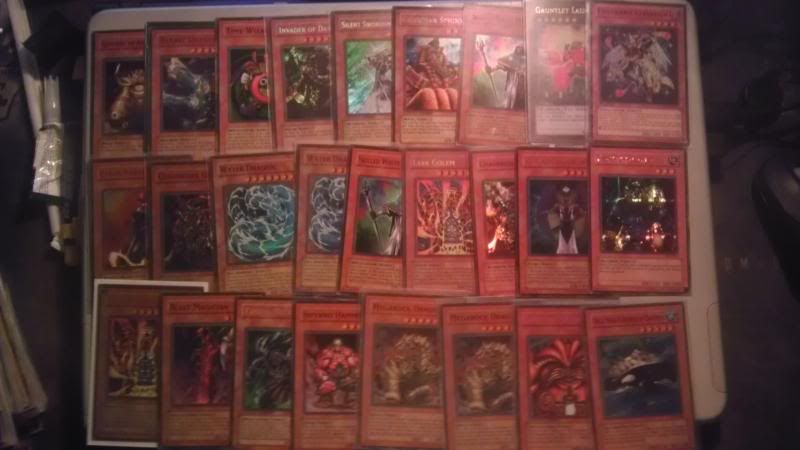 Yu-Gi-Oh! Cards (have hundreds)
Pokemon (have hundreds)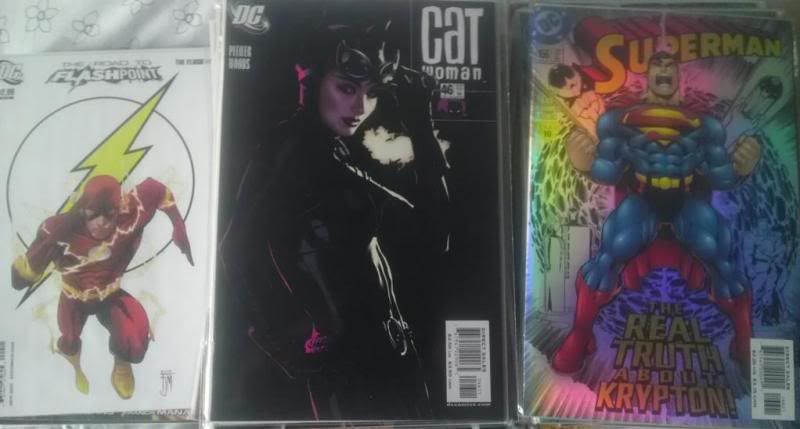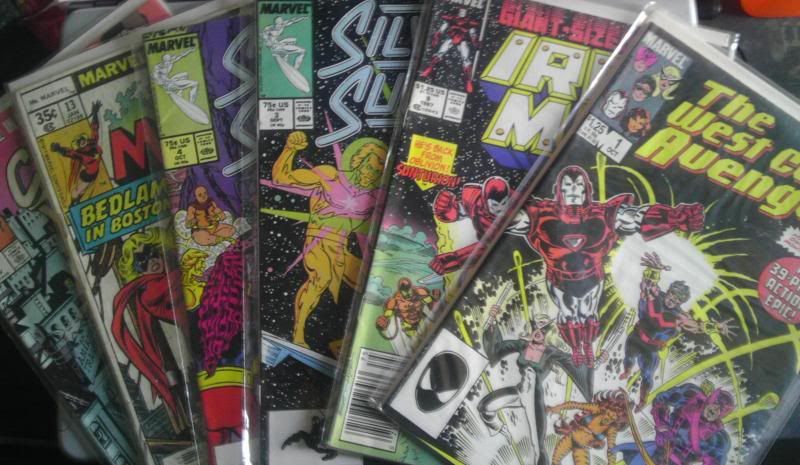 Comics (big bundles of Superman and Catwoman + lots of other singles and trade paperbacks)
Also, have a handful of Heroclix but no pic currently of them.
WANTS:
BAF Giganta (only need head/pelvis)
<---BIG WANT
BAF Metallo (only need left arm)
<---BIG WANT
BAF Ultra Humanite (only need left arm/left leg)
BAF Despero (only need left leg/guns)
BAF Imperiex (only need right arm/right leg)
BAF Bane
DCUC Lobo (SDCC, complete)
DCUC Robin (Dynamic Duo 2 Pack)
DCUC Man-Bat (SDCC)
DCUC Plastic Man (w/suitcase)
DCUC Karu-Sil (w/construct)
DCUC Azrael (from 2 Pack w/Batgirl)
DCUC Owlman
DCUC Black Manta (blueish one from 2 pack)
DCSH Clark Kent (from Select Sculpt 2 Pack)
DCSH Bizarro (darker paint job w/Bizarro #1 sign)
DCS Larfleeze
DCS Atrocitus
DCS Metron (complete w/chair)
DCS Black Mask
DCS Poison Ivy
DCD White Lantern Batman
DCD Catwoman (Long Halloween)
DCD Green Lantern Guardians
Arkham City Joker Thugs
Harley Quinn (Hush)
Hugo Strange (SDCC 2013)
Indigo Lantern Munkk (from Blackest Night 4 Pack)
Black Lantern Blue Beetle (from Blackest Night 4 Pack)
Killer Croc (Arkham Origins)
Terry Bogard (D-Arts)
Gleek (from the SDCC Wonder Twins set, might like falcon w/water bucket also)
Beepo the Super Monkey (from DCD's Superman Robot action figure)
Batmite (Blue preferred but black is okay)
MS Thing
ML Abomination (Onslaught series)
ML Black Widow (TRU 2 Pack)
Random ML figs (or figs with their articulation)
DC BAFs (completed or close to complete)
Borderlands 2 Collector's Edition Loot Chest (only want the empty chest, not a figure or anything but still..)
Accessories/Bases/Heads:
Harley Quinn's head (from Hush figure, cast works also)
<---BIGGEST WANT
Scarface puppet (from Arkham Asylum Joker)
Batman's smoke bomb (from Young Justice, want multiples)
DCD Dex-Starr (from Mera Blackest Night)
DCD Lantern base stands
DCD Yellow Lantern Scarecrow head (Blackest Night)
DCUC Bronze Tiger head (Tiger head)
Marvel Legends/Select bases/scene pieces
Young Justice Play Sets (want Artemis, Batman, and Robin's most)
Two identical handguns for a 6 inch figure (like the Red Hood ones from DC Signature)
DC Direct Kilowog's/Arkillo's lantern accessory
Any colored Lanterns (from any DC Lantern Corps)
Lord of the Rings weapons (especially bows/quivers)