Here is a pic of a scar i got while doing a custom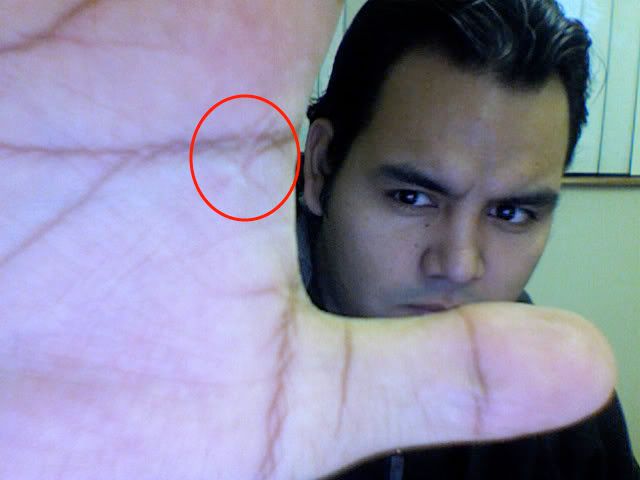 It might not look like something to sneeze at but I assure this was nasty cut. The project I was doing was The Joker Cop (
http://www.figurerealm.com/viewcustomfi ... ?FID=17107
), I was just starting the figure. I decided to use the Joker goon as a base and I had decided to switch the legs for the Joker legs. First though I had to separate the upper body from the legs, i knew it wasn't going to be easy. I put on my gloves (vinyl) and got to cutting. I was using a straight edge exacto blade, had the figure in one hand and pushing the blade with the other. I had used this technique to pry open figures before so It wasn't something new. For some reason this toy wasn't cracking,
I was pushing with all my might when it happened
SLIT
the knife suddenly slipped out of my hands. Into the palm of the other hand. Initially it didn't hurt, it actually looked kind of cool how the blood spurted out but then the glove started filling up with blood. That's when I freaked out. I screamed and ran to the bathroom, removed the glove and started to wash my hand. I called out to my mom and sister to bring me a band-aid. They thought I was playing around (I'm always playing around and pretty loud) but when they saw the blood they freaked out even more than me. I applied pressure to the cut and while they were looking for a band-aid I started to feel light headed (I was losing a lot of blood). They managed to find some gauze and I put it on and lied down. Initially I needed stitches but I refused to go to the hospital (no insurance).
The sucker took about three weeks to close up and when it did it hurt pretty bad. The funny thing was that right after getting cut and putting on the bandage I went right back to work on the old Joker cop and I finished it the next day. I can truly say that my blood, sweat and tears went into that figure. If that's not dedication I don't know what is.