Lot's of updated pictures. Haven't had a chance to update my BAF/CnC stuff so just ask, I have a lot of DCUC CnCs and quite a few MLs. Right now I'm mostly looking to trade for things on my list, but would be willing to look at what anyone else has for trade.

If a figure is already missing parts feel to make offers for pieces. If the figure is still complete I'd rather trade it as is.

I'm not in a hurry to trade everything. Some of this stuff I have plans for but include it because it might be something someone really needs, and they might have something I really need.
Not really looking to sell right now
Complete Figures
Fodder (feel free to ask about parts)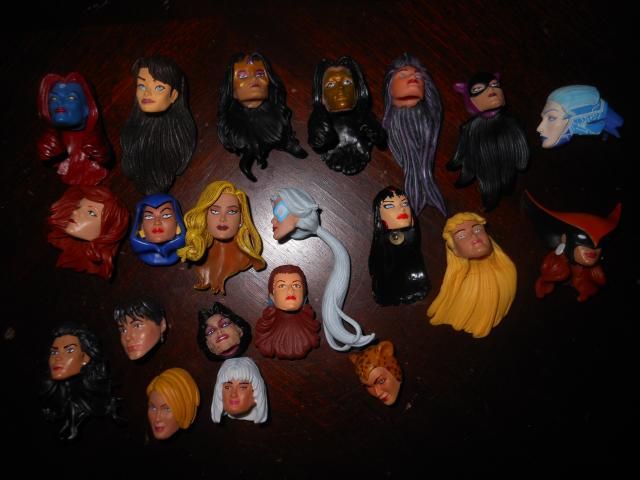 I have a lot of six inch scale weapons, hands, belts, accessories, etc. Didn't have the energy to take pictures of them all but inquire if needed
Shipwreck gone
I can provide photos of anything listed below, but they're in storage, so let me know what you're interested in.
Spidey Classics
Demonic Hobgoblin
Lizard
Ultimate Lizard
Doc Ock (Lethal Foes Box)
Kraven
Morbius (rubber round jaw is messed up)
Also have all the Marvel Legends bases, ask not sure what I want to trade
Young justice six-inch bases to Aqualad, Artemis, Red Arrow $3 plus shipping
Wants(the more stars for an item, the more desired, loose fine):
***DC Subscription Mirror Master
*DCUC Barda w/helmet
*DCUC Mr. Miracle
***DCD Arisia (or head)
**DCUC Beast Boy x2
**DCSH Batgirl Cassie Cain (would trade Knight Shadow Bats for her)
****DCUC Artemis (Wonder Woman variant)
*GL Movie Masters Bzzd, Galius Zed, Hector Hammond, Morro (don't care about CnC parts--not a high priority)
*****DCUC Despero left leg
**DCUC Atom Smasher upper torso, right arm
****DCD Vixen
***DCUC Alan Scott
*****DCUC Wave 16 Robin (modern head)
*****DCUC Red Robin
****Marvel Legends Tigra
****Marvel Legends 2012 Knights Punisher head (white skull, stubble version)
*Marvel Legends Wasp wings (or whole figure or maybe MotUC Buzz Off wings?)
*****HML Valkyrie
*****ML two pack Maria Hill/Sharon Carter figures
*ML XMC Angel head only
*****Marvel Legends Ares head, and both legs
****Marvel Legends Adam Warlock
*****Marvel Universe Mary Jane w/ Ms. Lion (or just Ms. Lion preferred)
***ML Namor from Ronan series
***ML Doc Samson
***ML Spiral
***Hit Monkey head and torso/legs
*****ML Warpath (don't need weapons)
***IM Movie Crimson Dynamo six inch
**IM Movie Titanium Man six inch
**Movie Masters Bazooka Joker (don't need head or weapon)
**Movie Master Suit body
Also interested in key copper & bronze age Marvel/DC comics, but too many to list. By key though, I mean first appearances, deaths, etc.
any ML, DCUC or DCD heads that would work with DCUC (especially female heads)
GI Joe 25th SDCC Sgt Slaughter (loose fine) SDCC Zaranna (loose fine)
Anything else DCUC compatible (DC Direct, Marvel Legends parts). Will consider just about anything so don't be afraid to ask if you don't have anything on my wants!
</p>