This is zeldaman33s official Buy/Sell/Trade
[SIZE="5"]Black List sinestrocpw[/SIZE]
hello, the reason for writing is to blackmail a member by the name of sinestropcw, me and a couple of other guys (dont know if you have heard from them yet) gave him a chanse to make some purchases and trades. he agreed to my terms and gave me a legit paypal addrees and some ebay feedback, he wrote to me though the ebay account so I gave him a chanse since he was new. he did not go through the terms we agreed and started making excuses and giving me a bunch of lies that kept contradicting themselfs. i got in contact with other users that had made trades with him and that where about to, and the same thing happened with them. he agreed to ship with tracking information to an other user and fail to do so and kept giving excuses after that. same with me. I requested a refund and he stated that it would take too long. Im planing to file a complaint with paypal but Just wanted to let you guys know. Whatever you do, please don't trust this guy and to the other arkers that this happened to, please state your names.. Thanks
Ok so I'm selling all my extras and stuff, I'm willing to trade depending on what you have. Let's make it simple..make me an offer..We can always negotiate but don't low ball me..You pay for shipping... 4$(shipping) for 6" (loose) + 1.30$ every extra figure. Add 0.85$ if you want tracking number. On larger scale figures (Abomination etc.) I will ship by weight.

US and Canada shipping only

. Canada pay extra shipping..I'll have to send an estimate, Sorry folks. ****I do PayPal only**** PM me on anything that you are interested in and please

pay as gift

when making payments.
[COLOR="Red"]please email me first.. I will get back to you faster like that..
zeldaman33@yahoo.com
[/COLOR]
Prices removed.. Make an offer...All trades are welcome
NOTE: all figures are loose unless stated
Haves
Would anyone want to trade video games (360) for some figures? I have a big collection of games so just ask and we can make a deal
Just Added
[U]Marvel Legends
[/U]
Toybiz

Series 1
Iron Man (no faceplate, custom gold paint)
Series 2
Dr. Doom (No mask)
Series 5
ML Mr Fantastic
Series 9 Galactus
Hulk (First appearance grey)
Series 10 Sentinel
ML Angel (red two right wings)
ML Cyclops x2
Series 12 Apocalipse
Maestro Hulk
Series 13 Onslaugh
Pyro
Face off Series
Baron Von Strucker-
Hold
Kingpin (white)-
Hold
Hasbro
Annihilus Series
banshee
Hercules-
Hold
Blob Series
She-Hulk-
Gone
Queen Brood Series
Astonishing Cyclops-
Hold
Marvel Girl
Sandman Series
ML Movie spiderman
ML Movie Doc Oc (only two tentacles)
Ares Series
Human Torch
Heroes Reborn Iron Man
Scarlet Spiderman Ben Reilly
Two Pack
Cannonball-
Hold
Winter Soldier-
Gone
Black Widow (not sure if I want to trade this.. good offers only, Small Black Scuff on Breast)-
Gone
Exclusives
Black Queen
ROML
Terrax Wave
Constrictor
Ghost Rider (blue)-
Gone
Hope Summers-
Gone
Iron Man Extemis Armor
Klaw
Thor-
Gone
Terrax BAF-
Gone
Arnim Zola
Bucky Captain America
Thunderball-
Gone
Spiderman Sinester 6
Electro-
Gone
Spiderman Classics
Iron Spiderman
The Incredible Hulk Movie/Video Game
Grey Hulk
DCUC
Wave 7 Atom Smasher series
Captain Cold
Wave 13 Trigon series
Cheetah
Wave 15 Validus series
Martian Manhunter (normal head)
Wave 18 Apache Chief series
Toyman
Two Packs
Clash In The Cosmos Pack Superman (heat Vision)
Thaal Sinestro
Gothan City Five
Superman (short hair)-
Gone
Lex Luthor
Green Lantern series
Dex-Starr
C&C and BAF Pieces
Marvel Legends BAF Pieces
Blob Torso
Blob Left Leg
Galactus Left Leg-[BGone[/B]
Arnim Zola Right Leg, Head/Controller piece-
Gone
DCUC CAC Pieces (Make An Offer)
Trigon Right Leg
Imperiex Right Leg
Chemo Lower Torso
Validus Head And Lower Torso
Bane Head Only
Marvel Universe
MU Black Suit Spiderman-
Hold
MU X-Force 3 pack Warpath (complete)
MU Modular Armor Iron Man
MU Greatest Battles Thing
MU Scarlet Spiderman
Stands, Fodder and Misc. Figures
Captain America Base-
Gone
doppeganger-
Gone
doc ock tentacles-
Gone
war machine pieces-
Gone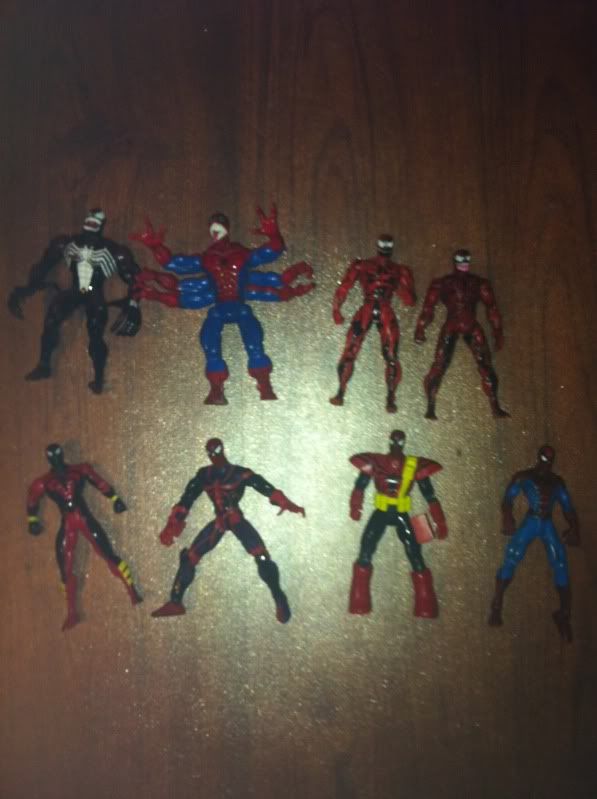 .......................................................................................................
Wants
Want biggest priority: HML Ares Right Leg
DCUC
Commander steel
Vigilante
Deadshot*
Captain atom (regular non Ugly bum Variant)
Robot man
Blue Beetle (classic)
Blue Beetle (Modern)-
Pending
Obsidian
Tyr
Gold*
Lord naga
Hawk
Dove
Two pack cyborg superman*
Two pack starfire*
Two pack light Ray
Color of fear set (I can dream right)
DCUC CAC
Metallo complete
Giganta complete
Chemo Left Leg
Kalibak Left Leg
Zola left Leg
Marvel Legends
Toybiz
Series 1
Shirt Hulk
Series 2
Doombot
Series 3
Unmasked Wolverine
Series 4
Goliath
Series 5
Red Skull
Series 6
Dark Phoenix
Brown cable
Series7
Phasing Vision
Series 8
Black Widow II
Classic Captain America (with wings)
Mohawk Storm
Series 11
Ionic Wonder Man
Series 13
Melted Face Abomination
Unmasked Green Goblin
Crown of Lies Loki
Giant Man Series
Lockheed (kitty Pride's Dragon)
Mustard Bearded Sentry
yellow non Bearded Sentry
Series 15 (M.O.D.O.K)
Moon Knight (silver Variant)-
Pending
Annihilus Series
Silver Arm Planet Hulk
Blob Series
Gold YellowJacket
Movie Dark Phoenix
Ronan Series
Invisible Woman
human torch
Mr. Fantastic
Ronan BAF
Queen Brood Series
Cosmic Marvel Girl (Dark Variant)
Ares Series
Crossbones
Nova Flame Human Torch
Gift Packs
X Men Legends box set
Beast (trench coat and glasses)
Magneto (open mouth)
Urban Legends Gift Pack
Daredevil
Spiderman
Spider-Man vs the Sinister Six Gift Pack
Spiderman
Black Kat
Fantastic Four Box Gift Set
Franklin Richards
Mr Fantastic (Trench Coat)
Invisible Woman (clear Variant)
HERBIE
Spider-Man vs The Fearsome Foes Gift Set
Spiderman
Toy Biz Two Pack (Face off)
Series 1
Captain America Unmasked
Closed Mouth Hulk
Series 2
Red Mandarin And War Machine
White Suit Jigsaw
FA Wolverine and Sabertooth (open mouth Variants)
Hasbro Twin Pack
Series 1
Elektra
Series 2
Hand ninja and Nick Fury-Shield Agent
White Hand Ninja-
Pending
Series 3
Black Widow and Winter soldier Variant
X-Factor Warpath
Exclusives
Walmart Exclusive Silver Surfer
Walmart Two Pack Cable
Dimond Exclusive Ultimate Wolverine (Blue)
Savage Land Gift Set 2008 SDCC Exclusive
SDCC 2011 Exclusive Thor
ML BAF
Queen Brood Front Leg
Ronan Complete
Sandman Complete
Return OF ML
None at the moment
ML ICONS
Series 1
Masked Captain America
Masked And Unmasked Wolverine
Series 2
Grey Hulk
Marvel Select
Mephisto
Ultimate Thor
Uatu The Watcher
Captain Marvel Kree Warrior Variant
Magneto
Juggernaut
X-Men classics
Avalanche******
Storm (white)
Ultimate Magneto
Ultimate Juggernaut
Ice man (Bobby Drake and Ultimate Iceman)
New Xmen Wolverine
Hulk Classics
Series 1
Joe Fix It (Complete)
Abomination
Series 2
Absorbing Man-
Pending
War Hulk
Gremlin
Spiderman Classics
Series 14
Beetle
Classics Series 3
Venom
MU Low Priority, not really into the line any more
Series 1 Fury Files
Wave 1
Spider-Man*
Black Panther*
Human torch
Wace 3
Ms. Marvel (Running Change, Long Hair Red Costume)*
Wave 4
Blade*
Series 2 (H.A.M.M.E.R. Files)
Wave 5
Spider-Man (Variant)*
Wace 6
Wolverine - Running Change
Vision*
Wave 7
Luke Cage
Wave 8
Archangel - Variant*
A.I.M. Soldier (multiple)
Havok - Variant
Wave 9
Skrull Soldier (multiple)
Wave 10
Multiple Man (many)
Wace 11
Dark Hawkeye*
Series 3 (S.H.I.E.L.D.)
Marvel Universe Secret Wars and Greatest BattlesTwo-Packs
Dark wolverine/Dark Spiderman
Thurnderball
Bulldozer