King Elendil (Sword Attack Action) (Lord of the Rings - Trilogy) Review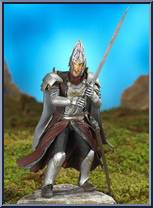 King Elendil (Sword Attack Action)
Lord of the Rings - Trilogy (Toy Biz)Elendil is well articulated has a removable helmet and Narsil and in general is a perfectly good figure. My only issue I have with it is he doesn't really look anything like the actor he's based on but more like a Middle Aged man with some grey in his hair and beard but shouting like he's Leonidas. Also Narsil is HUGE. Now I know it's supposed to be a big sword but not that big. I always felt the Kings sword hasn't been done well as with pelenor fields aragorn it's just got the sword grooves and not detail whilst the coronation one has the Elven scripture in runes but not the grooves and seems a bit short compared to Aragorns ranger sword, so perhaps the longer aragorn swords are the wrong size and the Helms deep ones are correct? I don't know but Anduril can't be carried on a waist sheath they joke about it's ridiculously large size in the behind the scenes similar to how they joke about the witch kings flail. Overall though there's nothing very wrong about this figure and worth adding to your collection.







by Deaditor
Write your own review for King Elendil (Sword Attack Action)

User Comments
King Elendil Sword Attack Action on eBay
Previous / Next Reviews
| | | | | |
| --- | --- | --- | --- | --- |
| Gil-Galad (Spear Attack Action) | | Submission Order | | None |
| Gil-Galad (Spear Attack Action) | | Lord of the Rings - Trilogy Series | | None |
| Gil-Galad (Spear Attack Action) | | Written by Deaditor | | None |