Huge amount of SW for sale, clone troopers, etc.
Huge amount of SW for sale, clone troopers, etc.
Posted in
Trading Post
The more you buy the more you save on bulk orders.
Here you go:
Loose figures-$3 each, except Force Unleashed Sith, who is $5. Take the lot of 17 for 30 dollars shipped.
GONE: ROYAL GUARD x2, CAD BANE
Droid Rack-$4.00 shipped
Imperial Shuttle-$90 shipped
Kamino Confrontation. Pillars have some paint rubs but the figures are perfect. Comes with what's pictured. $18 shipped.
MOC figures-$10 each shipped or all three for $22 shipped
take EVERYTHING for $130 shipped.
NON STAR WARS: (not pictured)
ML:
Fantastic Four Classics Mr Fantastic-$7
Human Torch completely on fire classics-$7
Dr. Strange-$7
Loki-$7
Trade only: Crossbones missing vest
Marvel Universe:
Iron Man wave 3-$7
JLU:
Lex Luthor ($5)
Batman ($3)
The Joker in Black Suit ($7)
Gi Joe:
Duke with American Flag-$4
Elite Viper (movie)-$4
ROC Cobra Commander MOC-$7
BAF Parts:
Monkey Man Leg
Despero Leg
Brood queen back leg
Apocalypse Leg Black
Apocalypse Leg Blue
ML Parts:
Punisher Diorama
Iron Fist (missing leg)
Various missiles and projectiles
Older figures:
Two Face-Batman Forever-$2
Professor X-90s toybiz-$2
Penguin-The Batman-$2
Clayface-The Batman-$2
Silver animated batman-$2
Light purple animated joker-$2
Two face in prison striped suit-$2
MOTU CLASSICS-5 CARDBACKS AND BUBBLES. $10 shipped for all.
[image]
this junk:
accessories and parts are like 50 cents each except for larger pieces (like megatron). Take the entire pile of it for $15 shipped. I just want it gone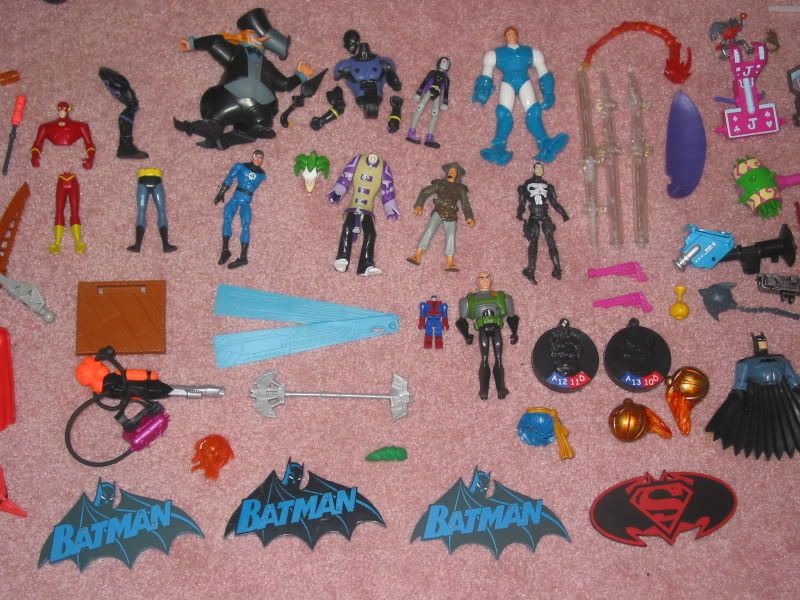 MOC Star wars-$5 each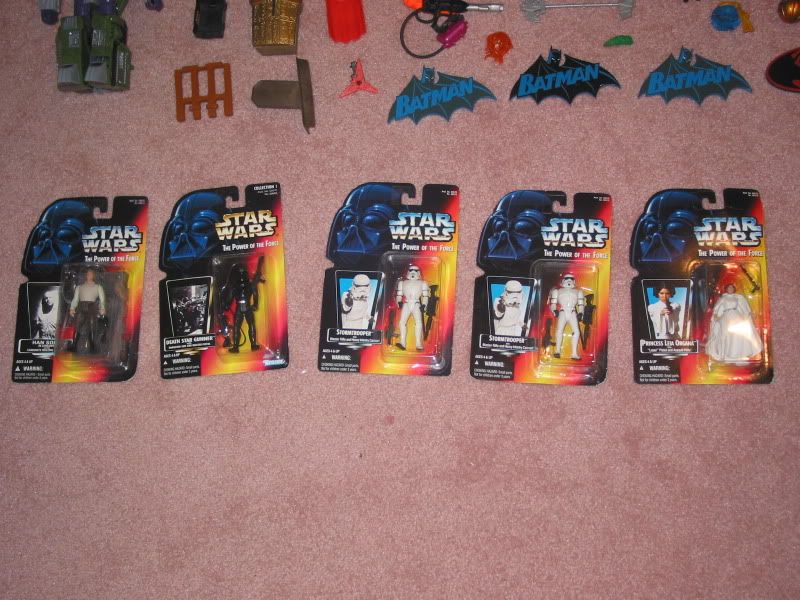 WANTED IN TRADE:
BAF PARTS:
DARKSEID TORSO
DARKSEID RIGHT LEG

Posted by
Blight
on Saturday, March 6, 2010