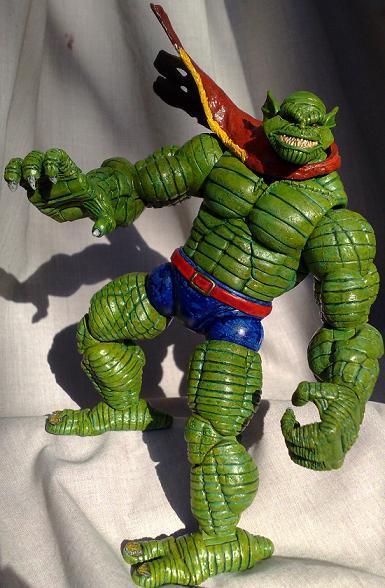 Woo! I finally got me a new phone and it has a pretty nifty camera on it so I can now post my recent customs! ...when they're eventually finished... Rock Band took over my life for a little while...

To wet your tastebuds for the next few – here is the first of my Starjammers crew, Ch'od!

Like many other versions of Ch'od I've seen posted both here and elsewhere, I started with a ML9 Abomination. To begin, I removed all the warts, sanded him smooth and cut his fingers off. I then sculpted new fingers (3 on each hand), larger outer toes, belt, collarbone, mouth & cheeks, top of head, upper back and I filled in all the unsightly peg holes (with fixit sculpt). His sash is made from half of an XMC Ultimate Sabretooth's jacket. Complete repaint with Citadel paints.

I hope you all like him! As ever, any sort of feedback is much appreciated.