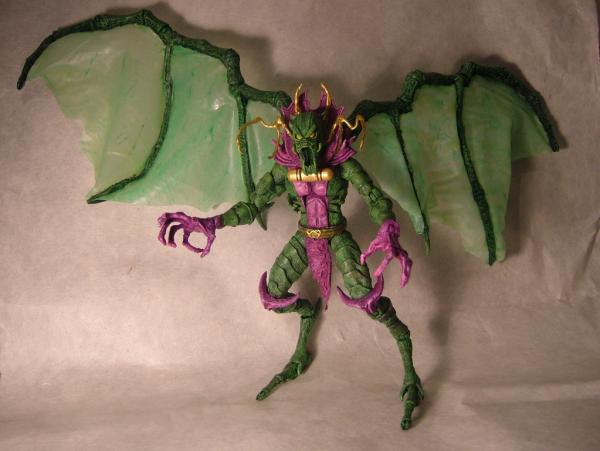 Annihilus was a huge challenge.

His wings are basically LOTR Shelob's legs with a latex membrane stretched between them. I wanted his wings to be fully poseable so as you can see in the pictures, the membrane can fold and stretch to take many poses.

Annihilus's recent form is very insect like so I had to change his legs to reflect this. I again used Shelob's legs but as they're very spindly I had to build up their base so that he would remain balance with the top heavy wings.

I used toothpicks to extend the fingers of ML Annihilus so that he had creepier hands.

Also, at the last moment I decided to use the LED circuit from a Movie F4 Human Torch to make his Cosmic Control Rod light up. The control rod is made from hot glue so that the light would shine through it, but I dry brushed it with gold so that when it wasn't lit it wouldn't look out of place.

The same approach was used for his antennae. They are wire covered in hot glue and then dry brushed with gold.