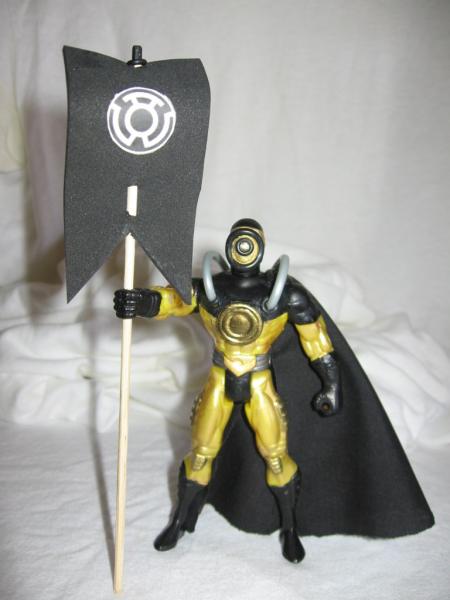 ok went a lil out there with this one here. I figured that since he enslaved the Qwardians to make the rings, Sinestro being Sinestro would've had them build a magnificent palace in honor of his awesomeness.So who's gonna mind the store when he' gone? That's where the Citadel Guard comes in.They are fully functional sentry units with built in yellow batteries that can recharge or decharge Sinestro Corps rings if needed. Kind of a cross between the Manhunter's, the IG Magna Guards from Star Wars and a bad@$$ version of your old high school Color Guard.

Took an ol' Toy Biz Iron Man(not sure what series)that a friend kicked down, painted the red to black and the yellow to a more goldish tone.Used Aves and rubber O-rings for the chest and faceplates. Wanted the insignia to appear integrated so I added the silver tubes to make it look like the symbol was all a part of his frame. Finished up the flag and cape and called it a day.

Paints-Games Workshop Chaos Black and Boltgun Metal. Testors Shining Gold

Thanx for looking and feel free to comment.