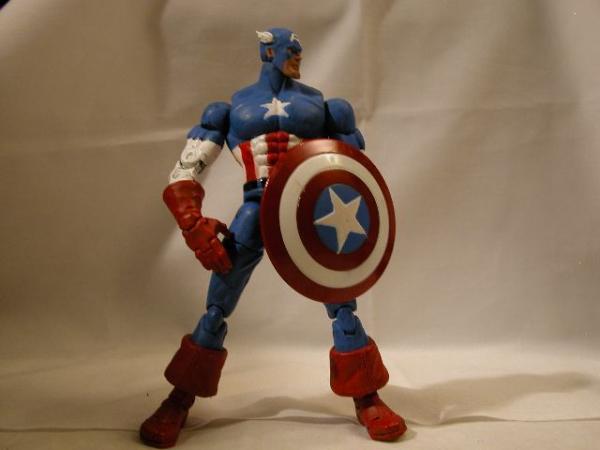 Continuing my Customs story from Incredible Hulk...
Photo 1: Captain America, on patrol spots something wrong!
Photo 2: He drops in to save the day!
Photo 3: (to Wolverine) "Can I help you up fella?"
Photo 4: (Snikt!) "Gulp!"

To be continued!

Captain America made from a ML Cyclops with a DCSH Superman
head. The head was sanded down with a disc grinder and smoothed
clean with apoxie sculpt. Wings were added by hand with apoxie sculpt.
The shield is from a Marvel vs Capcom Captain America figure, with
the wrist snap broken off and rubber bands glued in place to serve
as "leather straps". Cap's military belt buckle is also apoxie.

The stars, stripes, etc. were all hand painted. Colors were Real-Red,
True Blue, White from Jo Ann's Fabrics, and Warm Flesh Tone from
Testors Model Master Acryl.