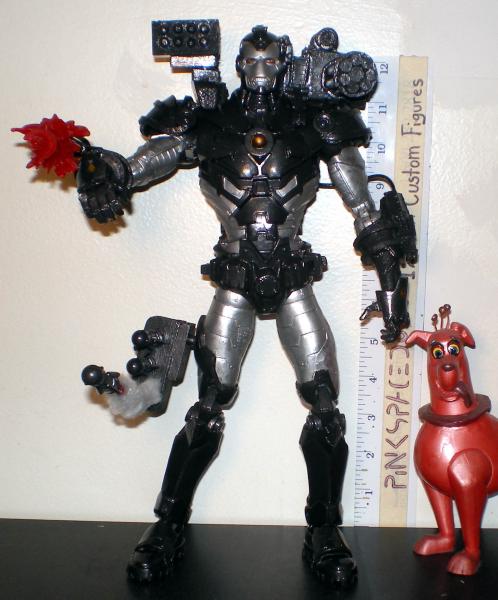 Ok. Happy Thanksgiving to all, allthough I really do not celebrate the systematic rape and plunder of a native people. So in the spirit of thanksgiving, here is War Machine.
The black is actually very metallic but it does not photograph well. Well I'm just not that good at pictures, but dangit I try. Anyway, I put strips of leather strap on the shoulder pads (I think they look somewhat comic acurate). I used a washer and a gold glass bead for the chest repulsor. One of the coolest parts to me is the belt. It came from a G.I.Joe 12" Sand Scorpian (actually Cobra). I cut the half ball pieces off the hips but I left the fins on the back, they were very useful for the weaponery. The wrist/gauntlet guns-flamethrower pieces are random fodder parts. The figure came with the flmae blast. All the weaponery is wood. The two missle packs are interchangable. I also put 3 tiny glass beads on the front of the shoulder mount (kinda like predator) so that it would still be a weapon even with no missles. The 3 surface to air missles are old G.I.Joe jet parts (I think). The "smoke trail" is cotton on packaging wire. The missle racks can aim up and down and left and right. On the leg they can aim up or down. I carved off the armor from the thigh of the other leg. The shoulder mount is not removable. The small missles are wood dowel and not removable from thier rack. The ends of the small missles were rounded with a rotary tool. I really regret the side of the head that I chose to put the sighting scopes on (also random fodder parts). It kinda interferes with the gatlin gun. I don't know why I chose that side. ARGH! Anyway it's not that bad. Anyway, the gatlin gun barrels are wood dowel. Its difficult to explain how the back piece of it was carved. One large hole in the center (it can spin) and a slit on the side to fit over the back fin. I used the end of a Doc Ock tentacle, on the front of the gatlin gun's body. It covers the fin from the front and the hinge is still functional so it moves with the gun. The gatlin gun can only aim up and down, it does not turn left or right. There is an air or gas tank (wood dowel with rounded ends and leather straps) next to one of the fins. The mask is still removeable to reveal James Rhodes. I think that's about it.
This is one of my best. I only have 4 or 5 more figures to post, but I saved the best for last. heck, I'll even try to get one more up here tonight.