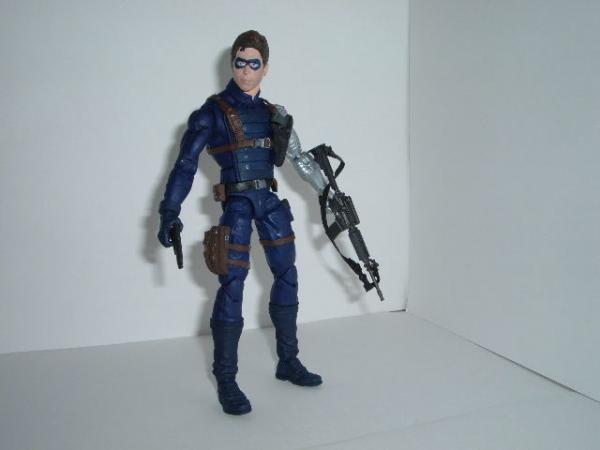 This is a custom figure of the Winter Soldier aka Bucky Barnes. Being thought dead after an explosion caused by Baron Zemo. Bucky much like Captain America was frozen in ice, until the Russians found his body, brain washed him and turned him into the perfect soldier/assassin. After his brain washing came undone by Captain America. The Winter Soldier hid in the cracks of the Marvel Universe as he worked covert jobs for Nick Fury, until the death of his friend and mentor, Captain America. Now in the uniform that inspired this custom, the Winter Soldier became a force for good in the Marvel Universe…a force for good that is not afraid to get his hands a little dirty.
This custom was made from LH Madman upper torso and arm, ML 6 Movie Punisher legs, Battlestar Galactica exclusive figure's head, and other figure odds & ends.
Customizer side note: This custom came about when saw the BG head and I said this would make a good Winter Soldier head and while the head is slightly a little too big for the body. I'm happy the way the custom came out…looking exactly like the source material.