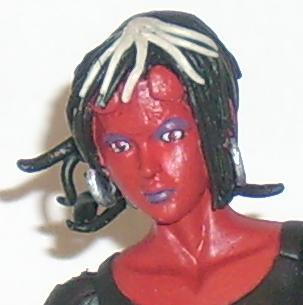 Hellgirl was brought to the earthly realm by none other than the "Mad Monk" Gregori Rasputin during Project Ragna Rok on December 23, 1944 of the shore of Scotland in an experiment that was to shift World War 2 in the favor of the Nazis. Proving not to be a devil, in the traditional sense, but a devil-like creature with red skin, horns, a tail, and an abnormally disproportionate right hand made of red stone, Hellgirl was quickly adopted by Professor Trevor Bruttenholm (pronounced "Broom"). Taken by the United States armed forces to an Air Force base in New Mexico, Hellgirl is raised by the United States Army and by the Bureau for Paranormal Research and Defense (BPRD), a federal agency dedicated to combating occult threats. Armed with her Samaritan pistol and a boatload of sass Hellgirl heads an accoplished team including Abigal Sapian and Alexander Sherman agianst constant threats to mankind. When not saving mankind, hellgirl is consatntly finding new ways to keep the dear professor awake at night with her sophmoric shenanegans and new wave rocker mullet.

Base: ML Marvel Girl
Right Hand: FF Movie Thing
Boots: Mcfarlane Vash the Stampede

Hair, horns and pants sculped using Aves
Painted head to toe using Testors Model Masters paints and dullcote

Sorry for the low picture quality but these were taken in a maternity recovery room as I have been in the hospital for the past few days with my wife who just gave birth to our first child...