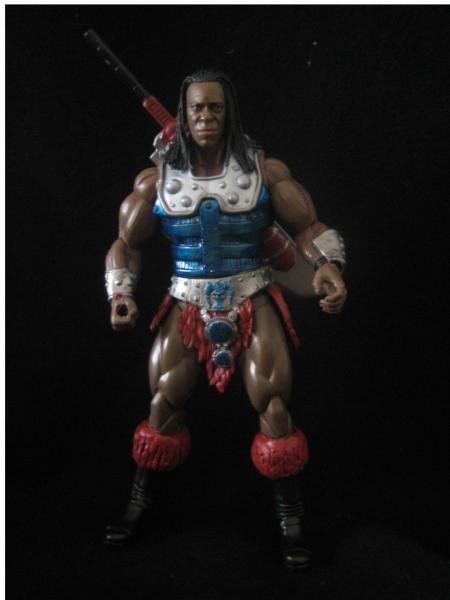 I used a combo of WWE Kofi Kingston base figure with a Booker T head ( I have been wanting to use Booker T's mug for a long time, it screams Butt Kicker)

I don't know much about Clamp Champ, it was rumoured that he was to replace Man-At-Arms in the 200X cartoon. MAA was turned back into a Snakeman by King Hsss in the comic version of the unproduced episode 40. Clamp Champ always looked realy cool, but I always wondered what good a clamp is against guys with massive swords, laser rifles and magic staffs.

That's why I decided to not only give Clamp Champ his signiture clamp weapon but a massive sword as well.

Base - WWE Deluxe Kofi Kingston
Head - WWE Deluxe Booker T
Armour - 200X Battle Fist
Sword - $1 Store Ninja (modded slightly, it fits perfectly into the holster on the back of Battle Fist's armour, almost as if it were made for it..)
Clamp -200X Clamp Champ staction figure.