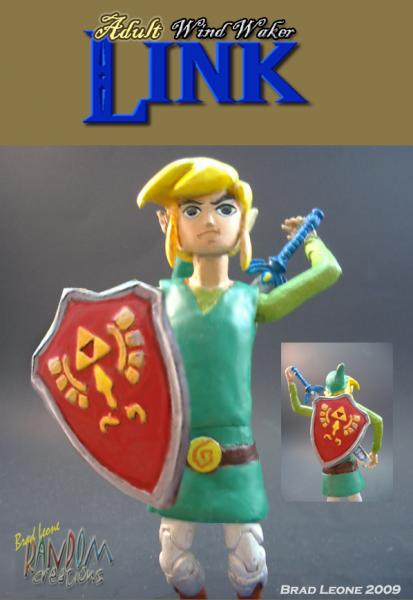 If you're familiar with the Legend of Zelda series, you're probably aware that the series spans over multiple generations and that each gen features a different hero, known as "Link". While there are at least five different incarnations of Link, usually only two are ever made into custom figures: the ones from "Ocarina of Time" and "Twilight Princess".

I felt it was time for the customizing community to see something different, so I made a Link custom based on what is possibly the least popular incarnation-- "The Wind Waker" Link. The blame for this particular Link's lack of popularity can probably be traced back a questionable style choice made by the designers. Many claim "The Wind Waker" felt too "kiddie" because of the game's "toon" style graphics. I've always disagreed. It's always been my personal opinion that the use of a prepubescent Link, is what doomed the game from maintaining a mature feeling. Using both a child Link along with the cel-shaded style simply didn't work, which is why I decided to create a figure of what I believe the character should have looked like.

While it may look very simplistic at first, this is actually the most in-depth figure I've done so far as it took quite a bit of research and planning to obtain the proper look to authentically match the art style. An adult version of this Link actually did appear in the game in the form of a statue inside Hyrule Castle. Unbeknown to many, an adult version was also used in several early concept drawings made during the planning stages of the game's development, and were made public in a promotional collector's book I happen to have (sadly the text is all in Japanese, so I still don't know why they chose not to use this far superior design). I used both the concept art and the in-game statue as my main references.

I made the entire head from scratch using Apoxie Sculpt (except for the hat which came from an "Ocarina of Time" Link figure).
The body came from the "Heroes" Claire Bennet figure. In order to maintain the 'stubby' disproportioned legs that all the characters from the game have, I took the legs from a 3.75" G.I. Joe-scale figure. The I made the sideburns from hardened drops of gluegun glue. The sword and shield came from an "Ocarina of Time" Link figure (the same one I hot the hat from) which I repainted. I sculpted the new shield pattern from Apoxie. The sword's sheath was made from rectangular brass pipe (I was going to use the one from the Ocarina of Time figure, but I seemed to have misplaced it somewhere along the way).