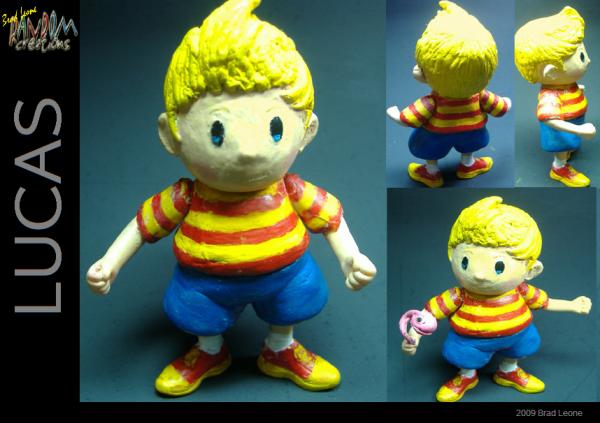 It's Lucas, the telepathic preteen whose first appearance was in the Japanese game Mother 3 (EarthBound 2). When he's not fighting an elderly fat kid from another time, playing with an imaginary tiger named Hobbes, or doing Alltel commercials, he can be seen duking it out with other Nintendo characters in Super Smash Bros. Brawl, where most people outside of Japan will know him from.

This figure was made from a Super Mario Toad figurine. I started by cutting off the mushroom hat and lower torso and pulled out the arms. I then sculpted sleeves onto the tops of the arms and reattached them. The hair, ears, and shorts were all sculpted as well. The feet came from the lower parts of the left over legs of the Heroes Claire Bennett figure I used for my Adult Wind Waker Link figure.

The Rope Snake was made from a bendy-tie, rubber grip, and gluegun glue.