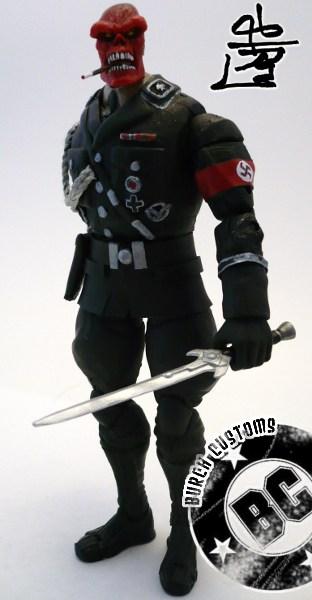 Started with an unknown wrestling figure. Used boots from FF Movie Mr. Fantastic. Cavalry pants were sculpted with sculpey. Bottom of Jacket, Belt and Holster are all faux leather. Cuffs and arm band are shrink tubing. Jacket, shirt, medals, and strap are sculpted with sculpey. The honor guard rope is rope. Cigarette and cigarette holder are a safety pin dipped in hot glue, shaped and painted. Head and sword are from ML Face Off Red Skull.

Paint and you have a mean looking Nazi for Cap to beat into oblivion.

Interesting fact: research on the medals and uniform were conducted entirely by watching Hogan's Heroes reruns. Thank you Major Hochstetter.