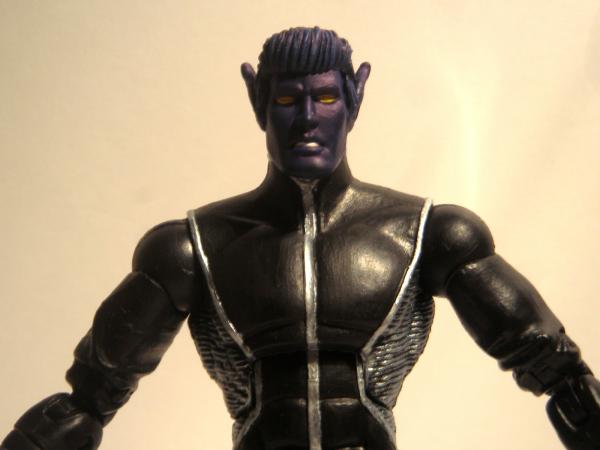 Well this is by far my favorite Nightcrawler I have made. I love the X-Force comics and I was wondering what would happen if Nightcrawler joined the force?
Recipe:
Head- DCUC 2-Pack Orion (Ears and front of hair sculpted with "Green Stuff")
Body- XMC Magneto
Hands, Feet and Tail- ML9 Nightcrawler
Neck- Movie Mr. Fantastic rubber "stretched" arm & metal bearing

I hollowed out the neck of Magneto and cut the Mr. Fantastic arm down. I literally and to shave the arm down and cram it into the neck hole. Luckily the slot for the arm to connect was the perfect size for a metal bearing to fit. Add a rare earth magnet in Nightcrawler's head and VOILA! head can be removed with ease. The entire figure was painted with black, silver and Insignia blue from Model Master Acryl. Oh and his eyes obviously are yellow paint. Thanks for looking!