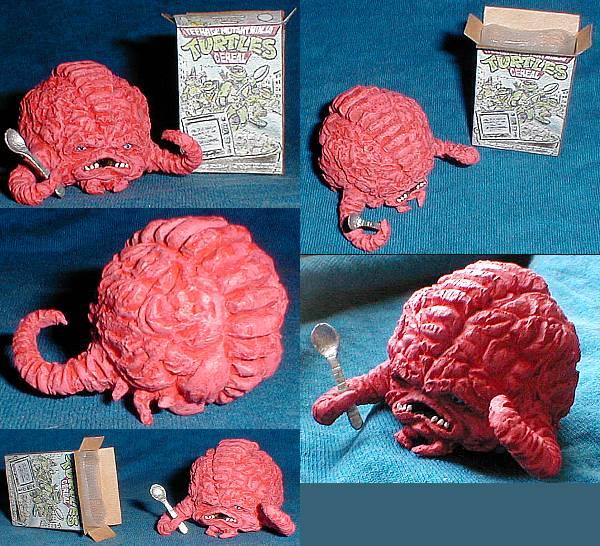 Conquering the universe is hard work--certainly too difficult a task to perform on an empty stomach. That's why Krang makes sure he starts each morning with a heaping bowl of vitamin-fortified Teenage Mutant Ninja Turtles brand cereal. The crunchy net-shapes and colored marshmallows give the evil alien warlord all the energy he needs to fuel his diabolical schemes for the rest of the day. But something is amiss in the kitchen at the Technodrome this morning--the familiar cardboard box feels suspiciously light, and, lo, when tipped, nary a single crumb comes tumbling out. Someone is going to suffer, very slowly and very painfully, for this outrage . . .


Materials:
Newsprint, Kleenex, white glue, computer printout of a miniature TMNT cereal box, a paper grocery bag, plastic cling wrap, colored pencil, No. 2 pencil, ink, nail polish, and acrylic paint.

Dimensions:
5.8 cm/2.3 in. x 3.6 cm/1.4 in. (widest point x highest point)

Time:
Four days; April 19-22, 2009.