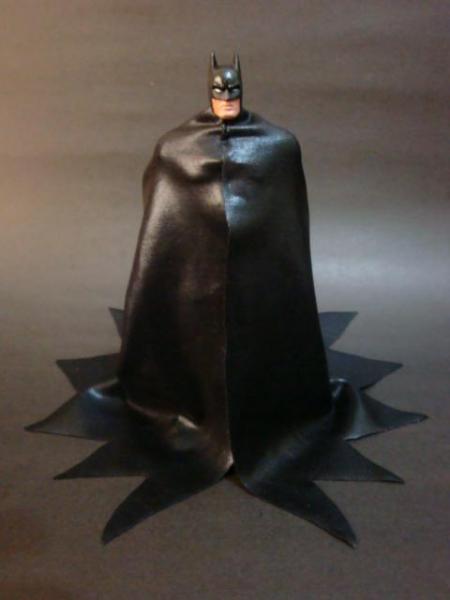 Basically, this is how I want my DCUC batman to be. I would consider myself as one of the biggest fans of Batman : The Animated Series when I was a kid. I became a hardcore fanatic of batman since then and the only Batman I loved and got familiar with was the black (probably dark/deep blue) and gray.

Then came "The Batman" cartoon series which I fell in love with, and I like how his cape is done; it's long that it touches the ground, mostly covering his whole body, serving its main purpose(and it's not stupid for Bats to wear a cape, you marvelites!).

The whole process of turning my DCUC wave 1 is quite easy, for you just have to paint the blue to black. The most difficult thing is obviously the cape. It's not as easy as it looks. Let's say I have more than 10 try-outs and failed until I came up with this, and finding the perfect fabric isn't easy as well.

I dunno how the fabric is called but the thing is, it's stretchy, light in weight, and the fibers don't wear off when cutting edges, which is a good thing 'cause you don't have to sew anymore.

Thanks for checkin' this out!