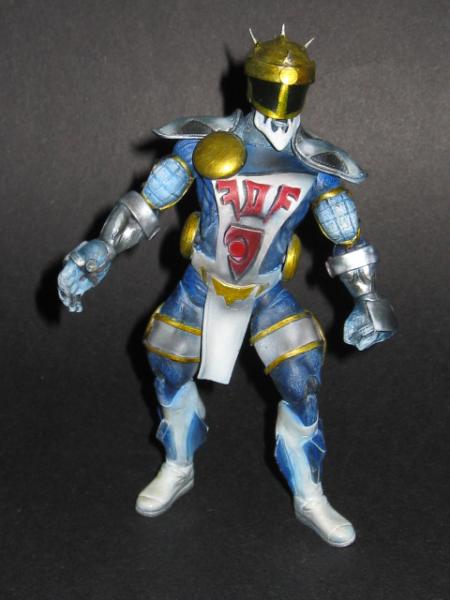 | | |
| --- | --- |
| Custom #: | 14939 |
| Name: | Rayge Sundown |
| Custom Type: | Action Figure |
| Toy Series: | Original |
| Creator: | fastfreddie |
| Date Added: | May 24, 2009 |
| Base Figure: | WWE Deluxe Aggression Figure |
| Height: | 7.50 inches |
Rayge Sundown -The Sentinel. Warlord. Conqueror of planets. Interrogator. Master strategist. Vindicator. Vicious. Ruthless. Monster. All describe him. Born into slavery, as a child he met a beautiful priestess who predicted he would free Tiresia(his home planet) and return it to it's former glory as the biggest empire in the planet's history.

As a teen, he joined the militia/freedom fighters and learned to harness and wield his magnetic powers. The beautiful prophetess reappeared and told him he was "The Sentinel" resurrected, and he was to help bring back the other 9 members of the Tiresian Ten-former royals and warriors of Tiresia's glorious past. He was to help them return by reclaiming the planet and acquiring new lands to enable the remaining 9 to return thru new hosts.

Rayge's militia grew into an unstoppable army and met the aforementioned goal in a matter of a few years. The prophetess and the elders said not enough had been done to return the rest of th T10. So once again, Rayge Sundown returned to the battlefield and bested it's former conquerors and surrounding planets. Rayge single-handedly ushered Tiresia from slave colony, to republic to empire and finally to galactic superpower! During this decades long campaign he becomes a menacing, calculating although savage warlord. After decades of service he is aging and learns that there are hundreds of successors lined up to take his place! 10 or more of his own offspring are among the ranks! This further infuriates him, the gods of the T10 have yet to return, and he begins to feel betrayed. He just might start a 1 man war against a whole galaxy!

Rayge Sundown possesses a near genius level intellect and has a mastery over all magnetic properties. His costume has different metals all over it which he can shape to whatever he desires or needs. IE: Blades, shields darts etc. His clasp on his chest has a dual purpose- it also acts as a trapping net which he controls w/his powers and heats up and can burn the unfortunate being trapped in it.