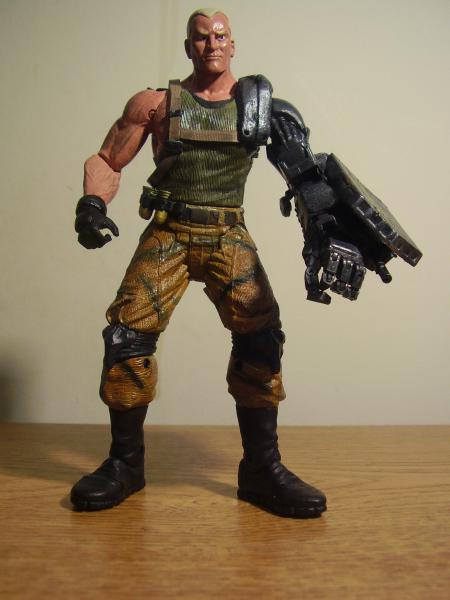 Well this custom is pretty straight forward. 90% of it is the NECA Bionic Commando, the head is the Ares Marvel Leged BAF, and the lower legs are Hulklings. The hand was made from his claw, all I did was cut the fingers off of the claws and put them on a sculpted palm. This is the first custom I made in a long time, I finished it just before my Leon Kennedy, but felt like posting Leon first.

The paint job is a little shoddy, but I think it looks ok, he looks like he's seen hell. I've never painted flesh tones before, and the eyes were my first too. The arm I'm really proud of as well. Over all he retains all the original posability and retains a great amount of likeness to the Dutch Schaefer from the Aliens vs. Predator arcade game that was put out by capcom.

I felt like entering this in the Rock'em Sock'em Robots competition, but seeing as he's a an Android like the guy off of Aliens I didn't really know if he'd count... at least I think they said he was one in the game. Oh well, hope you all enjoy it greatly.