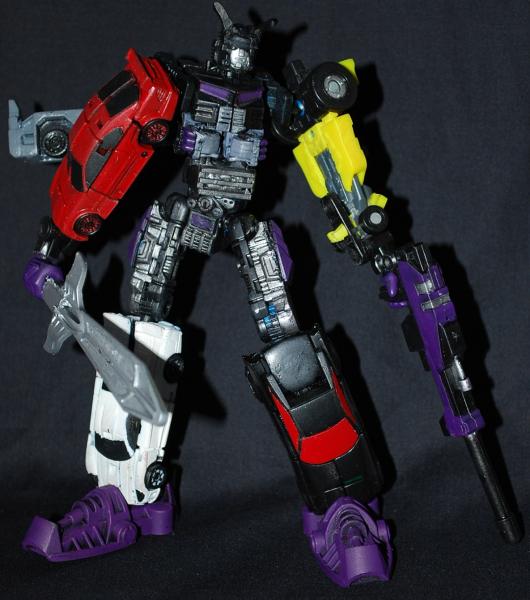 For this contest I decide to think big...er...small, rather.
I've always been impressed by the huge combiners people have been making, but those are just too ambitious of a project for me. Instead, I decided to downscale Menasor, or in this case, Minisor.

Menasor is made from 5 individual Stunitcons:
Motormaster: legends Prime
Breakdown: Armada Mini-con Oval
Deadend: Armada Mini-con Spiral
Dragstrip: Armada Mini-con Mirage
Wildrider: Armada Mini-con Backtrack
and parts:
Head: energon Starscream + sculpt
Shoulder joints/waist/thighs: R.I.D. Sideburn
Feet: Bionicle
Sword: Lego Knights Kingdom
Gun: KO Victory Saber

Each stunticon was painted with both Krylon Fusion Sprays and Games Workshop Citadel paints. I stress that each individual figure is still transformable from vehicle to robot mode but they look cooler as Menasor.