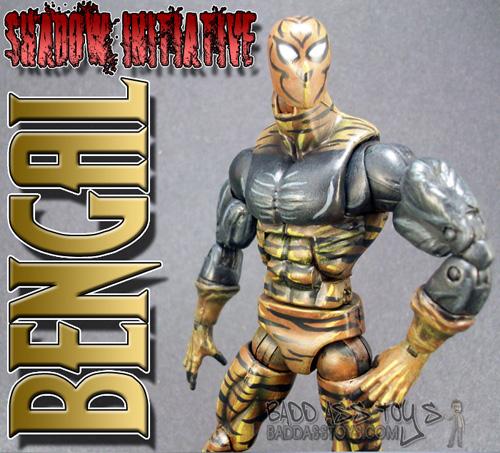 Hello and thank you for checking out Bengal! I am attempting to do the entire Shadow Initiative, they are a black ops group with in the Initiative that does not exist!

I started out with Black Spiderman (my favorite base figure ;P) and I enhanced his chest and 6 pack area to make him more muscular. I also increased his biceps and triceps, added some gloves and boots and smoothed out the spiderman eye outline.

The best thing about this figure is obviously his baddass paintjob! I started off with painting him gun metal. I dry brushed him up with multiple shades of orange. Then I used my airbrush and did all the muscle shading, followed by a light dry brush of yellow to bring up the highpoints. I finished him off with accenting with painted on yellow and grey to make him look like he jumped right out of the comic book!