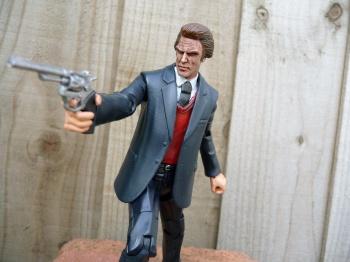 I've been working on this for a week or so now, all started after watching the dirty harry movies again on dvd. I was baffled as to how no toy company has picked up a license to make callahan or to any eastwood character for that matter,so I decided to make my own.... The likeness is vague but overall I'm happy with him. Consists of:

joker goon body, green stuff sweater and tie
mr fantastic head (ff classics line) with resculpted nose, eyebrows and hair
games workshop paints and seal

comments and critiques welcome, so go ahead make my day!