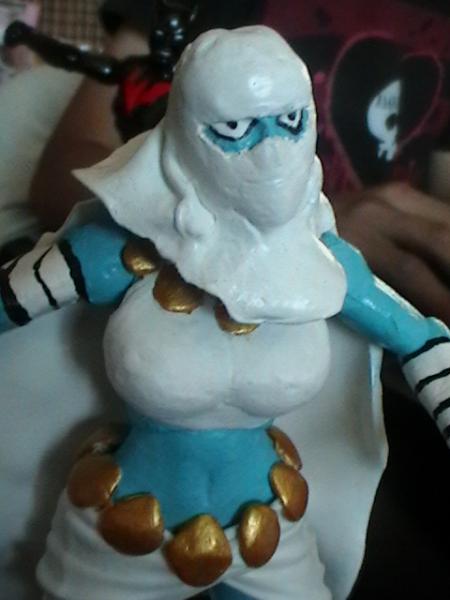 Curaré, for those who don't know, is the top assassin from the League of Assassins in Batman Beyond, contracted to kill D.A. Sam Young (Commissioner Gordan's husband). She fails, and therefore must be killed as punishment. But she's too cool for that and ends up taking out the rest of the League of Assassins herself.

I painted her blue. Got a random sword. Cut up a White Queen cape for use as Curaré's front skirt and cape. Sculpted her boobs and golden medallions with apoxie. Constructed the back half of her skirt with flexbile sculpey so her legs are not completely restricted. Used some more Flexible sculpey to make her mask; the parts that are not directly attached to her face are flexible.

If I were to make her again, I would totally take more time with her mask and give it the proper wrinkles and shape, and make the black lines on her arms and legs grey (since they aren't a pattern but rather, she wrapped white cloth on her limbs).