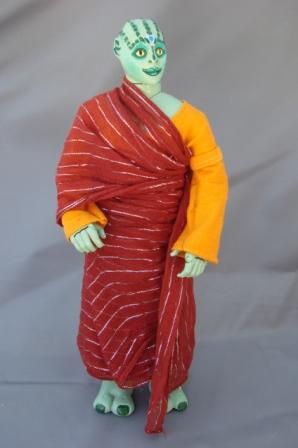 This is my finished summer project of my original character Teh-Vesh. I am currently working on the second figure in this series- hopefully can upload it fairly soon.
I began work in June, when I found an old GI-Joe at a yard sale. Using a sculptable epoxy (Apoxie Sculpt) I reconstructed the face to be more feminine and reptilian. Using a dremel and a spare pivoting joint, I sculpted a moveable tail.
The costume is handmade, and cost two bucks to make. The most difficult part was that I had to research how to wrap an Indian sari.

This character is from a series of drawings and stories which I have written. Teh-Vesh is a feminine hermaphrodite from the planet Klygoor. She is also hearing-impaired, hence the metal disks behind each ear. As a child she visits the ocean planet of Veridia, where she forms a friendship with an awkward Veridean.