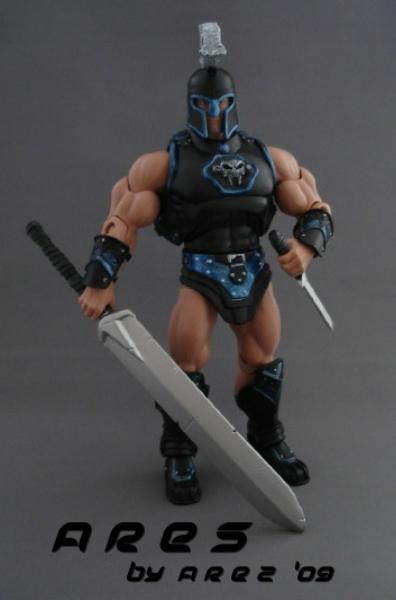 <<::Arez' motuc ares::>>
*-Here's my first attempt on customizing motuc figures. I liked the new hml ares baf, but i wanted to make one that looks more greek. So i took my motuc he-ro and did some mods to him so he would end up looking more like ares. I decided to painted him all black, because he is the god of war and he looks more impossing in this color. I was going to give him a metallic red, because ares is associated with the red planet mars, but instead i went with metallic blue and i think it fits him better.
*Recipe:
-Motuc he-ro' body, sword & chest armour.
-Hml ares' head, helmet, knife & sword.
-Hml lord thor's ax.
-Ml mr. Sinister's cape as straps on his armour.
-Mcfarlane spawn's skull for his chest.
*Thanks for looking guys!!!