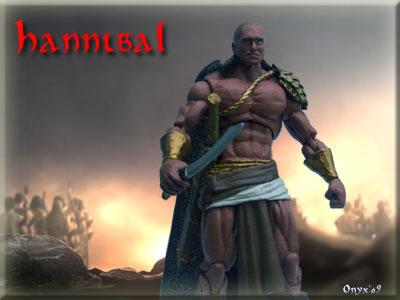 I watch a lot of History & Discovery Channel. I figure if I am watching T.V. I may as well be learning something. Needless to say, I came across the program Battles B.C. and it was about Hannibal. Well this gave me an idea and here are the results. The first 3 images are from the actual program followed by my work. I wanted to give him Sandals as in the film but reality set in. If I were crossing the Alps and fighting Rome in mid-November, I wouldn't be wearing Sandals.
Head- Serpentor

Body - MU Thunderball with chest completely re-sculpted

Lower legs - SW Mandalorian with Thunderball feet

Loin-cloth- Vader's Apprentice

Swords- Left overs from Toybiz LOTR line

Sheath - Some Narnia figure

There was a good bit of sculpting done, even on the loin-cloth to make it fit all the way around the body.