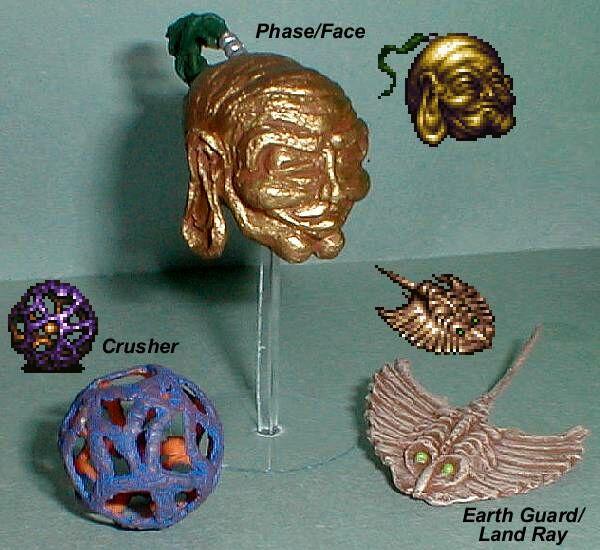 | | |
| --- | --- |
| Custom #: | 17970 |
| Name: | World of Ruin Mini Monster Medley |
| Custom Type: | Miniature / Figurine |
| Toy Series: | Final Fantasy |
| Creator: | Patraw |
| Date Added: | October 31, 2009 |
| Base Figure: | N/a; Scratch Build |
| Height: | 1.40 inches |
The three Goddesses fought, the world trembled, and all was nearly destroyed, but, at last, their fury waned and they saw the folly of their conflict. And thus, The War of The Magi ended. Sealing themselves in stone, and commanding the magical warriors they had created from human hosts, Espers, to likewise hide themselves, the trio allowed the planet to heal and life to begin anew without their interference.

A thousand years passed.

With magic mostly gone from the world, technology has arisen to take its place. But, there are some who remember the old ways, those that recall the awe-inspiring might magic can unleash--men who covet limitless power. Emperor Gestahl, aided by his merry jester, Kefka, wage a campaign to fuse magic and science, unseal the land of the Espers, and awaken the energies of the three Goddesses. After much destruction, betrayal, and sorrow, Gestahl is on the verge of success, but the old man has failed to see the insanity growing in his clown's eyes over the years, and that oversight now costs the Emperor his life. The traitorous Kefka takes the divine strength of the Goddesses for his own and lays waste to the earth in the process--continents split asunder, islands sink and new ones arise, the oceans surge--the World of Balance has become the World of Ruin.

Certainly, monsters and fell beasts always stalked the land, anyone will tell you so. But those were of the manageable sort, nothing that a couple feet of cold steel couldn't take care of. Occasionally lone travelers were killed, and unlucky children who wandered too far at play never returned . . . horrible, to be sure, but that was life. But now, Kefka's machinations have awakened dire things. The planet weeps from the scars crisscrossing her broken body, and from those tears, abominations, long thought legend, extinct, or imprisoned forever, emerge. Their power makes the wild wolves and goblins that once populated the woods seem as nothing. Swords glance off their scaly hides, arrows find no entrance, and a stout shield provides nothing but a few moments respite before death. Our numbers, already much decimated from the cataclysm, dwindle, as these fiends pick us off, one-by-one. Crazy, omnipotent Kefka cares not, we are all gnats to him, to be swatted at will . . . but not before slowly pulling off the wings and legs first. Who will save us now?



Phase/Face:

In the mysterious Phoenix Cave, a giant, Buddha-like head floats through the air . . . it's leer is so terrible that it immobilizes anyone foolish enough to gaze upon it . . . and from its' smiling mouth issues a thousand, razor-sharp barbs.

Earth Guard/Land Ray:

It slides through the blistering sands of the Solitary Island and Southern Continent, a great fish that can't abide water . . . its' barbed tail is coated with deadly poison . . . it fortifies itself and its allies with magic power . . . a worthless bounty, yet it carries a very rare treasure inside its' desiccated belly.

Crusher:

In the basement of Owzer's Mansion in Jidoor, amongst the painted tapestries, a strange, spherical lattice spins . . . drinking the life of all that it touches to add to its own.

----------------------------------------------

All three of these figures were sculpted/fabricated from scratch, using a variety of materials, during the period of October 28-30, 2009. They range in size (excluding the stand for Phase/Face) from 0.3-1.4 inches in height and 0.9-2.2 inches in width.