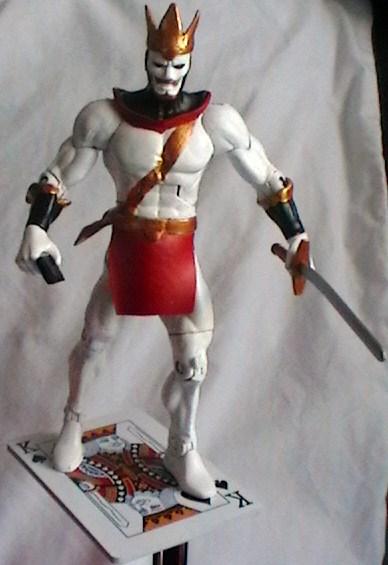 King, leader of the Royal Flush Gang from Batman Beyond...yet again...Shinier and Better!

Body - Killer Moth
Head - Dr. Impossible
Sword - Spiral
Flying Ace Card Mount - 1/5 deck of cards super glued together
Exploding Skull Card - Sculpey

Sculpted his crown, skirt, shoulder ring thingy, gauntlet cuffs, and exploding skull card.
Citadel painted everything..used real gold this time instead of golden yellow color for crown/gauntlet cuffs/belt/sword hilt/facial hair (which is FAKE BTW..since when he's not in his costume, he has GREY HAIR).

I do believe I improved on these points: Gaunlets (last time I made them gloves..dunno why), Crown, face paint. Any better?