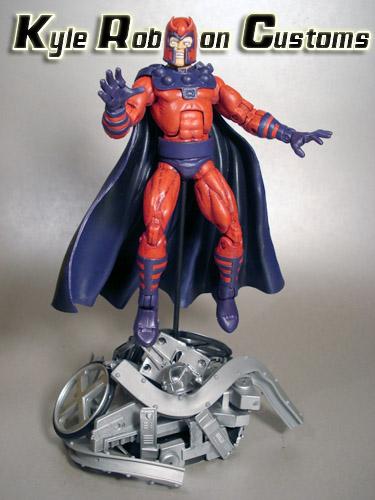 Kyle's Magneto D.O.B. 02/26/07

This is my first Magneto custom, I have wanted to do one for a while and recently I acquired a new Ml mag so I could scrap my Box set mags. In the Beginning He was inspired by Jin Saotome but I really did change his recipe a lot. I finished nim off with a custom base and some energy projection and BAM!

RECIPE:
~ FO Punisher torso, pelvis, upper thighs.
~ Box Set mags Head, Arms (not shoulders) & legs from shins down.
~ FixIt Sculpt for helmet decor
~ Fixit sculpted teeth (bot set mags had barely any lower teeth)
~ Mandarin energy for mags hand
~ For Base Stand I used the stand from a wooden maniquin and then I used an extra Pof X wheel char and BROKE THE CAP OUT IF IT. glued all the pieces in to place, and added 2 bendy rubber beams from collosus and a cerebro helmet.