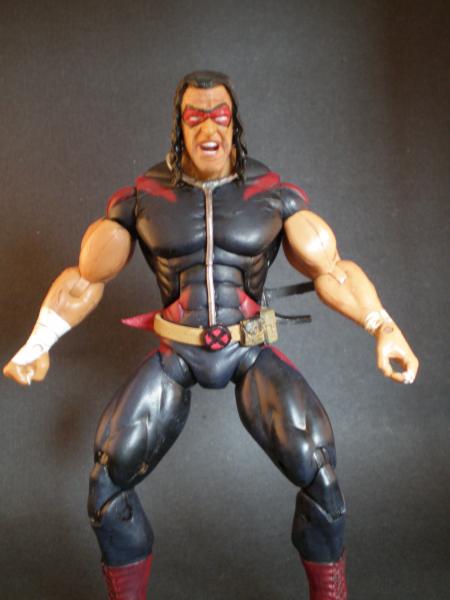 Name: James Proudstar
Code Name: Warpath
Species: Mutant
Affiliations: X-Men/X-Force
Mutant Powers: Subject has shown superhuman strength, speed, agility, endurance, senses, and reflexes. It is believed subject also has the power of unaided flight.
Abilities/Special Training: Subject is well versed in unarmed combat, as well as the use of a combat staff. Most prominently, subject is seen fighting with one or more bowie knives. He also has shown shamanistic abilities.
Conclusion: Extremely Dangerous

Here we have my first custom submitted to the realm. He was made from a Deluxe Aggression Triple-H, with pouches from some cheap toys r us military figure, custom scratch built belt, knife, and sheath, which the knife fits nice and snug into. Being from a line of 7" scaled figures, he towers over most Marvel Legends, just as Warpath should. He is a very dark blue, which looks even better in natural light. Painted with games workshop paints. He'll be going to a website around the end of the week.