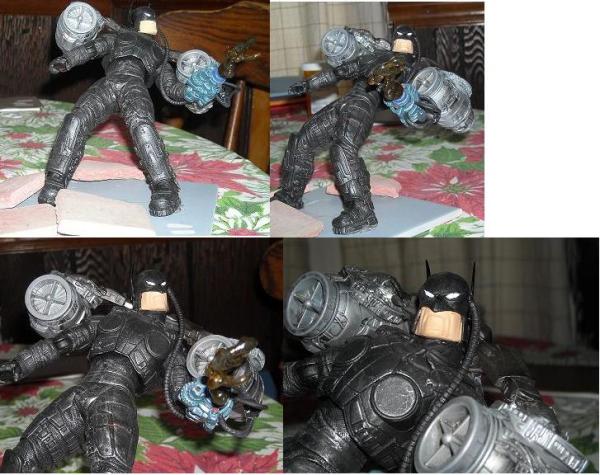 | | |
| --- | --- |
| Custom #: | 19000 |
| Name: | Shadowrun Batman. |
| Custom Type: | Action Figure |
| Toy Series: | Batman |
| Creator: | wesr |
| Date Added: | December 29, 2009 |
| Base Figure: | Neca Gears of War |
| Height: | 7.00 inches |
AFter Bruce Wayne's death fighting an orc street gang in a riot during the early days of the goblinizatoin of parts of the population in the second half of the 21st century. With the mysterious death of it's founder Wayne Industries was purchased by megacorporation Renraku purchased all assets including Wayne Manor. Upon finding the remains of the batcave they confiscated all the technology and used it to advance their own military research projects. When a large gang of metahumans and pro-human group began to raise trouble in Gotham, costing the corporation billions in damage and other losses, it was decided that the best way to deal with this was to restore the one thing that everyone in Gotham feared: The Batman. Using their latest technology they created an enchanced combat batsuit with flight capabilities. To operate the suit they recruited one of the best Shadowrunners they knew of: a former employee and corporate military hero named Ethan Stone. He is less than thrilled to be strapped to so much tech as he's a mage by trade but the trade off on losing some of his abilities is worth what he sees is a chance to make a difference and stick it to his bosses.
He outsmarts the corporate security division keeping tabs on him and steals the suit and all the tech that went with it to set up a new hideout off the cost of Gotham in a long thought lost Wayne Industries underwater research lab. He now has taken up the mantle of Batman full time, even changing his last name to Ethan Wayne and genetically modifying himself to have the same DNA as Bruce in order to lay claim to the Wayne dynasty. He is also much more willing to go farther to get the job done, carrying lethal weapons as well as non-lethal.

The head is a Hawkman with the wire plugged into it where a Shadowrun style datajack would plug in which connects his brain directly to his gun and the armor itself. The ears are from dental floss things, the jet pack is from parts of a T: salvation T1 and Hunter killer. The gun is made from the gun off a TF movie Bumblebee statue with wires and such from a McFarlane Ghost in the shell figure. I weathered it all with silver to show that unlike Bruce's suit this armor gets a lot of damage. I'm a huge Shadowrun fan, well mostly the first 2 versions before they changed it all again with Rule book 4. I plan on maybe giving him more weapons.