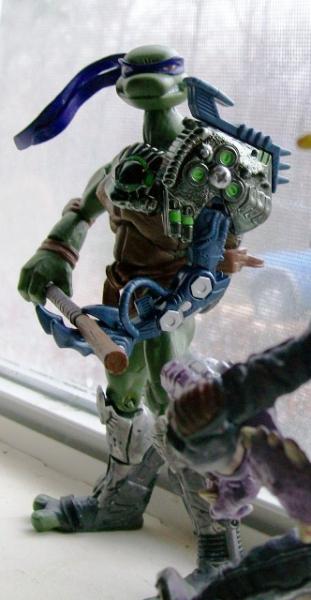 So here's another Turtle to add to the crew. This one, Donatello...I figure his inventions blew up enough that well...he lost an arm...and as such a robotic one was grafted to the body.

In all honesty though what had happened was an unfortunate incident involving a dog that like the taste of left arms...so I decided to see what I could do to remedify the problem, and well I worked something out...

The body is a DC Universe Classics figure (Killer Moth I believe), the head, shell (oh the headache of removing that shell) and right arm are from the TMNT Donatello figure, his lower legs are from a Todd McFarlane Al Simmons figure, the plastron was sculpted with Apoxy, and finally the left arm came from a Dino-Bot figure.

All in all I'm pretty satisfied with the one armed Donatello.