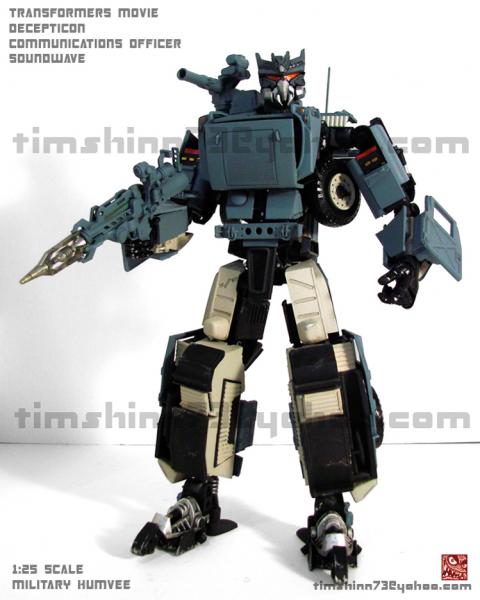 1:25th scale movie style soundwave figure. Does not transform. More of a posable maquette based on my soundwave balkan mk6 sw design and the j. Egerton & mit gas designs while keeping soundwave's classic g1 visual cues in mind, of course.

Obviously, i don't have a balkan mk6 model kit, so i'm using a revell humvee kit, legos, styrene and bits from marvel megamorph figures.

Made from everything but the kitchen sink. I used bionicle and exoforce pieces, games workshop bits, bits from a microman magnaforce figure, hands and head bits from a marvel megamorph wolverine figure, 1:6 scale military weapons bits, neoshifter bits and weapons, bits from a big lots gundam ko, custom parts made from sheet styrene, green stuff and epoxy sculpt, a g1 soundwave missle and a 1:25 scale revell humvee model kit.

He stands at 11 inches now. So in the real world, he'd be about 23 feet tall. He is very posable.

I had a ton of fun working on this guy. Soundwave is one of my favorites.

I have to thank dynamo & mit gas. Much of this custom is based on ideas we bounced off one another as well as my own movie soundwave design.

Thanks a lot for taking a look and for any comments you might like to share.