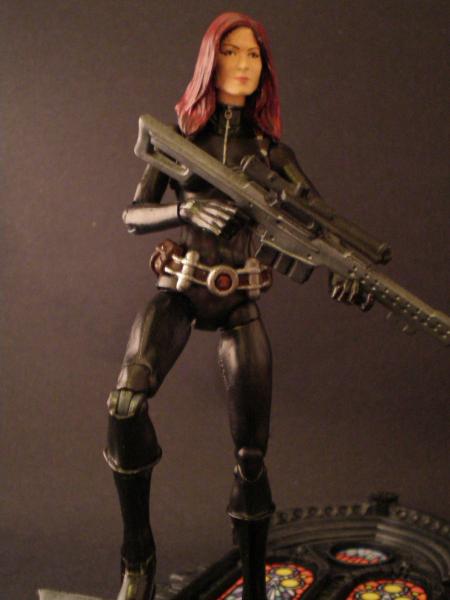 Name: Natalia Romanova
Code Name: Black Widow
Alias: Natasha Romanoff
Species: Human
Affiliations: KGB, S.H.I.E.L.D., Avengers
Enhancements: Through biotechnology, subject has an enhanced immune system, and ages at a dramatically reduced rate.
Abilities/Special Training: Exceptional physical condition, extensive martial arts training which includes, though is not limited to: karate, judo, aikido, savate, various styles of kung fu, and boxing. Subject is also an accomplished weapons expert, and is highly trained in the fields of espionage.
Conclusion: Extremely Dangerous

Custom #2 for me, as far as ones that I've submitted anyways. Black Widow was very simple to do, which is the reason I chose to do it. Simply a Sharon Carter/Maria Hill body with Ann O' Briens belt. Throw in some guns and she good. It doesn't show up that well in the pictures, but her boots are very glossy and look very much like real leather, and effect I'm proud of. She'll be available the coming days.