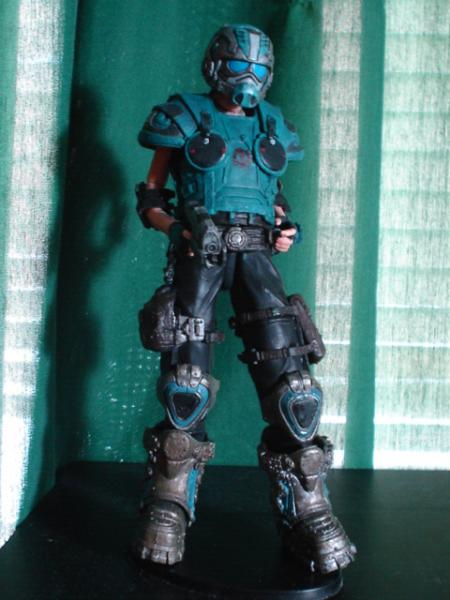 I wanted to make a new Gears figure for my collection but wanted to make something that doesn't appear in the game and that is female COG soldiers. you can't tell me there isnt one female soldier in the army. So I decided to tackle the task of designing a female COG uniform. So after going through my box of fodder parts I had my receipt.
1. NECA Sheva alomar head
2. NECA jill valentine upper body
3. NECA Ada Wong arms
4. NECA Lara croft hands
5. Play arts Cloud Strife legs
6. NECA COG soldier knee pads, boots, shoulder pads, helmet, and other accessories
7. Mcfarlane halo rookie shoulder pads and back pack
8. BSG Apollo belt
9. Mcfarlane Hicks marine armor

Once I had the parts for the figure I began to assemble it. once done I painted her. I then dremeled out the helmet to make it removable and then she was finished.