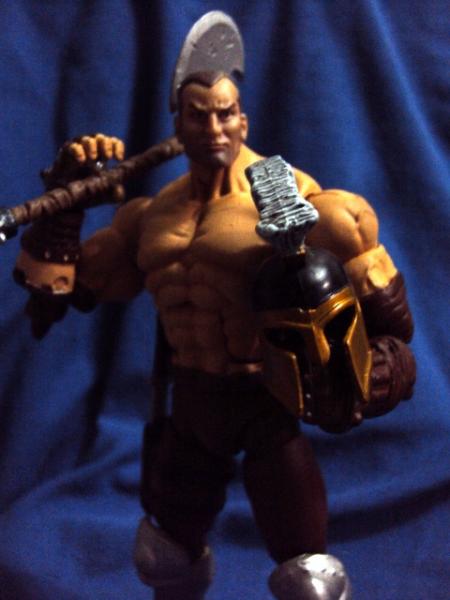 Custom Ares. I customized this guy since I thought I'd never get the BAF version, but I was able to get the BAF version while I was customizing mine, and became happy and tossed the custom in the fodder box. I just recently recalled he was unfinished and decided to complete it. Parts used were:
-Head, knive, sword & helm - BAF Ares
-Upper torso - Hercules
-Lower torso - WWE Maximum Agression Nuncio
-Arms - X3 Jugernaut.
-Axe - LCBH Conan
-Chestplate, knive sheath and details - Epoxy & acryllic paint.
Thanks for stopping by.

Custom Ares. Hice este custom porque pense que nunca podria conseguir la version BAF, pero cuando lo conseguí estaba haciendo mi custom, entonces el custom lo puse en la caja de muñequitos. Apenas hace poco recordé que estaba sin terminar y decidí completarlo. Las partes que usé son:
-Cabeza, cuchillo, espada y casco - BAF Ares
-Torso superior - Hercules
-Torso inferior - WWE Maximum Agression Nuncio
-Brazos - X3 Jugernaut.
-Hacha - LCBH Conan
-Peto o coraza, funda del cuchillo y detalles - Resina epoxica y pinturas acrilicas.
Gracias por la visita.