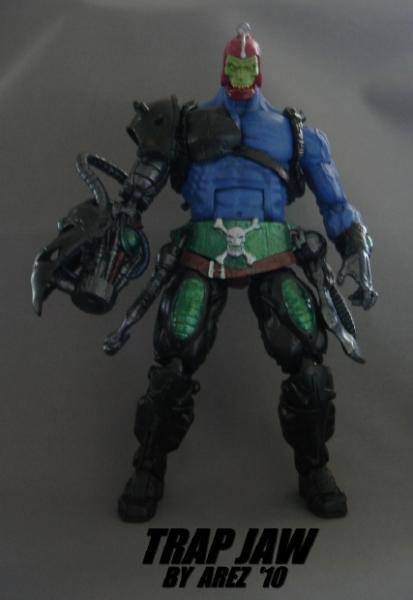 <<::Arez' MOTU Trap Jaw dob 2/8/10::>>
*Time for another motu custom! This guy has been in my list for over a year and finally got him done. I had issues finding the right base for him, then for some reason I figured why not using a ml box set franky. So here he is on all his glory. I made some changes to my version, because I like my customs to be a little different/unique.

Recipe:
-Ml box set franky as base.
-Lcbh striker's shoulders straps, right upper arm.
-Ml war machine's lower legs & boots.
-Motu Trap Jaw's head, belt, right lower arm, left wrist with hand, accessories,
Parts of the legs which I had to cut and dremmeled to make them fit on chest, back,
Legs, knees and feet.
-Mcfodders for straps on chest and back.
*No sculpting was done to this figure.(Thanks god!)

Thanks for looking!!!