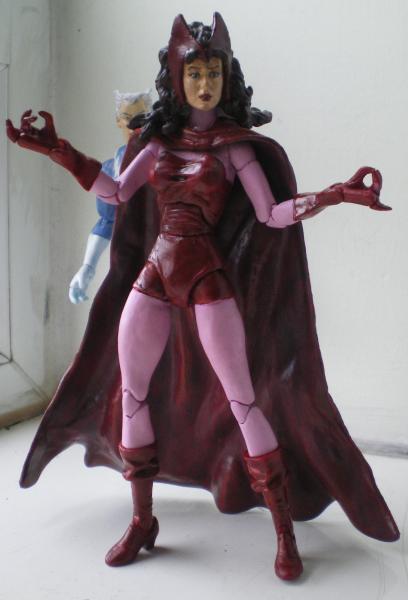 A real mash-up of parts; the torso and very top of the thighs are from ML8 Storm, sanded down and smoothed with the corset top sculpted on and the shoulders totally cut out and resculpted to take more normal shoulder joints.

The arms, lower legs and hair are from the original ML Scarlet Witch, the hands have been sliced through to allow her some hex type double digit motion.

I've added in a poa at the cut of her bathing suit and created that from scratch, the thighs were pretty much entirely milliput.

The cloak is a ML Black Panther with sculpted front and the head is one of the Charmed girls I think. The head was a last minute swap out and I wasn't sure at first, but I think it works now its all painted up.

I didn't plan on it being such a complex custom of parts, but it seemed every part I found that I wanted didn't fit in any way with the other bits, so she's a real Frankenstein's monster.