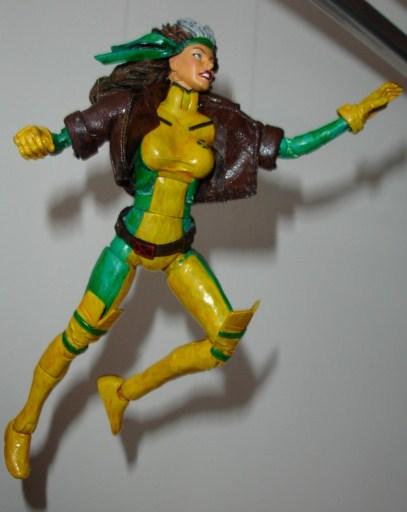 The figure that got me customising in the first place, the ML X-box Rogue started out as a re-paint, then a head-swap, then a whole body makeover. My first custom finished in 2003 or 4.

I hated the ML Phoenix head for Jean, but thought it suited Rogue quite well. I slimmed down the legs to make them less thigh heavy, created new smaller feet, shortened the arms, sealed up the redundant extra joint above the elbow (it just made posing awkward), made the gloves slightly smaller, added the bandana and the original Rogue hair and repainted it all, including the pleather jacket which I then added an X-symbol to the shoulder.

I may go back and slim down the body further, as she now looks bulky compared to all the other later released ladies.